Hi,
2/16/2010
Recent Weather. Soooooo............much different from SoCal.
Still have the California plates on. But, not for much longer per BMV.
Enjoy;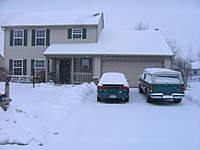 Well, all moved in our home in the Indianapolis area since Sept. 09. Jan. 10 now.
Well, God willing, we will be moving soon. Our house is up for sale and we are looking to buy in Indiana. More later. Please, wish us the best of luck and your blessings as well my friends.
~~~~~
Trading: Buying, Selling and Trades
Newest Update: !!!!!!!
Well, I was up to speed on
International shipping
from Canada to the Middle East and even the frozen tundra of Siberia. Yet, price/cost as it is plus basic packing materials. Please note though that this can be very expensive. To maintain security and protection with PayPal payments items must be shipped USPS Expedited as only this provides active tracking with delivery confirmation. If you would like to save money I can ship in any form but will not use PayPal and must be paid in Cash as USA funds. Also, full value of item(s) will be declared. No gifts unless they are.
Shipping from 46236 so you can estimate as your desire.
For outside USA sales funds must be in US dollars and drawn from a US bank. Shipment will happen after these funds have fully been cleared after deposite in Chase Bank per their advice. This could take a few days to a month or so, dependant. Of course, to spead things up, US cash currency is accepted and will be honored in full. Please insure this type of mailing package in full, and have a direct signiture release to and from me of this type for your personal protection. I am more than glad to go out of my way to the PO, wait in line, present a valid ID and sign. As a buyer, I consider you a client, and will do what it takes to satisfy your needs, desires and security requirements. I do expect the same in return, natually.
Soon, we will have a new addie for the space station. Probably USPS.
I am a fair man. Rare is the problem, yet, please contact me and it will work out in your favor.
If you search the web, you will find out I use the same user name everywhere,
and that my user name is my true, given, birth and real name.
PayPal is usually preferred, and I never ask for the surcharge imposed.
Money order by: USPS only
Cash is always fine.
Check, personal. Only from established friends and the like.
Shipping: If you have a preference carrier and form of, Say USPS & Priority, then state this. Otherwise I will ship by best means.
Except for $1.00 parts, all shipment are traceable and come with delivery confirmation. Insurance is extra at cost and I will handle the situation if needed. You should receive the damaged unit plus all funds returned from claim. Please remember, this insurance is paid by the buyer. All items are considered FOB.
When I take on a few dollars for material, this is cardboard, wood, coroplast and the like. I make no profit, but will cover basic cost just as you would.
If you need something ship fast then you need to state so and be willing to pay for it.
I normally ship out once a week, but offen ship out sooner when out on running errons, shopping and food gathering w/ such. After shipped, I am not responsible for transit times. Shipping days are considered business days as Mon-Friday not including Sat-Sunday.
Warranty/Guarantee; Dependant on the transaction and circumstances I can accept a return. Item must be in exact shape and condition. Refund by form I choose and will be less charges for shipping and all associated.
FreeBee's; I am so glad to be able to do these again. Except for special events and Holidays, the receiver will need to pay for shipping and related cost.
Enjoy,
Thank you,
jcstalls
Jared C Stalls
Lawrence, IN
46236