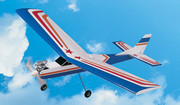 Tonight, around 9:45pm PST, I bought the Great Planes PT-40 MK II off eBay! Total paid was...
$94.99 (Plane Kit)
$41.88 (Shipping)
$7.58 (Tax)
$144.45 (Grand Total)
This listing was NIB (New In Box) listed as "Never Opened" from Samson RC Hobby Shop out of Missouri (apparently "Mid Missouri's Largest Hobby Shop". A member on here was selling this same exact plane for $125 but also wanted me to pay shipping so I'd rather buy a never opened plane from a hobby shop. eBay shows the estimated delivery date between 5/11 - 5/19...

So, after all these years, I finally bought the PT-40! I watched videos on how to build and fly this plane (see my
blog about it here
...
and here
...) but I never ended up buying it so how about now! eBay was selling the PT-40 ARF for $350! btw

so no thank you! Then there was another one that you build like this one selling for $250! So I think I got a steal for less than $150 after shipping and tax! plus the MK II was upgraded with stronger building material and landing gear hardware, etc.

otherwise it's the same kit as MK I (red/white).
Here are some pics from the eBay listing and I'll post more when it arrives with an unboxing video...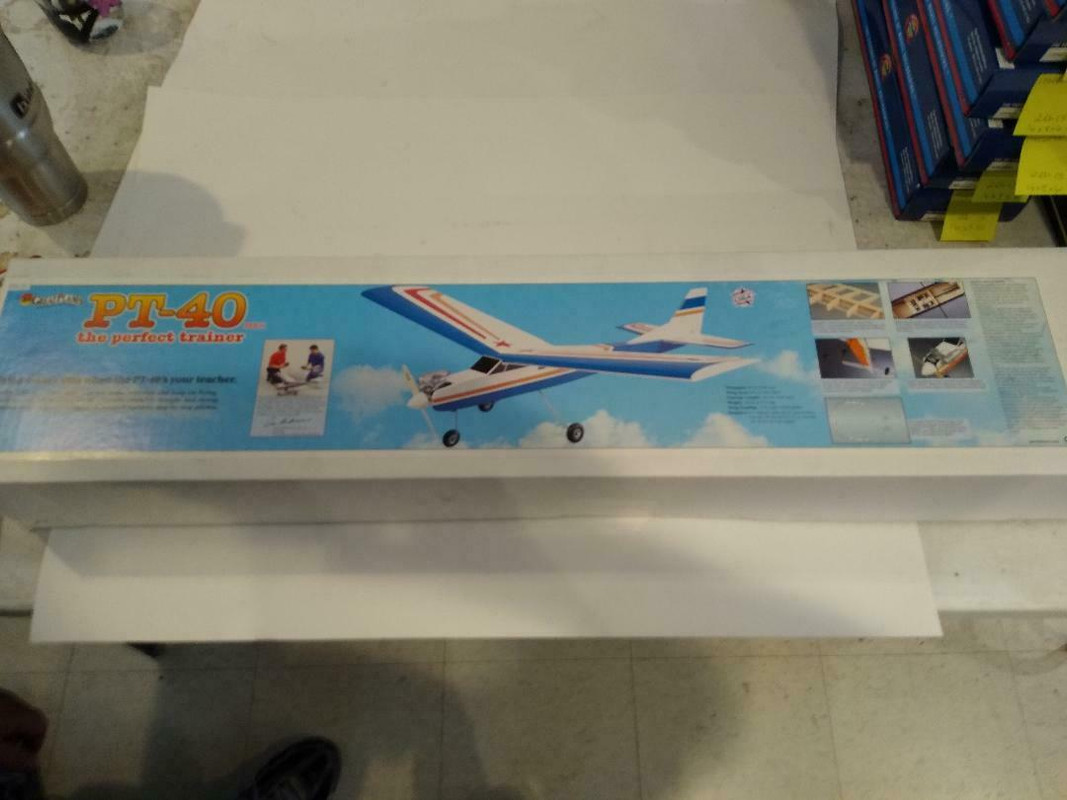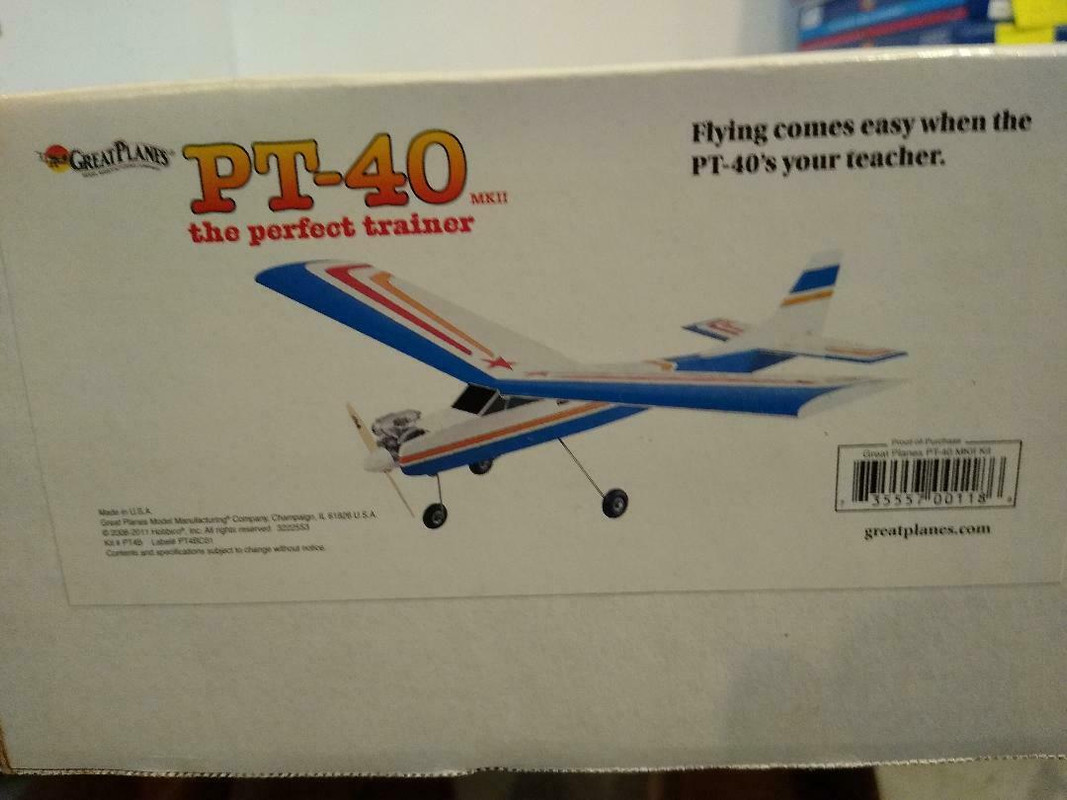 And here are some pics from a 2014 Tower Talk Catalog when they were still selling it...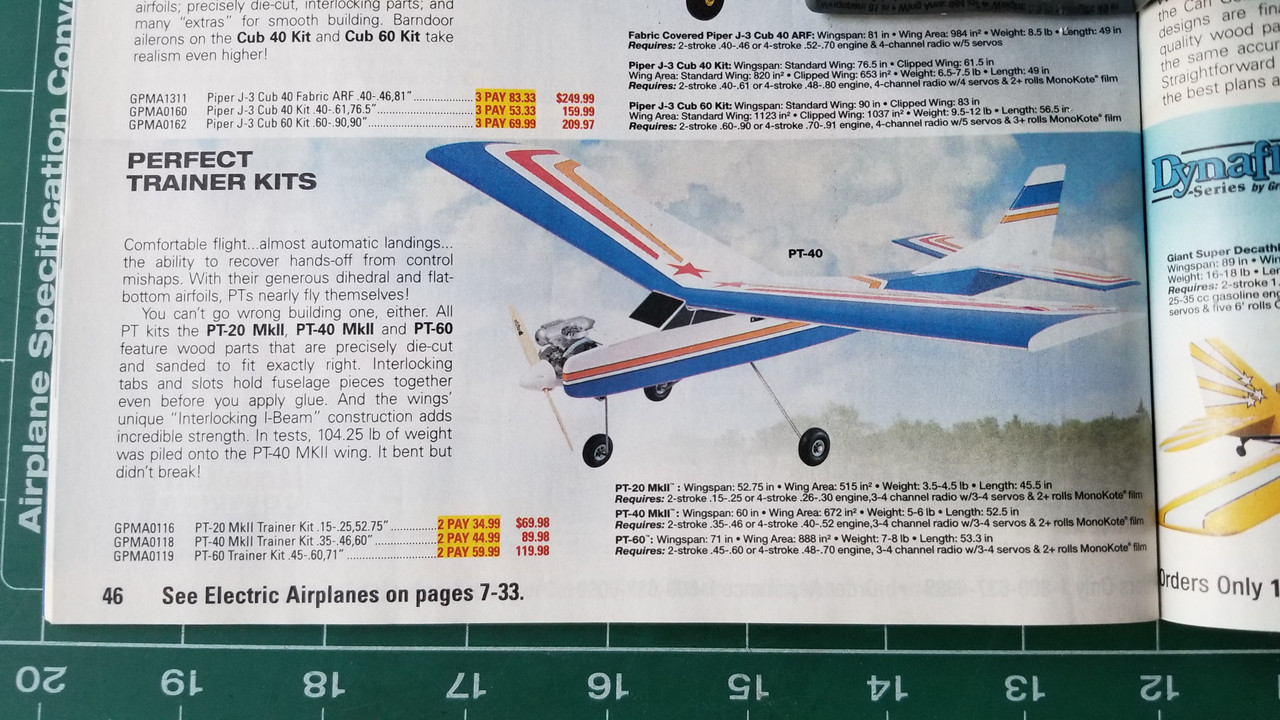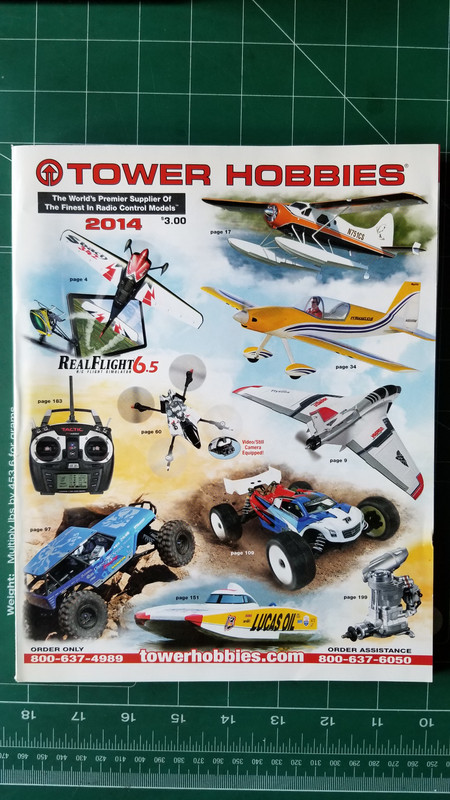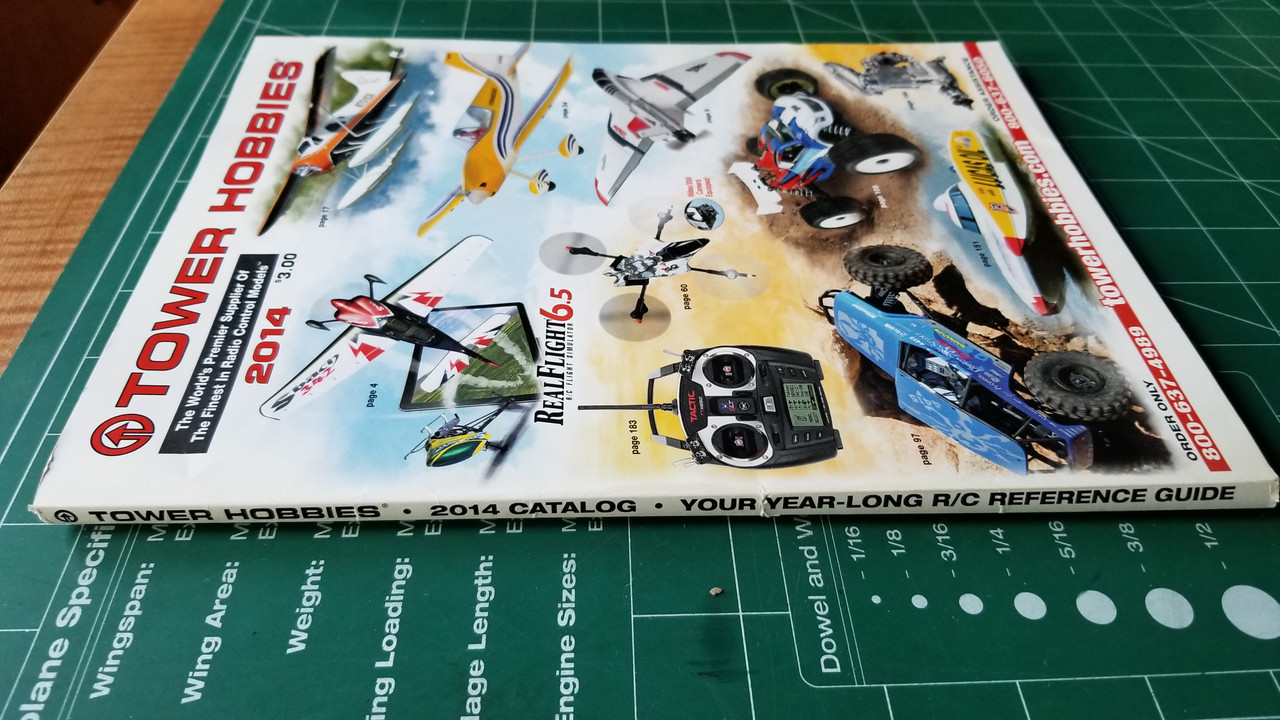 ***Update***-They Took This Webpage Down So I Posted A Screenshot Of It Below)...
By the way, here is info from the Tower Hobbies website (which quotes an article out of the March, 1998 R/C Modeler Magazine) on the differences between the plane I bought (MK II) and the original...
Direct Link...
RealFlight Link...
And here is the info (in case they take the webpage down later ***Update***-They Did Take This Webpage Down So I Posted A Screenshot Of It Above)...
"GREAT PLANES PERFECT TRAINER 40
PRODUCT REVIEW
by Mike Lee
PT-40 MKII photoSPECIFICATIONS
Name: GREAT PLANES PT-40 MARK II
Aircraft Type: Sport/Trainer
Mfg. By: Great Planes Model Mfg., P.O. Box 9021
Champaign, Illinois 61826
Mfg. Sug. Retail Price: $109.99
Available From: Retail Outlets
Wingspan: 60 in.
Wing Chord: 11.25 in.
Total Wing Area: 675 sq. in.
Fuselage Length: 51 in.
Stabilizer Span: 21 in.
Total Stab Area: 115.5 sq. in.
Mfg. Rec. Engine Range: .35-.46, 2-stroke, .40-.52, 4-stroke
Rec. Fuel Tank Size: 8 oz.
Rec. No. of Channels: 4
Rec. Control Functions: Rudder, Elevator, Throttle, Aileron
Basic Materials Used In Construction
Fuselage: Balsa & Lite Ply
Wing: Balsa & Ply
Tail Surfaces: Balsa
Building Instructions On Plan Sheets: No
Instruction Manual: Yes (64 pages)
Construction Photos: Yes
RCM PROTOTYPE
Radio Used: Hitec RCD Prism 7X Spectra
Engine Make & Disp.: Magnum GPA .46A
Tank Size Used: Great Planes 8 oz.
Weight, Ready to Fly: 88 oz. (5.5 lbs.)
Wing Loading: 18.7 oz./sq. ft.
SUMMARY
WE LIKED THE:
Parts fit, ease of construction, good instructions and plans, and good flying characteristics.
WE DIDN'T LIKE THE:
No faults noted.
In the world of R/C training aircraft, there are many dozens of examples of planes that claim to be trainers, and some truly are. Because of advances in construction techniques and kit design, the truly good models often get updated to reflect better performance and easier construction for the builder. The subject of this review is one such design, the Great Planes Perfect Trainer 40, Mark II.
The newer MK II version makes the mark by improving on the structural side as well as the performance side of flying. The wing is stronger with a modified "D" tube construction that also features shear webs and formed leading edges. You may build it in two versions, with the first being a pure trainer type wing with increased wing dihedral and a rubber band attachment to the fuselage. The second version of the wing is a sport version, this being flatter and sporting a bolt-on wing. Either version may use ailerons; however, the PT-40 is easily flown on rudder with elevator and throttle.
Other improvements include a stronger yet lighter fuselage, self-locking alignment, and sporty looks. Hefty landing gear wire increases the aircraft's ability to sustain heavy landings, and the radio equipment tray is made to accommodate the most advantageous location for balance within the fuselage. Let's look at how the plane is constructed.
Construction:
The kit is contained within a colorful box measuring 40" x 8" x 5", making it easily shipped by UPS. Inside, the wood is securely nestled and banded or bagged for safe transport. The plane is constructed from balsa, lite plywood, and a couple of dense plywood parts. Most all parts are die-cut and the quality of the die-cutting is quite good. Care must be taken in the case of the die-cut plywood, as it just about falls from the cut sheets on contact. While this is not a problem in the integrity of the wood, it may be confusing when it comes down to parts identification.
Both full-size plans and photo illustrated instruction manual are a part of the kit. Two sheets of drawings are supplied, along with a 64-page manual that also covers construction of its smaller cousin, the PT-20 MK II. Construction begins with the fuselage, this being a box-type section. Several die-cut parts are required for each fuse side and they are reinforced with ply and balsa doublers. The instructions will assist you in making either of the two versions as you proceed with step-by-step check-off boxes. We elected to build the sport version. The formers are now adhered to the sides and we used Great Planes Pro CA adhesives throughout most of the construction.
At the fire wall, F-1, we placed the blind nuts for the engine mount and then secured it in place with Great Planes' 30-minute epoxy. Once set, the rest of the formers are placed, followed by the balsa top and bottom sheeting. Pushrods are also installed at this time, as are the remaining fuselage sheets that form the canopy/windshield and doublers.
Fitting of the engine is next, and the supplied engine mount is very nice. It is adjustable, allowing a very wide variety of engines to be used in the aircraft. We elected to place a Magnum GPA .46A engine up front, which was a perfect match.
From here, we assemble the tail feathers, these being sheet balsa sections. The fit of the parts has been excellent, so far, and the tail group is a piece of cake. We sanded the tail feathers to their final shape before mounting them to the fuselage. The vertical fin is reinforced with triangle gussets at the base for a strong joint.
Now we tackle the wing, and we finally found an error in the instructions. The instruction manual has you looking for pen marks on the leading and trailing edge parts to show which side is the top. No such marks were found on ours, but this is really petty. By comparing the parts to the plans, you can tell which way is correct.
As the wing is a flat bottom wing section, it can be built pretty much on any flat surface. Experienced builders will have the wing framed up in one evening, and even rookie builders should take no longer than a couple of evenings to accomplish framing. Again, as you build, you must pay attention to the notes that direct you to build either the trainer or sport version of the wing. The sport version has a wood dowel at the leading edge and you will use different ribs at the very center than the trainer version, which uses rubber bands to attach the wing to the fuselage. The sport version ribs are further reinforced with lite ply rib doublers. Once the framing is completed, the leading edge sheeting and center section sheeting is accomplished. Again, experienced builders will have no problem with this, with rookies taking a bit longer.
At the trailing edge, the ailerons are attached, as are the center section trailing edge and wing tips. Torque rods are used to actuate the ailerons from a single servo mounted in the center of the wing. We're in the home stretch now as the wing is fitted to the fuselage. A bit more care is needed to align and mate the sport version wing, this due to the wing bolts being a one-time installation. Obviously, with rubber bands, you can slide the wing around until you're happy with the alignment. The final task on the wing is reinforcing the wing center section with fiberglass tape and resin. The instructions also tell you how to accomplish the same using Great Planes Pro CA adhesive. Either way is very effective and easy.
We covered the model using Top Flite MonoKote film. We used four rolls on our model, simply due to the four different colors on the plane. Otherwise, two rolls will do nicely. Our PT-40 came with a complete hardware package that leaves out only those items which are normally a pilot's choice. In our case, we used a Great Planes 8 ounce fuel tank, Great Planes treaded tires, and Great Planes spinner. Up front, a Magnum GPA .46A engine from Global Distributing was selected to provide power to the airframe. This compact engine features ABC type construction with Schnuerle-ported design for good power delivery. An effective expansion chamber muffler is provided with the engine, and we were required to cut away a small portion of the right nose block to allow proper clearance for the muffler. A Top Flite 10 x 6W prop resides on the crankshaft, dressed up with a Great Planes spinner.
Guidance for our PT-40 was provided by a Hitec RCD Prism 7X computer radio system. The four servos provided with the Prism are a perfect fit to the radio tray and have more than ample power to move the flight surfaces. Of course, the versatility provided by the Prism 7X transmitter is more than enough to set up our PT-40 with ease. One of the best features of the new 7X system over the previous Prism is the discreet dual rate switches for the primary three channels. This radio represents an outstanding value for the money. Our PT-40 required absolutely no weight to balance it properly. By shifting the radio tray in the fuselage, we were able to balance our model perfectly. Total weight was a bit over 5 pounds, ready to go.
Flying:
At the field, it took little time to get our Magnum engine running, and a quick taxi to the end of the strip had us lined up for launch. Only a tad of right rudder was required to maintain a straight line on take-off, and after about 75 feet, our PT-40 was airborne, no problem.
As a trainer, there is no doubt that the PT-40 will do exactly what it was designed to do and that is teach pilots how to fly. Its reaction to control inputs are positive, yet slow enough to keep a pilot from getting into instant trouble. This is based on the recommended control throws, as shown in the instructions. With increased control surface movement, our PT-40 was quite aerobatic. She flies hands-off with excellent stability at 1/2 throttle, yet can recover quickly when you place it into a bad situation. Stalls are very gentle and slow, and it does take some time to make her go that slow to stall. If you fly the PT-40 with rudder and elevator, you will find that the rudder is very responsive despite the small size. Ailerons are much smoother to handle with this model, while the elevator is pretty solid.
Landing the PT-40 is easy, as she glides for a very long time. Basically, you simply hold the nose level until the speed bleeds off, and it will settle to the runway without raising an eyebrow. All controls remain effective down to stall speed. If you wish to thrash the PT-40 around, she is strong enough to withstand all the punishment you can toss at her and will perform almost anything in the book. Snaps are predictable and forgiving, rolls are good, and loops from level flight are no sweat - this being a tribute to a good design with a good power plant behind it.
Overall, the PT-40 Mark II version has indeed been an improvement over the previous PT-40. Most of the improvement is found in the ease of construction and airframe strength, without any loss of the basic trainer performance it was made to deliver. Mated with the Magnum GPA .46A and a Hitec Prism 7X radio, this makes a trainer or sport system that will last many seasons for most pilots.
March, 1998 R/C Modeler Magazine
Editor: Dick Kidd"