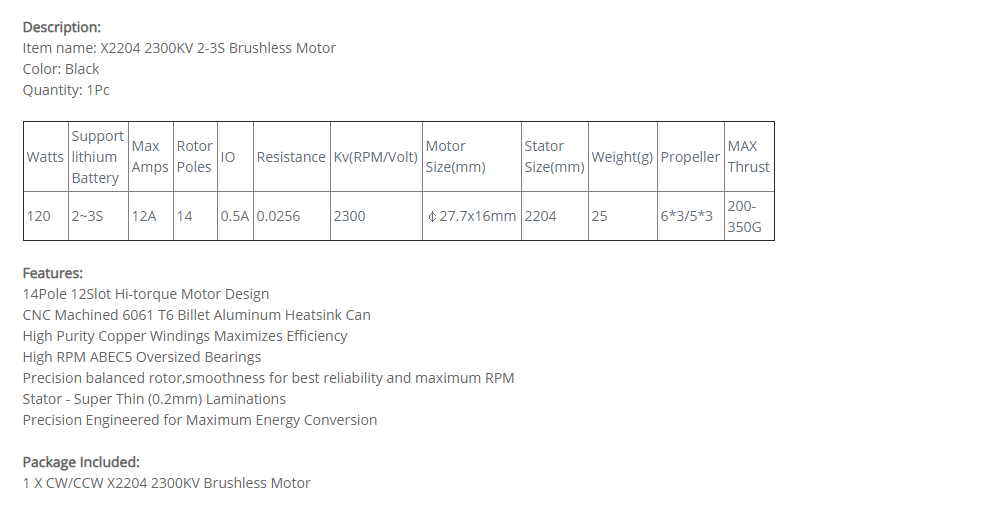 Tested on the Turnigy V3 test stand
2s
7045 2 blade = 12.3A / 470 grams of thrust / 10,800 rpm
6045 2 blade = 8.2A / 384 grams of thrust / 13,400 rpm
5051 3 blade = 8.57A / 295 grams of thrust / 13,190 rpm
3s
5051 3 blade = 13.66A / 500 grams of thrust / 17,100 rpm
5042 3 blade = 10A / 434 grams of thrust / 19,800 rpm
6045 2 blade = 13.2A / 653 grams of thrust / 17,400 rpm

I don't have a 6x3 or 5x3 that will fit this motor .. So I had to use props on hand that fit .
I did see over 150 watts with the 3s battery , the motor just got a little warm . So at around 150W looks like we are starting to load up the motor . How much more it will take before it cooks ? I would say that on paper the motor is under rated quite a bit . Personally I would be happy to run this motor to 150W for short bursts , like take off or a speed pass .
I have two wing kits , one is 800mm . ANd I have seen a lot of people put 2204's in that 800mm wing . If it can be built to 150 grams or less ? Then we might be looking at a thrust to weight ration of 4.3 to 1 or better ? on 3s . ( Thats crazy ) or 3:1 on 2s ....

Motor Link @ banggood