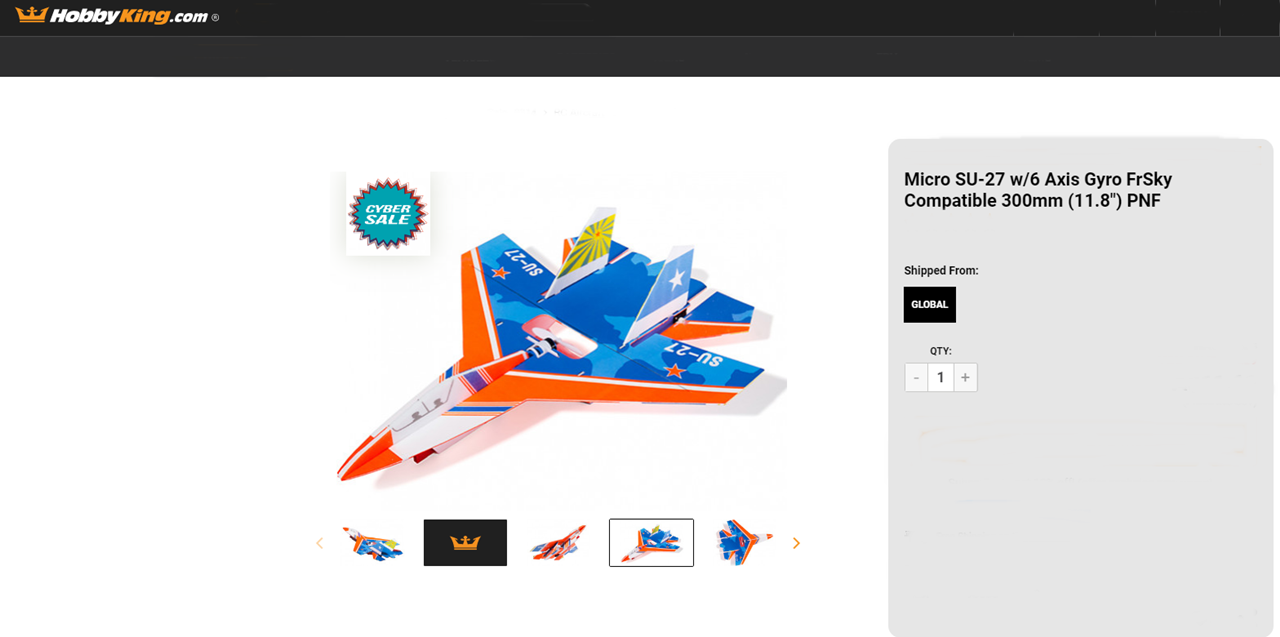 This be the FrSky version ...

PITA ...
And yes it was a pain in the abacus .
FrSky
Oh dear ! , it just did not want to bind properly . Just kept giving issues and refused to calibrate the gyro .
The short of it is ! You need to fine tune the frequency .
I tried negative and things went worse , So I went positive in the fine tune and things got better .. Currently +20 on the frequency tune .
Battery
Yeah , those 180mAh batteries ? Not available when I ordered the SU27 .
300mAh battery ?
HK does sell 2 300mAh 2s batteries , one is 17 grams and the other 19 grams .. The bat for the SU27 is 14 grams ( listed )
The actual weight of my 300 is 16.2 grams ( my scales )
I had to cut the slot in the fuse to move my battery further back .. You get maybe 5mm before you hit the buried Rx ( Be careful )
CG
See pictures .. The CG with my battery is an estimation , but CHUCKING the SU27 = Sort of nose dives - gently .
I may need to lead the tail .
Throws
Seriously a lot of throw ? I set my rates to 50% to start , still a lot . But with the forward CG ?
Flying weight will be 43 grams with the 300mAh battery - factory sheet says 39 grams with the 180 ..
And thats where I am for now ..
Maiden Update
Before leaving for the park , I calibrated the Gyro per instructions ( nose raised 10 degrees ) .
This was not enough . In stability mode the Su27 hunted the ground .. ( gently in forward flight and more harshly in turns )
After several forced landings I turned of the stability .
The Su27 was actually more stable , and generally flew better without stability control .
There was a decent amount of wind and that forward CG probably did not help .
Forward CG = I think I need to calibrate the Gyro at a higher angle of attack so that the stability control can keep the nose up .
Flight .. That wind wanted to do things to the Su27 , the flight control wanted to do things as did I . So there were times I was left wondering who was actually in control . Without the stability control it was just me and the wind .. So most of the time I was winning , but the wind did push the Su27 around .
Hindsight ?
1) Calibrate @ a higher angle of attack to counter the 300mAh 2s battery
2) FrSky might need to be fine tuned
3) That forward battery connector takes damage when you bump the ground
4) Does not really like wind
5) It does fly
6) It's made from SOFT foam - Not sure how much abuse it will take
7) Might be ok as a 2nd model
8) CG , I can live with it .. Just got to give it some up when you cut the power .