Ultralight quadcopters - Toothpicks, Twigs and Cinewhoops are gaining bigger popularity these days. Size and weight of the components is the crucial factor for these quads. So there is high demand of a small and lightweight VTX, of course with a decent performance and reasonable price. There are a few really good receivers out there, like TBS Unify Pro32 Nano, or Cricket Nano VTX but they are pricy. Echine has its own line of the small video transmitters with VTX03, ATX03 and ATX03S. Recently Eachine released even smaller, lighter and more powerful
Nano VTX
. Lets take a closer look at it and test the output power of this VTX.
Eachine Nano VTX
Specifications:
Output Power: PIT/25mW/100mW/200mW/400mW Switchable
Control Mode: BFOSD Control (RX)/Button
BAT: 5V
Video System: NTSC/PAL
Antenna: IPEX
Size: 14mm*15mm*4mm
Weight: 1.5 g
Features:
- 5.8GHz 48CH FPV transmitter
- 5V input voltage
- 25/100/200/400mW power switchable
- Support OSD configuring via Betaflight flight controller
- Supports PIT mode
- u.Fl (IPEX) antenna connector
Inside the box there is Nano VTX, simple dipole antenna and the instructions leaflet. 
Closer view of the top side of the VTX.
Closer view of the back side of the VTX. This side heats up the most.
The Nano VTX is realy small! The dimenstions are only 14mm x 15mm. It fits on my pointer finger
The VTX size comparison with the ATX03S.
Leaflet provides basic info and the basic operation instructions for manual channel/band/power selection.
Interesting, that instructions manual has a warning saying "Please do not remove the heatsink". Which has no sense as there is no heat sink attaached and probably should be read "Please do not put VTX into heatshrink", because it heats up, especially on the maximum RF power.
Weight of the bare Nano VTX without wires is only 1.0 gram. 
Weight of the Nano VTX with wires is 2.0 grams. You can shave about 0.5 gram if you will shorten the wires.
Weight of the Nano VTX with wires and antenna is 2.9 grams.
And weight of the AVTX03S for comparison.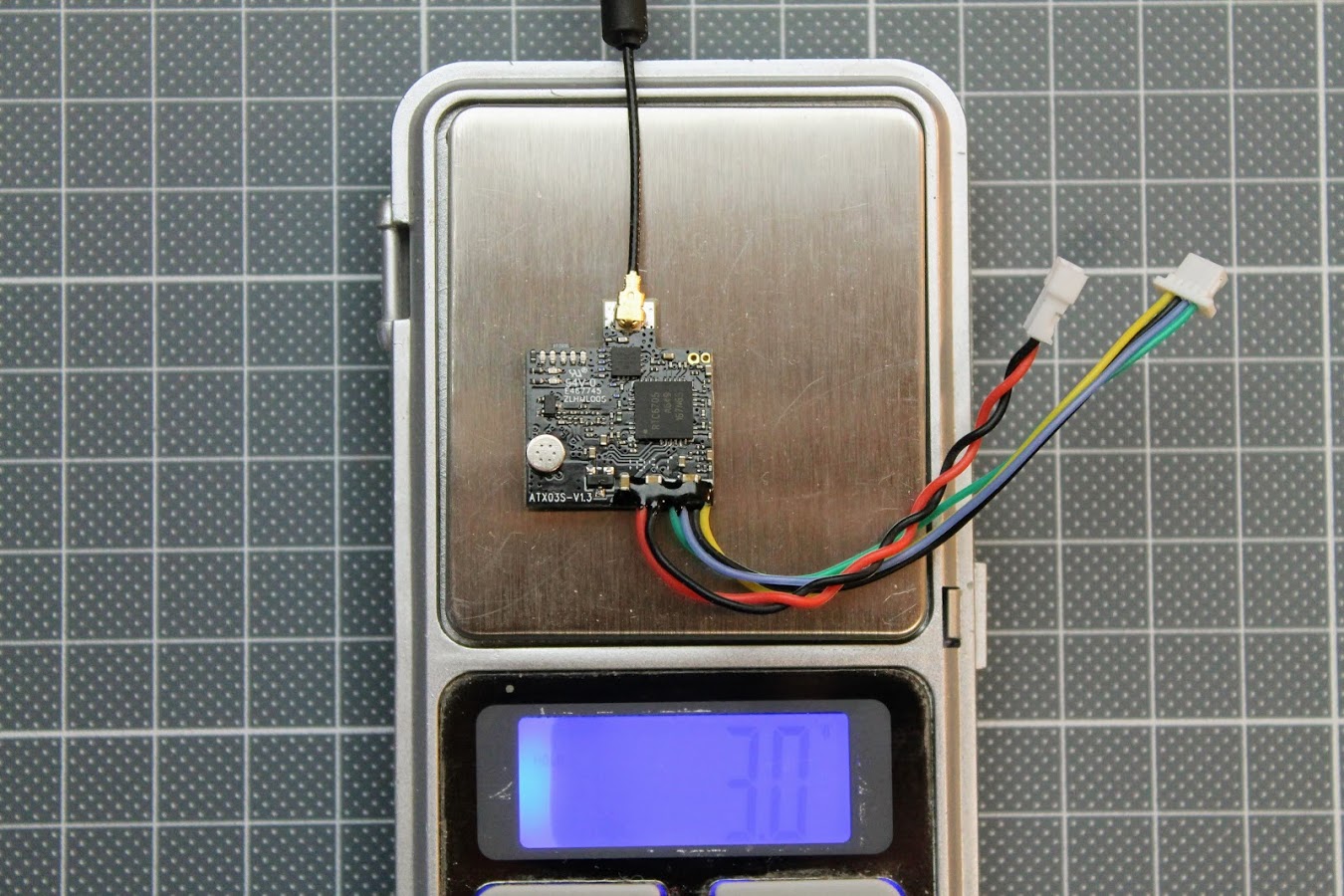 Eachine Nano VTX pinout diagram.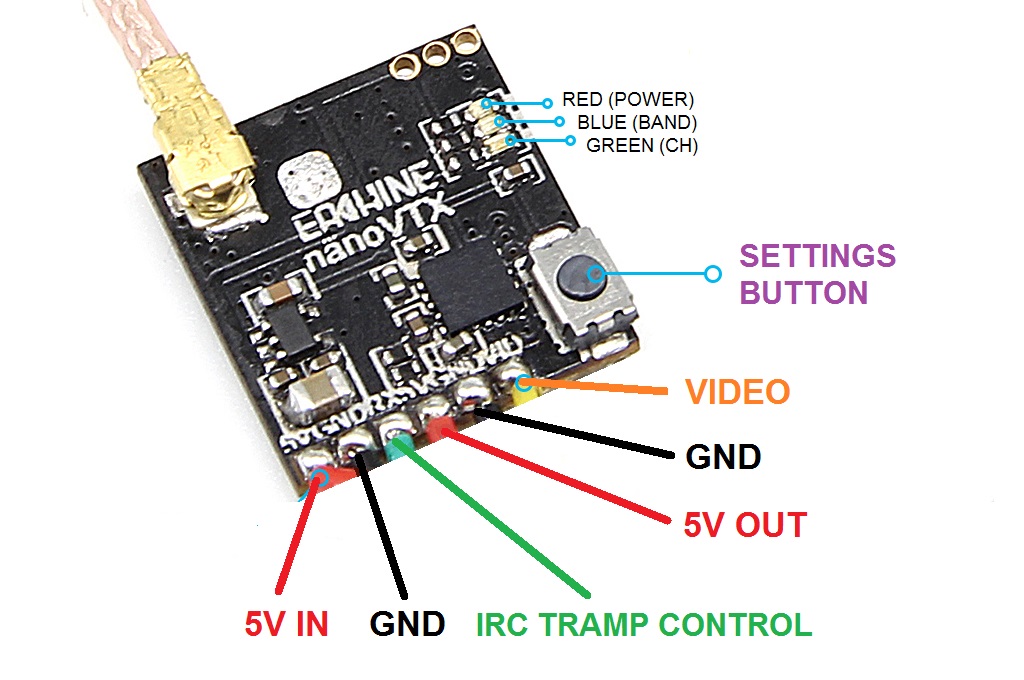 Button control - channel, band and power select
Select 8 channels by simple short pressing the settings button. Short press to change 8 channels sequentially.
Green LED light will flash the numer of the corresponging channel. 
Band Select
Press button for 2s, The Blue LED will flicker, then short presses to select 5 bands A/B/E/F/r sequentially.
Power select
Press button for 6s, Blue LED will flicker, then short presses to select power 25mW/100mW/200mW/400mW sequentially.
Pit Mode(0.01mW)
While in Pit Mode you can change channels and set power levels, but none of these changes will take effect until you quit Pit Mode. By default, Pit Mode will send a very weak signal. You can control the PIT feature via Taranis LUA script.
Betaflight OSD - IRC Tramp control
Eachine Nano VTX can be controlled by Betafligth OSD. This type of the settings control should be preferred to the button control. It is really hard to count the flashing LED's and the setting up by button is troublesome.
To setup the IRC Trump control you need to connect green wire from the Nano VTX to any free flight controller RX pad. Then go to Ports tab in the Betaflight Configurator and select the "IRC Tramp" option in the Peripherals column.
Power output measurements
I've connected the Eachine Nano VTX to the immersion RF power meter V2 via short u.Fl to SMA pigtail. VTX was cooled with fan while taking the measurements.
First test: 25mW output setting. In the reality it is outputting almost 29mW (14.7dBm). Pretty close.
Next step 100mW - outputs 126 mW (21.00Bm). 
At 200mW setting it outputs 208 mW (23.19 dBm). Again very close!
And at max setting of 200mW it outputs 317 mW (25.01 Bm).
Tested the 25mw setting without cooling and it drops from 29 mW down to 16 mW (11.99 dBm) after a few minutes.
At the 100mw setting without cooling  drops from 126 mW down to 72 mW (18.56 dBm) after a few minutes.
At the 200mw setting without cooling  drops from 208mW down to 122mW (20.86 dBm) after a few minutes.
Also at the max 400mw setting without cooling, the power output drops from 317mW down to 178mW (22.50 dBm) after a few minutes.
The power output test results were surprisingly good. Actual output power is pretty close to the nominal values at all power levels. Except the max power setting 400mW - it outputs 319 mW on CH5, but almost 500mW on the CH1 of the Raceband.
Below are the RF power outputs and electrical current consumptions for all power levels. Measured at Raceband, CH5.
Power output vs frequency for 25mW power level on Raceband.
Power output vs frequency for 100mW power level on Raceband.
Power output vs frequency for 200mW power level on Raceband.
Power output vs frequency for 400mW power level on Raceband.
As you can see there are deviations between the nomimal power and measured power output across the whole Raceband.  You should have this in mind when selecting the channel/band for FPV feed - it outputs the more power on the lower frequencies and less power on the higher frequencies.
PROS
Small (14mm x 15mm) and lightweight (2.0 grams)
IRC Tramp control 
Pit /25/100/200/400mW switchable power modes
u.Fl (IPEX) antenna connector
CONS
Heats up 
No on board microphone
CONCLUSION
Eachine Nano VTX is the smallest VTX I have so far.  It has 4 power output levels ranging from 25 mW up to 400mW. This is enormous amount of the RF output for such a small VTX. It heats up as there is little area to dissapate the heat. I recommend do not heatshrink this VTX and do not burry it deep in the aircraft. If it gets enough airflow it cools down and outputs stronger signal. Measured power output shows that this VTX can really output 400mW and even more (Raceband CH1-CH2), but the power output reduces on the higher frequency channels. Output ranges from 41.7 mW to 21.7 mW on the 25mW power setting and from 498 mW to 231 mW on the 400mW setting.
Eachine Nano VTX can be controlled by ImmersionRC Tramp protocol. You can set the Channel, Band and Power setting via Betaflight OSD or LUA script on your OpenTX transmitter.
There is no such thing as perfect VTX, but Eachine Nano VTX is excellent transmitter for ultra lightweight builds.
Available @ Banggood:
https://www.banggood.com/Eachine-NANO-VTX-5_8GHz-48CH-25100200400mW-Switchable-FPV-Transmitter-Support-OSDPitmodeIRC-Tramp-for-RC-Drone-Tiny-whoop-p-1525228.html
Disclaimer: This item was supplied by Banggood for a fair and unbiased review. Banggood never asked for a positive review and never infuenced my opinion in any way. I'm trying my best to stay uninfluenced and give only my own opinion. All affiliate links if there are any help me purchase items for future reviews.