Folks here on RCGroups and on FB have asked about some of the test tools I use to get the recommendations, charts and numbers I use in my posts. This article describes the build of a tool with the ability to set a steady state RPM while flying, like a cars cruise control. It also measures and logs the RPM plus two temperature probes. It is only applicable to brushless motor equipped aircraft.
This DIY tool first came from a need to be able to test components at steady state power, current and RPM levels to fully understand the loads being placed on the components. The first version of this device served to regulate the RPM at a steady state regardless of voltage supply to test battery packs and ESC's. I then re-configured the tool to regulate the current pulled from the ESC to further test battery packs in a controlled environment without the need for an expensive lab quality power supply.
The latest effort is to make this a stand-alone tool that can be used easily in-flight as a means to help with choosing the best motors & props for maximum flight efficiency on an FPV fixed wing project. The goal is to have the ability to set the RPM then fly for a short period (5+ minutes) and capture the logging info. Doing this on several different props running the same airspeed in every case will give excellent real-world comparison information.
The build article for this device which is still a work in progress, can be found here-
DIY - In-Flight RPM Regulator and Temperature Data Logger
First flight setup-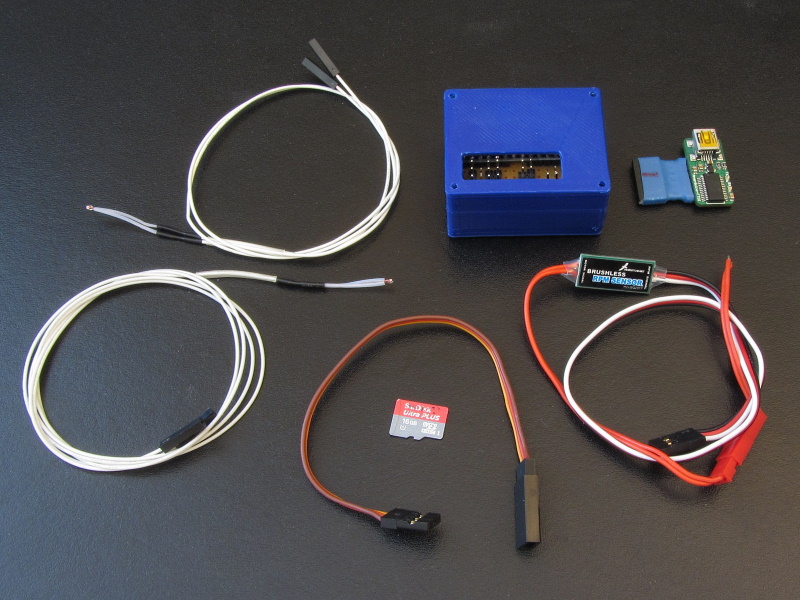 Below is a summary chart of the first tests. I set the plane up on each flight to fly straight and level at 37mph(60km/h). Once this was done, the device mode was switched to "Regulate" (cruise control) which holds the RPM at a steady state. There was little to no wind and each test was run in two directions (North and South) for about a mile each and all data shown was averaged over the entire distance while regulate mode was on.

For more information on these results, please go to the build link above.