https://www.banggood.com/custlink/vmDDrRBVg3
Reminds of one of my favourite Jets
This 787mm Wingspan Skyhunter Racing is a special updated version for racing, also it is the smallest and most portable edition of the legendary Skyhunter FPV airframe series, the twin-boom tail wing design makes it fly super stable and agile, the EPP molded wing and fuselage reinforced by carbon fiber tube and rod is light in weight but solid and strong in structure, the new crash absorption system will save the plane even in a hard crash. You can take it anytime to any place and fly in anywhere because of its compact size and highly integrated power system.
Features:
Crash resistance EPP material, easy to repair even in hard crash.
New Crash Absorption system, main wing will detach automatically in a crash, thus to protect the it from breaking.
Traditional twin-boom tail design makes it fly super stable and agile
Racing style flag decal, with different color and numbers for racing competition.
Designed for FPV Racing, agile and stable flying ability even in small area like park / underground parking garage
Small portable size for easy carry and take to anywhere
Easy to assemble in just few minutes by screw and glue
Multiple camera mount for different FPV / HD camera in the market
Super big room inside fuselage for more FPV gear and big battery
Easy to hand-launch by yourself without any help
Work with the same motor / ESC / prop / camera from racing quads, exchangeable easily
With CG bumps under wings for each finger touch
Specifications:
Brand Name: SONICMODELL
Item Name: Skyhunter Racing
Wingspan: 787mm (30.98'')
Length: 548mm (21.57'')
Wing area: 8.1dm2
Wing load: 59g/dm2(Max.)
My Build :
Motor: Walkera Runner 28-014 2500Kv
SonicModell 30 amp ESC
Servos:
Eachine 5g x 3pcs
I used 2 servo extensions because I bought the short cable version
Prop: 5-6 inch prop
, i will test with 6 inch Gemfan and 5 inch Racekraft style props
Battery: 3-4S 800-1550mAh. I will be testing 3+4S LiPo and 18650 packs. 18650 are the way forwards for planes. Being able to just add or remove a single cell when you want is just soo much easier.
This is exactly how the Sky Hunter arrives. A shipping label is on the rear of the box and a simple sticky tab sealed the box. It arrived EXACTLY how you see it, no damage whatsoever......not even a scratch. ( the little 'ding' was me )
Everything inside is nicely sealed in bubble wrap and things are packed so that nothing will move/jostle about during shipping.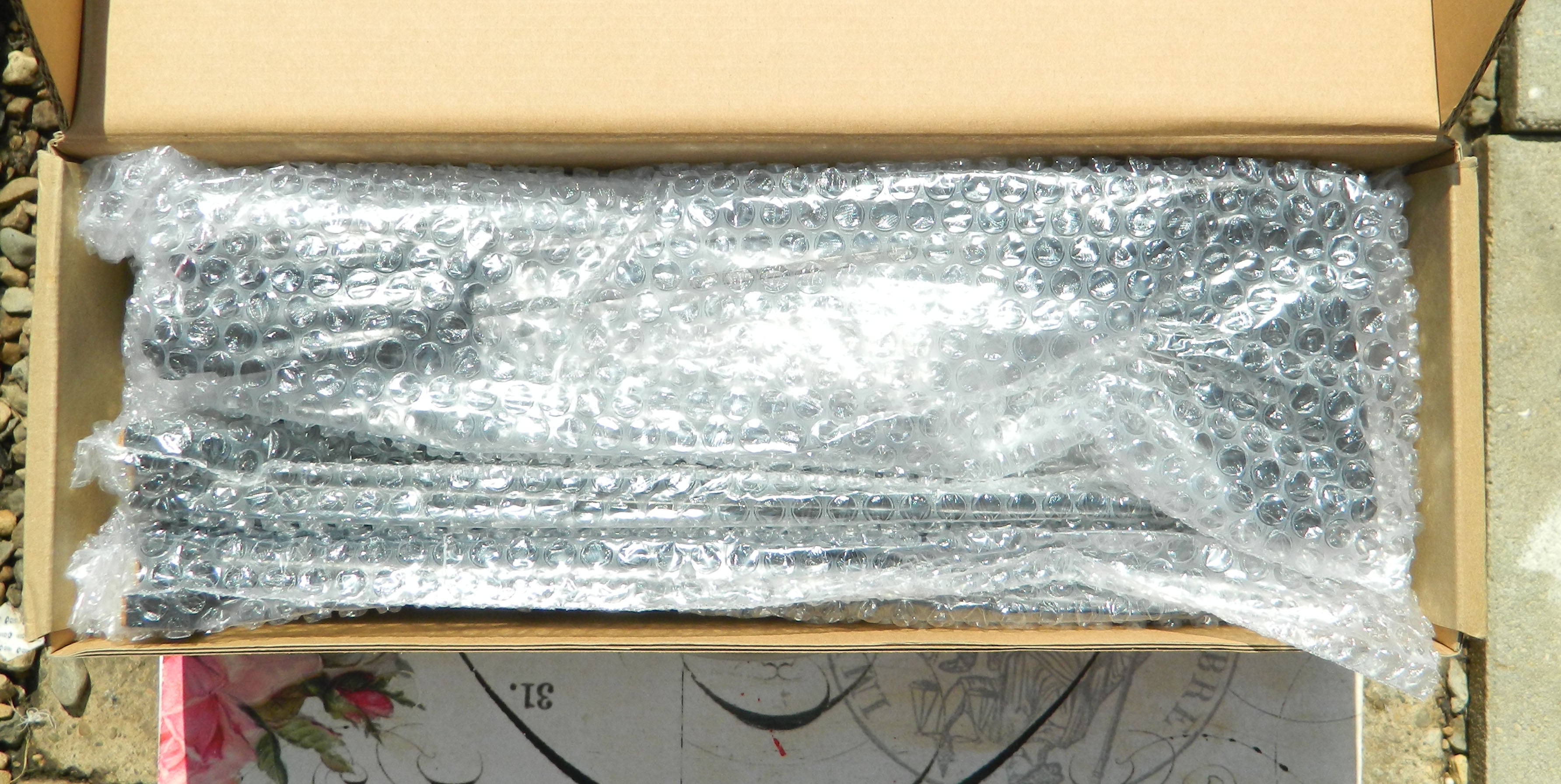 A set of 3 coloured stickers are included with every model so you can use your preferred colour or mix and match your own style. There is also 4 little metallic stickers which I forgot to photograph but you can see them in the picture below.
A simple set of instructions are included, its not really a difficult build though and I never felt the need to use them but they are handy for those who need them.
I will start at the rear. The elevator is a moulded EPP wing with moulded cavity for your servo. The elevator surface itself is moulded with the 'wing' and the connecting material is used as a hinge. The hinge is sturdy and a little stiff but moving the elevator a few times loosens the surface up a little.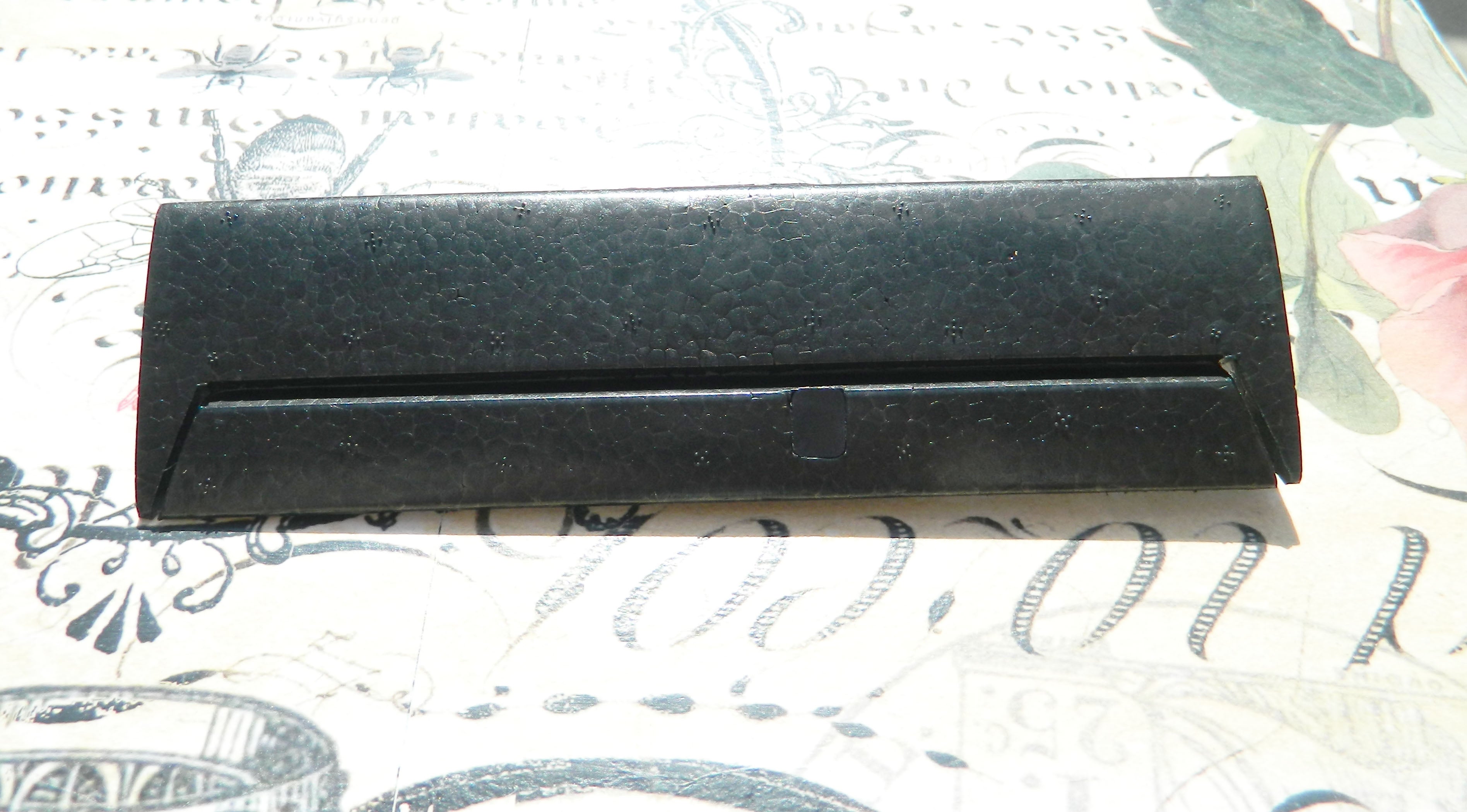 The underside of the elevator is were the servo cavity and two protective plywood inserts are located. The plywood inserts stop the control rod from snagging and protect the servo from damage when landing
The rudder on the Sky Hunter is moulded and is non functioning ( for now). Each part is attached to a hollow square carbon spar with a moulded pod which attaches to the main wing. The elevator servo cable runs internally through the boom keeping everything nice and tidy.
A close up of the boom ends, the wing side has two locating 'nubs' for alignment and the rudder has a mounded cavity to locate the elevator.
The wings are moulded Black EPP with a cavity for your servos, channels have been included to hide the required cabling. Two carbon spars are pre-glued in place and a third is inserted to connect the two halves. At the front of the wing a small moulded block is supported by a piece of light plywood and this is used to slot into the main body, to the rear are two bolt holes which are used to lock the wing in place.
Simple profile shot showing wing mouldings for wire routing and carbon rod placement.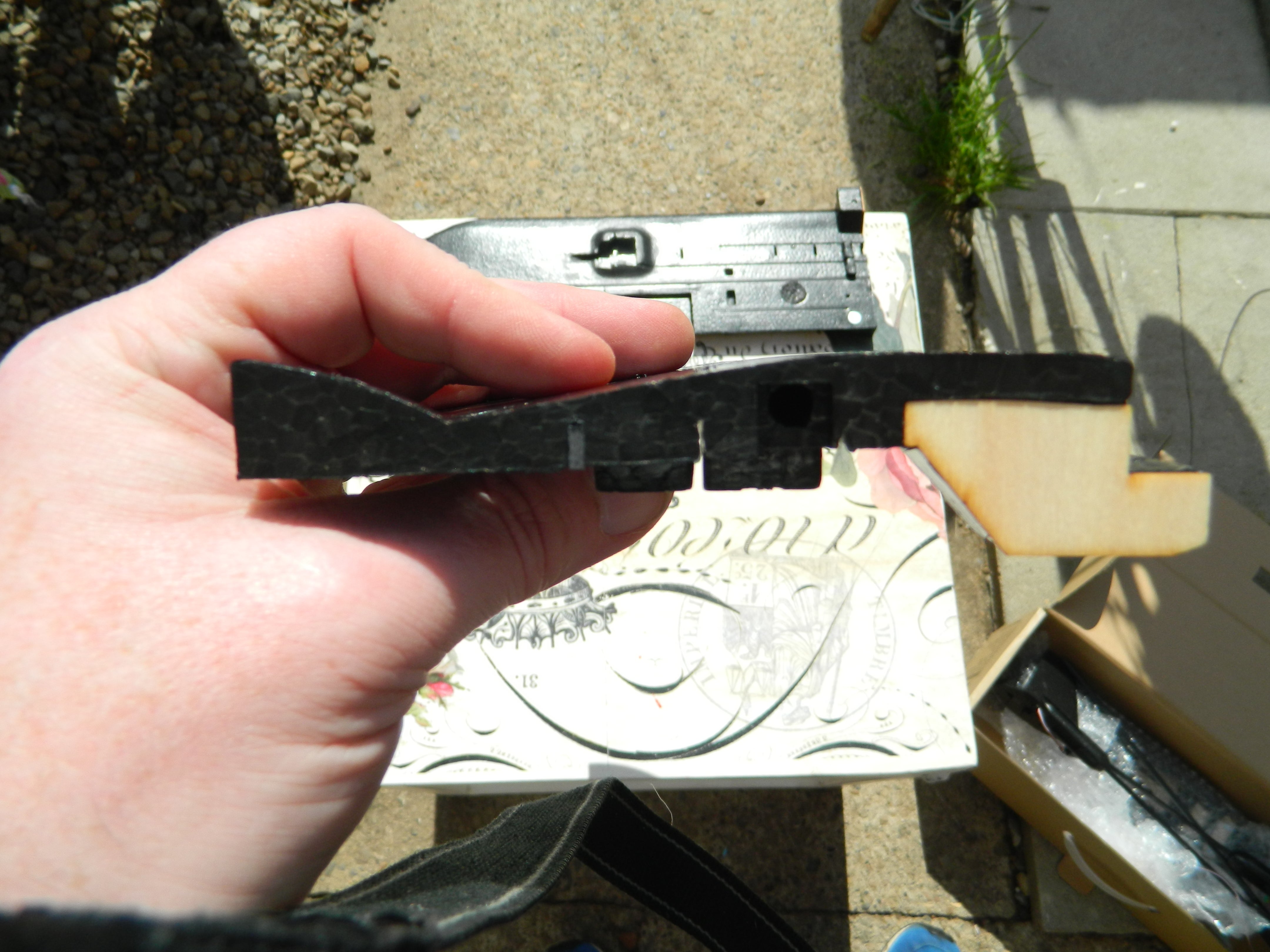 Servos installed. The 5Gram servos fit well and all surfaces move smoothly.
The main fuselage of the Sky Hunter is a 3 part moulded body with forward sections for FPV components.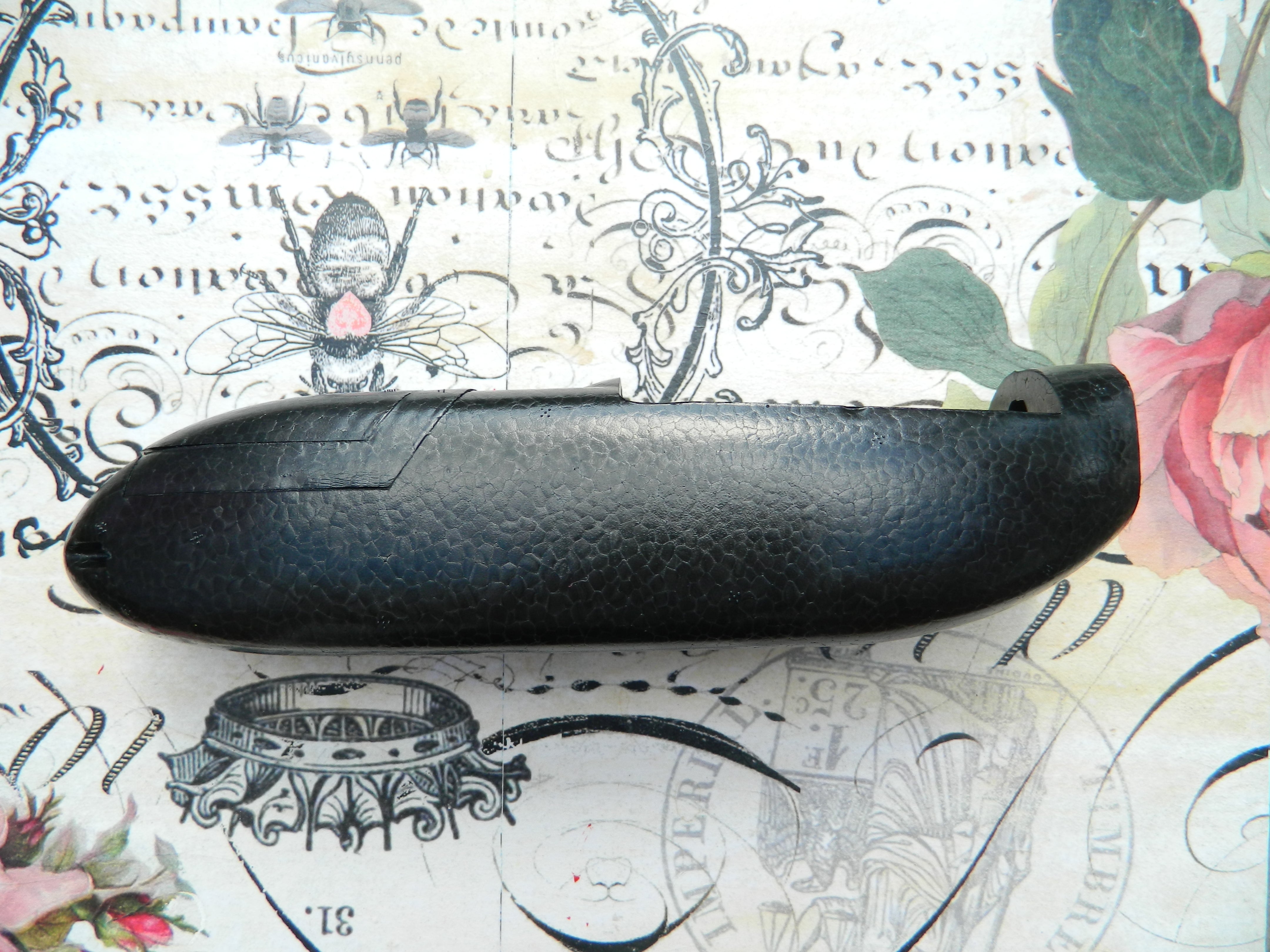 Internally mounted plywood panels for extra support and component mounting are pre-glued in place. Two small rare earth magnets are used to hold the wing in place along with the wings tab, two bolts and a separate plate is installed if you would prefer to bolt the wing in place.
The forward section is comprised of two removable sections. The first section provides a surface to mount an FPV camera and a cavity should you want to install a servo to give the camera some movement. The upper section is used simply to make the nose aerodynamic.
Rare earth magnets and a simple tab keep everything in place.
The motor mount is a simple plywood firewall. A motor mount adapter is required if you want to use a 'quadcopter' motor as they generally do not have a base. You can bolt through from the inside of the fuselage but it is a little tricky.
A splitter cable is included should you prefer to use a single channel for the Ailerons and 3 tough push rods with clevis connectors for the control surfaces. The two bolts are required only if you wish to bolt the wing to the fuselage.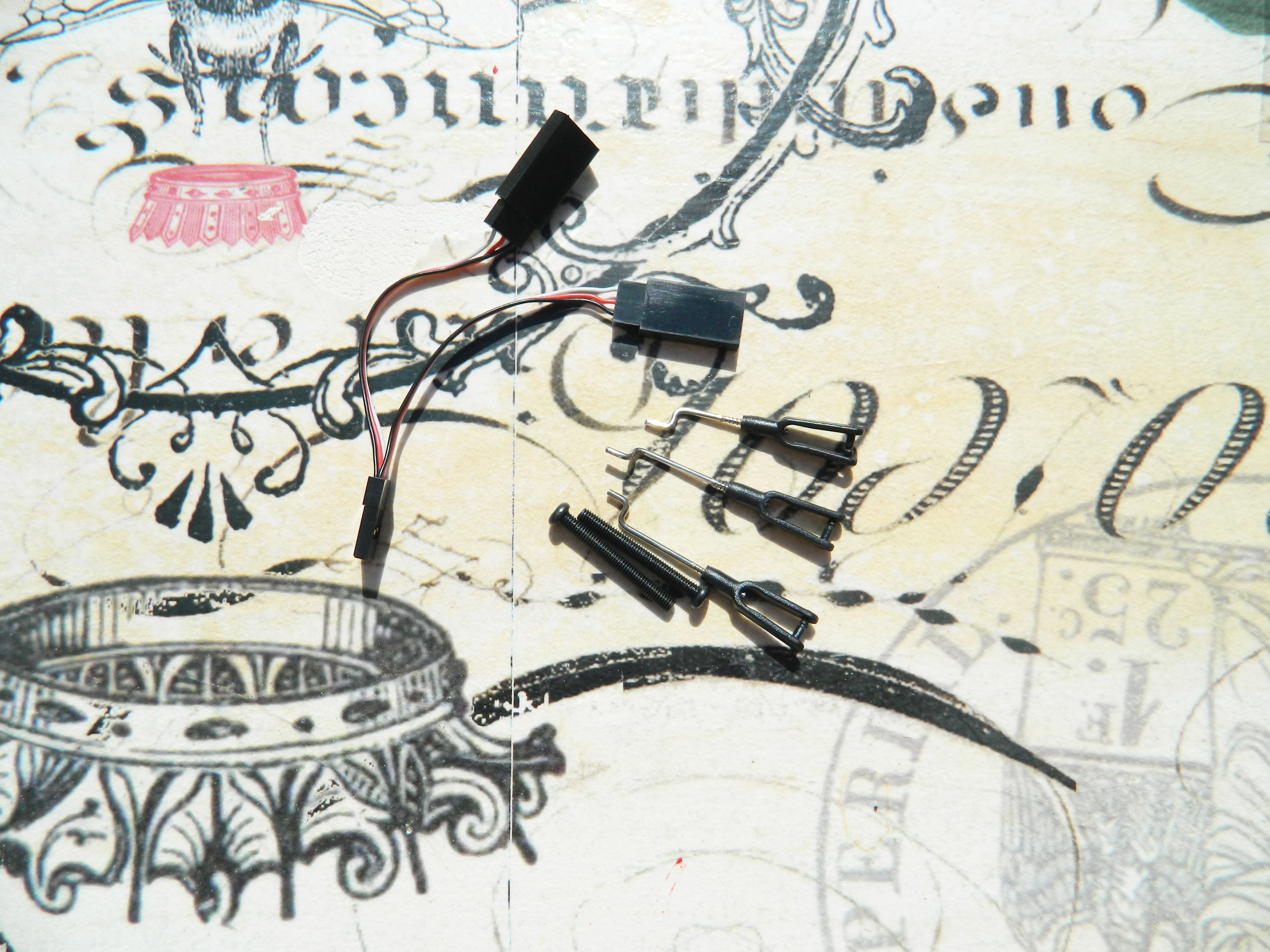 The carbon rod the helps tie the two wing halves together.
A quick test fit of parts, everything fits together quite nicely.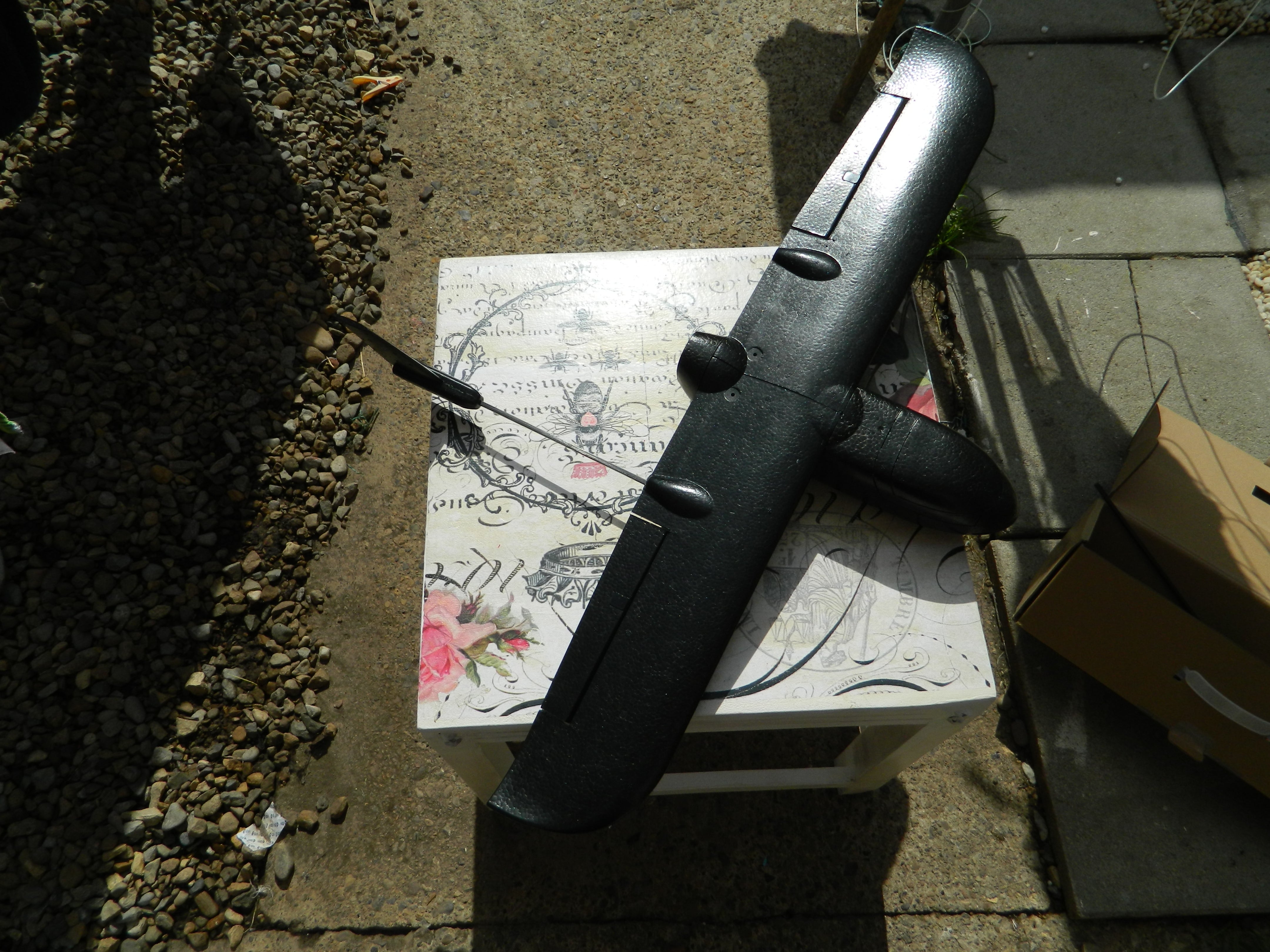 Basic electronics and stickers fitted for test flights. FPV equipment will be added later. A small Flysky FS2A receiver has been fitted for testing, I wont require anything more than LOS until after testing and FPV equipment has been fitted . Once those basic tests are completed I will switch receivers to the Flysky IA6B for its increased range and overall reliability.
The motor used is a Walkera runner motor and the Esc is a Sonicmodell 30amp esc which i had previously bought as a spare for m Talon. I chose the Walkera motor because it weighs the same as an 1806 but is 2500kv and I have used this motor with 6 inch props( Including Tri-Blade props ) without any issues. the low weight, extra Kv and 6 inch compatibility make the motor a good choice for this 600mm wing.
The metallic stickers in the box were used underneath simply for orientation purposes, whilst later on I will be flying FPV so wont have to worry about visibility during the testing phase the reflective 'glint' should help my eyes find the plane and orient it correctly should i momentarily lose sight of it.
**RESERVED FOR VIDEO**
Promotional Video