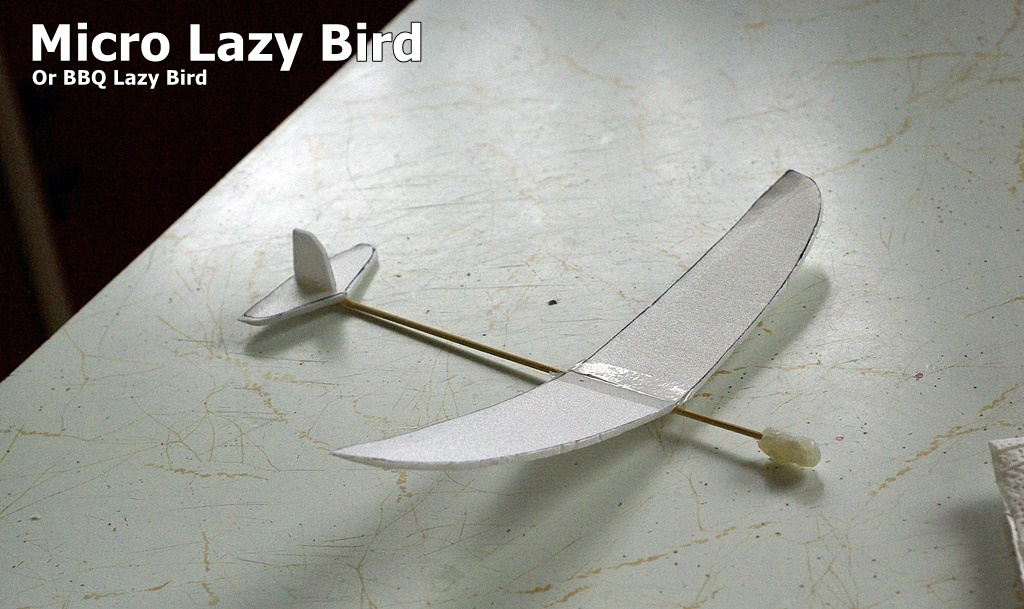 It's WINDY / it's wet / and I got bored !

Waiting , and more waiting for stuff !
I have two gliders to finish and I need STUFF ! .. The 1.5 DLG needs a Rx , Bixler HLG needs servo extensions .

With the bad weather I got an itch to do something .
So I got on Google images and started looking for a good old fashioned chuck glider design to download .
Plan was to go MICRO ...
I wanted to use a BBQ skewer and some 3mm Depron .
The first plan I downloaded was the HAWK , but when printed out ( onto printer paper ) it was just too Micro .
I also downloaded the Lazy Bird plan and when printed out was a really good micro size . Span came out at 255mm !
Project cost = Less than $1

Project time = 1 to 2 hours depending on building exp
This was my first scratch built chucky in 40 years , so I made little effort to make it sweet . This was just quick and dirty to see what was what .
1) Print out the plan
2) Cut out the wing / fins to make templates
3) Draw around the templates on the Depron
4) Carefully cut out the wing etc from the Depron
5) I marked the centre of the wing , then cut partially through
6) I then lay'ed some tape over the other side of the wing and cracked the wing for the dihedral ..
7) I put a line of hot glue into the cut wing and then set it to the BBQ skewer , try and maintain some dihedral doing this
8) Glue the tail surfaces
Now we have to try and get CG ...
I used hot glue for this as well .. In regard to this , I should have left more BBQ Skewer in front of the wing so that less weight would be required for CG .
It glides , surprisingly well for such a small Chucky !
This was a very lose copy of the Lazy Bird , but just a fun little project to kill some time during some horrid weather !
Which continues outside as I type this ..