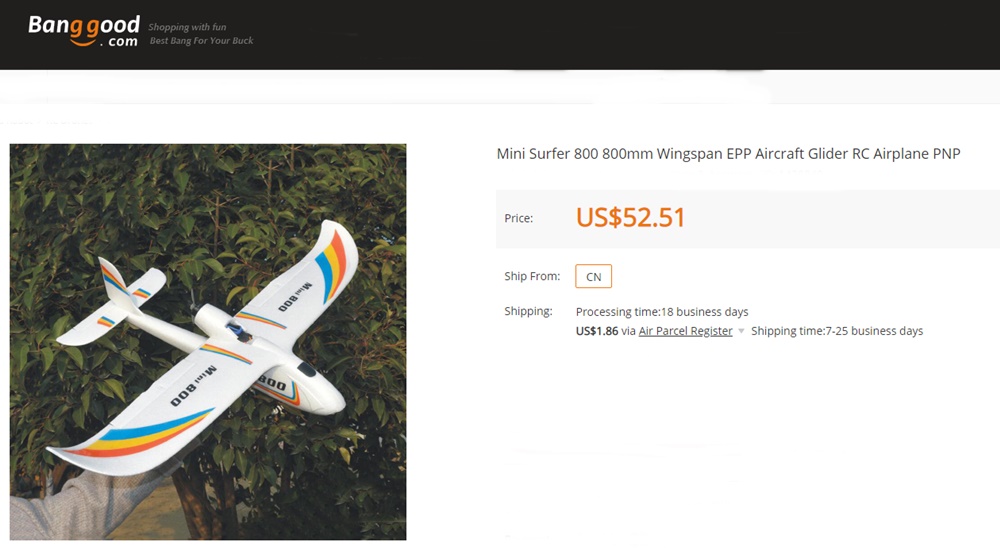 Sent for review by Banggood.com
Yes folks , I ballsed it big time !

Hindsight is everything !
A) I had forgotten that all my directions had been reversed ...
B) Adjusting trim , yeah I went the wrong way !
C) I completely ballsed the trim of the model
D) At the middle of the flight I had to much up trim and at the end of the flight I had too much down trim
E) The Mini Surfer 800 smacked the ground hard

, there was no damage !
F) How ever .....
What did happen was the antenna on the Rx fell off due to the impact with terra firma ...
I did do a visual inspection after the impact , but there was some sticky tape holding the antenna in position . So everything looked ok .
This resulted in some more ground impacts and I gave up and put the still intact and in excellent condition Mini Surfer 800 back in the car .
So it was all ME .... I ballsed the maiden big time .
Maiden
A) I have no expo what so ever for the maiden flight
B) Ailerons were just about perfect
C) Elevator was a little touchy
D) Even though the Mini Surfer 800 glides ok
E) Under power it climbs
Hindsight
A) Add expo to the Elevator ( 50% maybe )
B) Ailerons need nothing
C) A higher pitch prop cant hurt ( more thrust )
D) It will fly 2s
E) The battery was just over 8v when I came home ..
F) I have set up a switch to add down elevator for powered flight ....
Under power with my CG the Mini Surfer 800 needs down elevator to counter the motor .
That same down elevator with the power off is very much unwanted .
G) Flaperon (?) hmmmm ( Maybe a big yes )
I was in a bit of a hurry to bring the Mini Surfer 800 down as I had spotted an individual walking out into the field .
Who walks under a flying RC model ?
And since I was ballsing the trim and knew it , I panicked the landing a little ..
For me , I would rather break the model , than break a person ( That's just me )
It was a little unfortunate I could not have the field to myself , but it is a rather popular place for RC .
And talking to another person , apparently people treat this place a little like the wild wild west .
So when did courtesy / common sense / safety - go out the window ?
I might have to google earth for another location !
Take 2