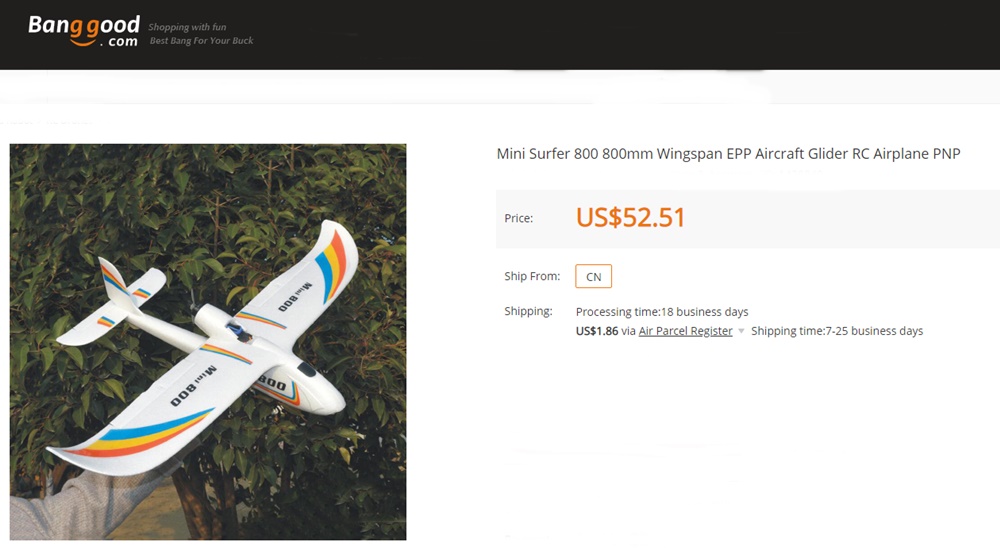 Sent for review by Banggood.com
CG Games
I did watch the two available youtube reviews on the Mini Surfer 800 ...

Just have to wonder why the G spot is such a secret ?
Anyways , after watching the videos the Mini Surfers flown by the reviewers had a tendency to drop it's nose on launch ..
In the first video I watched it dropped the nose like a lead sled and thumped the ground really well ..
And if mem serves the starting G spot was just forward of the spar ...

I don't recall any mention of the CG in the second video ...
Hmmm , I guess thats what the CG games are all about , find the G spot before you break the model

I broke the model , actually the motor pod fell off ( See pictures ) ..
Interesting ! , seems that the hot glue has no real strength bond wise to this foam ( See Pictures ) ..
Pod is re-glued , this time with your run of the mill Cyno ( Not foam safe ) ..
This foam seems to be a little glue resistant , and ordinary cyno seems to do the best as far as gluing things together goes .
The CG Game !
1) My starting point is 15mm behind the spar for almost a 50% CG
2) You would think it was horrendous with such a rearward CG , but that was not the case at all .
3) The model seemed to be very soft on the elevator , this might change as you fly under power ( more speed )
4) On launch into the wind , the model climbed ever so gently and stalled
5) Launching slightly down helped a lot
6) Just as I was going to try a 25% power launch , well the motor pod fell off .
End of CG Game !
Yes , I would say the CG is too far back , but how far too far back ?
I might just slap ( glue ) another lead ball into the nose and get the G spot closer to the spar .
So thats where I am for now ..
CG will be moved forward , motor pod has been re-glued ..
And hopefully after lunch I will do a low power CG glide test ...
Part 6 ( RTF )