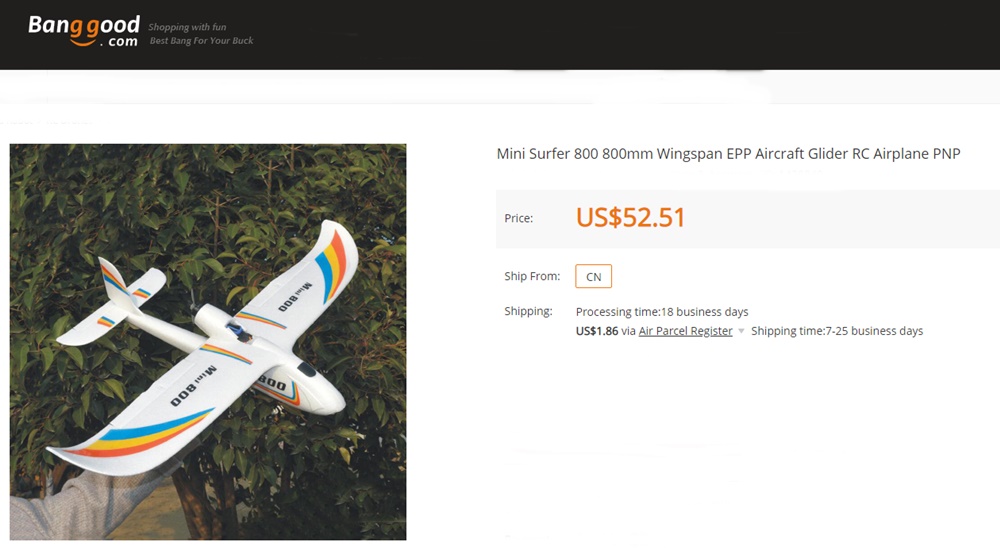 Sent for review by Banggood.com
Control Surfaces &
The short of it is , the Mini Surfer 800 is ready to play the CG game ! ( Check out the video )
Vertical fin and horizontal stabiliser ( Rud / Ele )
I glued these in place with foam safe cyno ..
Controls /
Ailerons - you need to cut them free as they are ever so slightly moulded in place . Also they are some what stiff , so you may want to take a knife and cut the hinge line 30% to 50% to release some tension .
Elevator - same as above ..
Control horns .. Bush league .. They be the press together type , some glue wont hurt .
Control rods - again bush league .. ( See pictures )
With everything connected
Just check direction of travel - I had to reverse everything .
With my set up Ch4 is another Aileron Ch .. This means I can do flaperon at a later date ..
Ch1 - Aileron
Ch2 - Elevator
Ch3 - Throttle
Ch4 - Aileron
As mentioned this will be a 2s Bird . Thrust is nice and almost 1:1 with a 2s 850mAh battery ..
CG is too far back , so most likely will need a larger ( heavier ) battery .
I only have the 5x3x3 props , though I did order 2 pair of 5x4.5x3 .. ( Who knows when they will get here ? )
So the potential is there for more thrust when the new props get here ..
I did run the Mini 800 on the ground and it is accelerating ( in the back yard ) , so I dare say I wont be lacking power for flight .
Not that the mini 800 will be a rocket ship , on 3s it might be , but I do like gentle flying ..
+ the low current draw , I do like the low current draw very much .
I havent tested this particular ESC yet !
Check out the video as I run the Mini 800 on the ground ...
A) So far there has been very little in the way of challenges , well except for the DUD ESC ! ( My ESC )
B) Build difficulty ? ----- What difficulty ? So far completely Bush League ..
C) This has been one of the easiest builds I have ever done ...
D) Got to play the CG game next ...
UPDATE
I thought I better check the current draw with the new ESC = 6A
Also playing with the CG I decided to go with a 1000mAh 2s battery and some lead at the very tip of the nose ...
I would need to go 2200 2s to get CG in the playing field which would really Jack the flying weight ...
I don't want the weight even if I get another 1200mAh to play with ...
My guess is that the Mini Surfer 800 will fly at half throttle , again , getting ahead of myself ...
Next is some chuck testing for CG , will it glide or GLUD !
Part 5 - CG Games