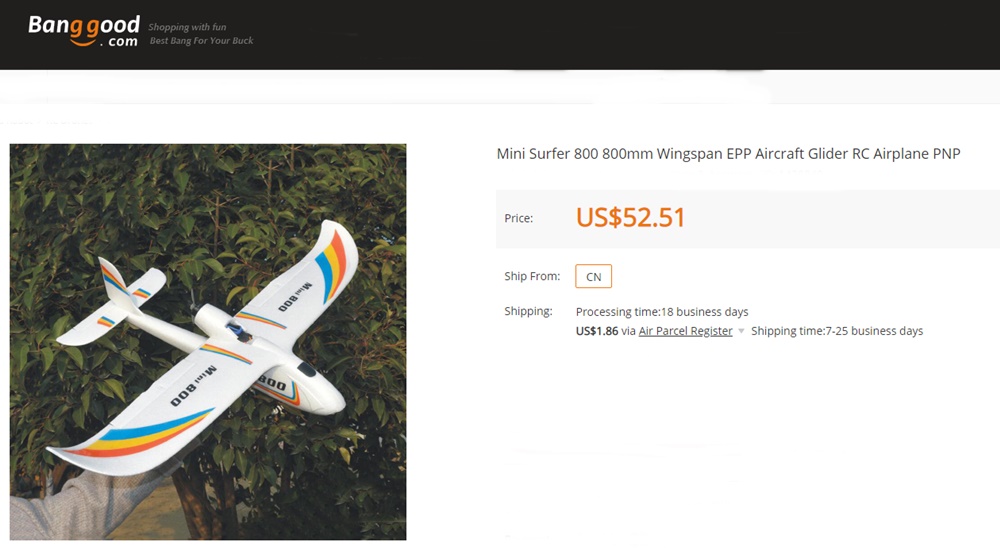 Sent for review by Banggood.com
Motor ESC install
I had some alternative ESC's to chose from in the 10A to 12A range ..
Chosen was the MR RC 12A ESC , since it already had a connector on it .
Yes , the plan is to run a 2s battery with the 5x3x3 prop ..
With the ESC soldered up , I did a quick current check and the combo pulled some 5.5 amp ..

A) Motor pod .. I was very easily able to open it up .. This allowed me to tighten the motor mount screws .
I then proceeded to hotglue the motor mount into the pod and hot glue the pod shut .
B) Since I was playing with the hot glue , I hot glued the pod onto the wing ..
No issues here , and the wing fits to the fuse just fine .
C) The 12A ESC was zip tied to the wing and the cables routed through the hole to the inside of the wing .
The ESC should get plenty of air where it is . Seems to be a very neat install .
D) At this time I do not plan to run 3s , just in case anyone was wondering .
E) Next I need to watch some TV , give my back a rest .. Then I will solder up the Rx ...
This one from BG
, simply my Fav 4ch Rx right now ...
Part 3 - Install the Rx