Hehehehehehheheheheheheheeeee !

Sometimes you just got to laugh it off !
So I took the Dancing Wings out this morning for a GLUD test ( clue ) ..
I got the CG spot on factory recommendation ( 50mm from LE )
I set up everything , mixed in Elevon ...
I was rather pleased with myself ! ( Was ! )
So at my CG test spot , I gave the D Wing a gentle launch and it went up a bit , and I corrected ..
It was sort of ok ..
Hmmm , 2nd launch was a little more energetic and the D wing did the LEad SLead thing straight into the ground ! ( What the parking lot ? )
I smashed the nose rather well , so it was back home for repairs ...
I did the repairs , and things thankfully looked worse than they really were .. A bit of glue , 10 minutes of my time and the D wing was back up and running .
????????????????????????????????
So what the parking lot happened ?
I checked and re-checked , everything was good ..
So rather than walking too far , I decided to some chucking in the front yard ( Not much space ) , but if it would glide across the yard and smack the fence I would be happy ..
Nope ! Seriously ..
There was one instance where I had to apply full up and the D wing turned withing it's own length ( looped ) ....

This things turns tighter than anything I have ever experienced since the mid 80's when I got the CG to far back on a Half A combat model ...
So with the recommended CG , this things turning inside itself ..
The CG needs to move forward ...
I think its the forward swept wings ,

But with my CG @ 50mm from the LE , I might have to try half that ... Especially since it can turn / loops so insanely tight ..
ANd I dont even have that much Elevon throw .. ?
Got some carbon rod from HK , 2mm and 1.5mm ..
Might try for a more high tech DEPRON / Carbon wing .. The R3 is so nice for what was essentially a BUSH LEAGUE build , I can't help but feel that actually putting in some effort into designing a real half A***d DLG wing . Might actually give some good results ..
So the gears are turning , and the grey matter is spinning about .
Wing has to be light ! , it has to be straight and it has to be strong enough for DLG ...
ANd yes , it has to be CHEAP / affordable ...
Also needs to be a low tech build , so that every Joe six pack can build one ...
Not talking CNC machined wing moulds here ....
Batteries AINT Batteries ...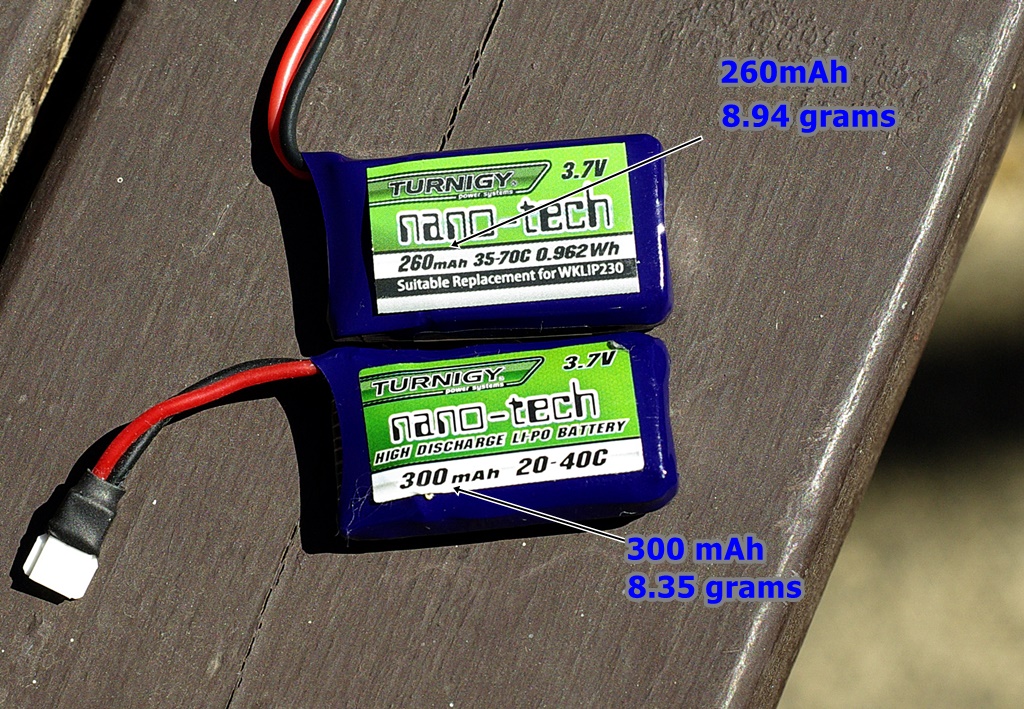 So the 260 mAh battery is larger and heavier than the 300 mAh battery ... ( Looks like )
Plan was to use batteries to play with the CG on the Elf ...
I thought these might be heavier ? ( 300mAh )
HK says the 300 weighs 9g and the 260 weighs 8.5g
My scales say the 300 weighs 8.35g and the 260 weighs 8.94g ...
I will try the 260 @ 8.94g next time I take the Elf out ..