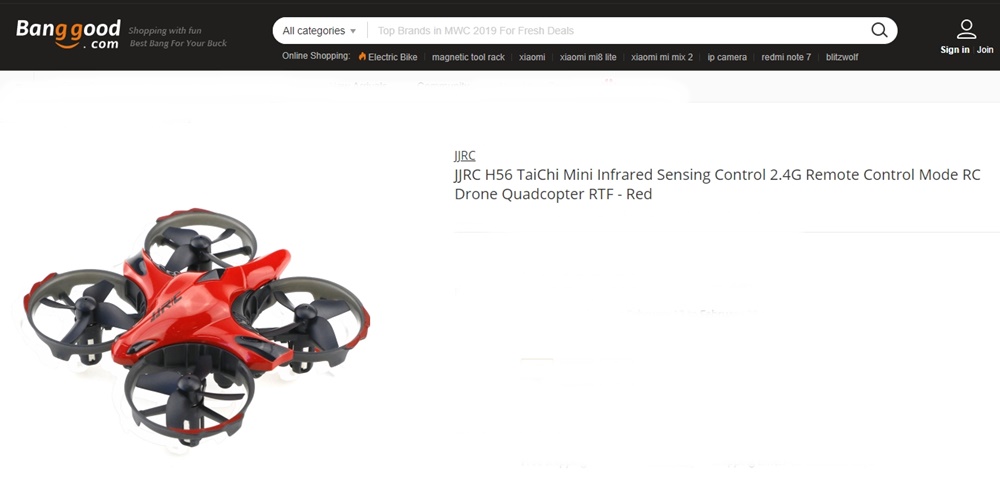 I ordered the H56 for my brother :
My bro is a little RC challenged in the sense that , if it's too hard = Dont do it !
I keep telling him he needs to learn the basics before he takes up $1000+ Camera drone ..
Hes wanted a 4k drone for a while and finally got one ..
Last time out he fried the drone putting it down in long grass ( $100 quad ) , and that was because he was Noob .
But to date he has refused to fly another quad insisting he will be fine with a more expensive one

Anyhow ! ( Thats sort of the background )
So today the JJRC H56 Taichi came ..
I charged up the battery in the H56 , put in 3xAAA alkaline's in the remote and did a quick test flight in the living room ..
As it flies out of the box it is DULL with a capital everything ( DULL )
It is lethargic to the max ...
Ok ....
1) It has a very good altitude hold ( important for my Bro as he is throttle Noob to the max )
2) It has auto take of - and it lifts off the ground to about 2 to 3 feet inside the house ..
3) There is a landing button
4) There are a bunch of other buttons for headless mode and such - but thats not important .
Whats important is - This quad is slow , it flies in slow motion ....

And for some one lacking the basic instinctive RC transmitter skills that the more experienced take for granted ...
Well , Noobs probably need to think more , rather than fly more .
So the result often is a run away model ( model is ahead of the pilot ) that crashes because rather than flying the model , the Noob is chasing the model ..
So this is where the JJRC H56 is interesting .. It is SLOooooW ! It moves so slowly there is no way a Noob cant stay ahead of the H56 ...
And because of the altitude hold , there is just one less thing to think about let alone physically maintain .
I started RC'ing back around the mid 80's with 2 Ch gliders , one stick did one thing and the other stick did the other thing ..

Rudder / Elevator .. It wasn't so hard

Not that I ever thought quads were hard , ( Transitioning from 450 electrics ) , actually the opposite ..
They were , relaxing !
Back to the H56 ...
This thing is Boring , slow , way to easy to fly .. You could probably do it half asleep !
Perfect for little kids or just Noobs ..
Oh ! , and my brother loves it .. He's all like , this is more like it = I can fly this quad !

But will he practice ?
Or will he kill a $1000+ drone ...