Link to Complete Kit (Superbike , Transmitter and Battery )
Link to Barebones Kit ( Add your own electronics)
Link to Zippy 2S 1300mAh 25C Lipo battery
Link to FPV Camera and Video Transmitter (optional)
Link to Nano Tech 1000mAh 3S 40C for BEAST mode
I like my stuff to go FAST and if it will go fast AND carry a camera so much the better, so, when HobbyKing approached and asked if i would like to try the V2 of their 1/8 scale Rc Superbike i of course instantly agreed. In the past i have repaired/upgraded a fair few of the previous generation of Nitro powered aluminium and plastic models but as with everything in our hobby materials and power systems have evolved and Carbon Fibre and Brushless motors have taken over as the main building components allowing powerful but light models to surpass the (relatively) heavy and complicated models of old.
An added bonus of using Carbon fibre and Brushless systems is the reduced cost in manufacturing and this lowering of costs plus the simplicity of using Brushless motors and Lipo's as a source of power has brought what was previously quite a niche product back into the realms of affordable Rc products.
With the complexity and mess of the old Nitro engines gone we can now spend more time doing what we enjoy and the reduced costs means we can buy more

On to the blurb..........
The New V2 H-King HKM390 brushless Racer is a superb on-road 1/8 RC motorcycle and has all the getup and go associated with racing bikes. The streamlined looks make it stand out in the crowd. The built-in mechanical gyro ensures a smooth ride around even the most challenging tracks. Add to this the innovative design of inverted front wheel shocks and rear wheel pendulum suspension arm for outstanding traction. Power comes from a 2435 5160KV Brushless motor and is transferred to the rear wheel by a dual belt drive for outstanding performance. The carbon fiber frame is strong but lightweight. Clip on body panels allows easy maintenance. The package comes complete with a 2.4GHz FHSS Radio System for an easy setup.
This is a motorcycle you don't want to miss out on. Get racing now.
***reserved for video**
Features:
• Innovative design of the front wheel inverted shock absorbers and rear wheel pendulum arm suspension for the most reliable grip
• Dual steering linkages have relatively better flexibility in steering
• Dual belt drive for better low-speed performance
• Built-in a mechanical gyro in the rear wheel, providing a more stable driving experience
• New design is lightweight and easy maintenance
• One-piece rear swing with the motor, providing highly sensitive control
Specs:
Length: 289mm
Wheelbase: 204mm
Width: 72mm
Height: 140mm
Wheelbase: 204mm
Full weight: 735g
ESC: WP-S16-RTR
Motor: 2435 5160KV Brushless
Battery Bay: 70x18x38mm
Recommended:
1 x 1300mAh 7.4V/2S 25C Lipo Battery
4 x "AA" Batteries
As always everything starts with a box.........
The provided pistol grip transmitter is standard size and requires 4x AA batteries. Aside from the standard throttle and steering there is an extra thumb switch for channel 3 ( maybe lights )
As with most pistol grip transmitters the direction, trim , rate adjustment and On/Off switch are located on the shoulder under a protective cover. The bind button is also here should you wish to use more than one model with the transmitter.
The instruction manual also serves as a spares index. The diagrams are extremely detailed and provide a wealth of build information and part enumeration. There is a second added sheet which contains the instructions for the transmitter.
The decal set is pre-cut vinyl and the adhesive is excellent so be careful. Personally i found the easiest method was to remove the excess vinyl first leaving the decals in place on the backing sheet. I then used a pair of tweezers to remove each decal and place it in position.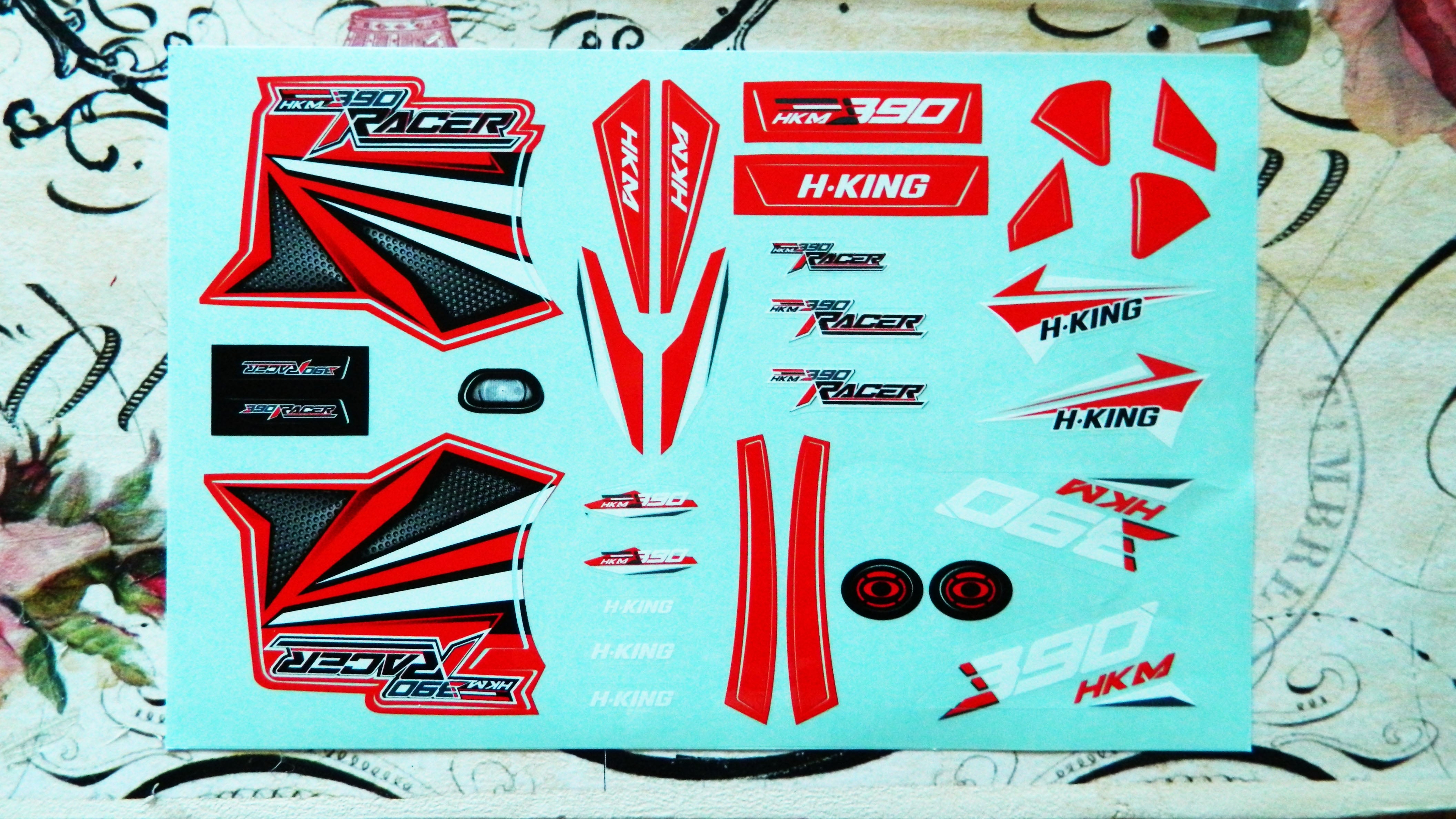 The rider and seat/rear fender are a one piece affair and made from flexible plastic ( maybe moulded styrene). The rider and front fairing are made from the same material and have a protective removable film which makes the pieces look blue in the picture.
The front fairing, as with the rider the protective film gives it a blue colour.
The riders helmet is made from thicker plastic, The two halves press together and then attach to the body via two hex bolts. The interior is hollow and with some careful placement one of those small AllInOne camera and video transmitter units would fit in the space.
The visor is a seperate piece and is attached via the two smallest bolts in the accessory bag. Its a nice touch that adds to the whole "look". The rider all together with decals applied, i had to use the box art and manual cover to figure out were to apply the correct detailing as instructions arent supplied for this step but in all honesty it would look good wherever you place them.
Forward fairing with decals applied , it looks amazing with all the decals on .....even though i had a little 80's flashback and a 5 minute desire to go full StreetHawk on this one but i must admit it looks very nice with the supplied detailing.
A simple in-box shot, its much easier to gauge the colouring with standard cardboard as the backdrop, carbon fibre and shiny alloy is notoriously difficult to capture in all but the most perfect lighting. You can see in the front lower the HobbyWing waterproof 25Amp Esc, above this you can see the pre-wired and pre-fitted On/Off switch. To the rear you can see the 3ch receiver, that 3rd channel could be used for a servo controlled brake or even to supply power to an Allinone FPV cam unit.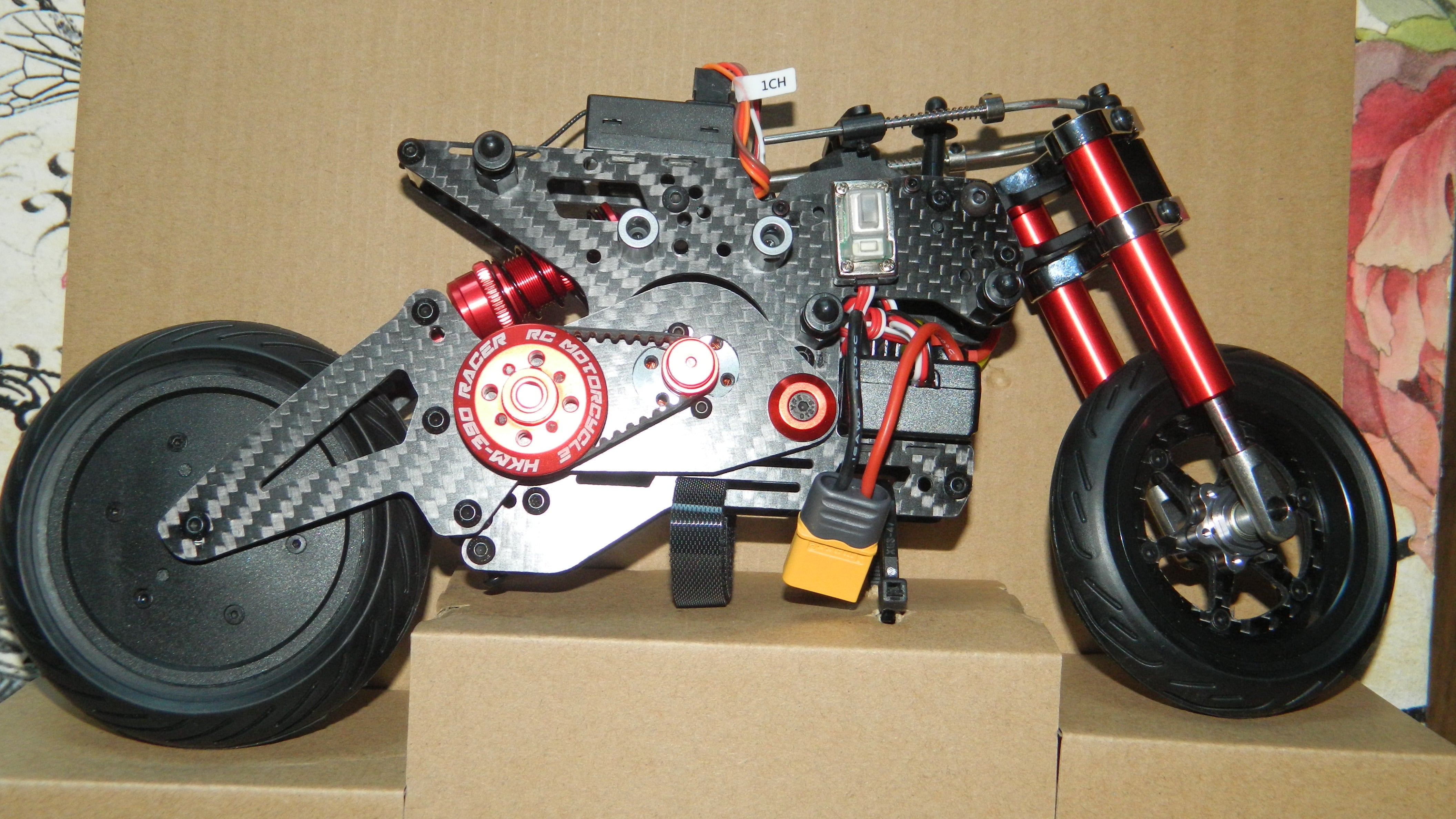 The HKM-390 uses a twin belt drive system powered by the 2435 inrunner. Bearings are everywhere ensuring a smooth transition of power down to the rear wheel. The motor position is adjustable allowing a little *tweak* room for when the belt slackens a little through use.
Close up of the reduction belt
Close up of the rear wheel belt drive. The bearings are collared and use a washer as a spacer inbetween the carbon frame and the bearing.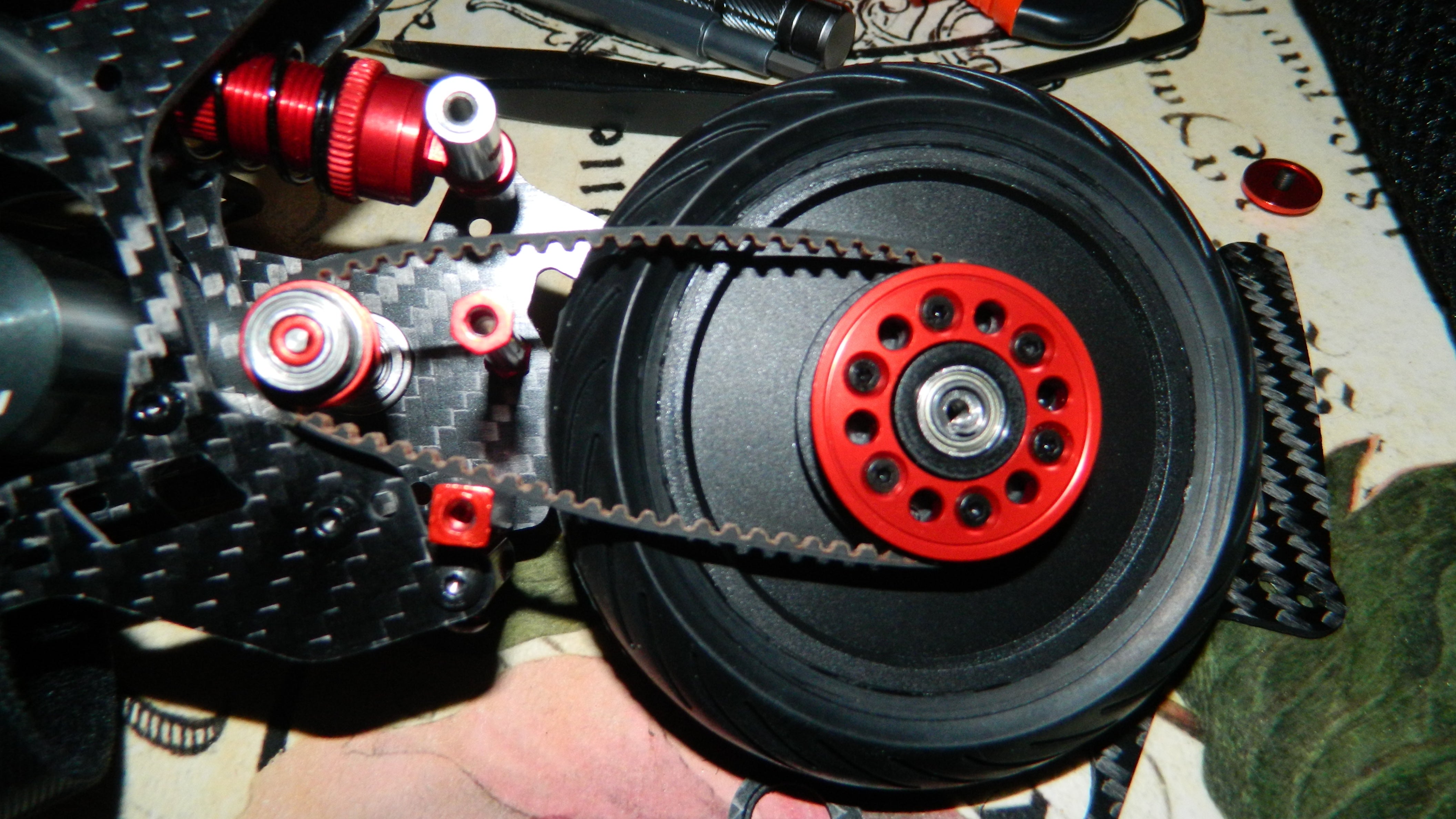 Steering assembly: The servo is a Batan B1122 analogue servo with plastic gears. It is connected to the front wheel via adjustable sprung push/pull steel rods which are connected to the front telescoping/sprung forks via ball joints. Everything here feels nice and fluid. There is ample scope here for a multitude of adjustments to suit your preferred style or to accommodate your choice of "hop up".
Front forks showing the suspension, carbon fibre hub and solid rubber tyre. The front wheel is of course fitted with bearings and a little flick spins the wheel f.o.r.e..v..e..r The forks return from compression is beautifully smooth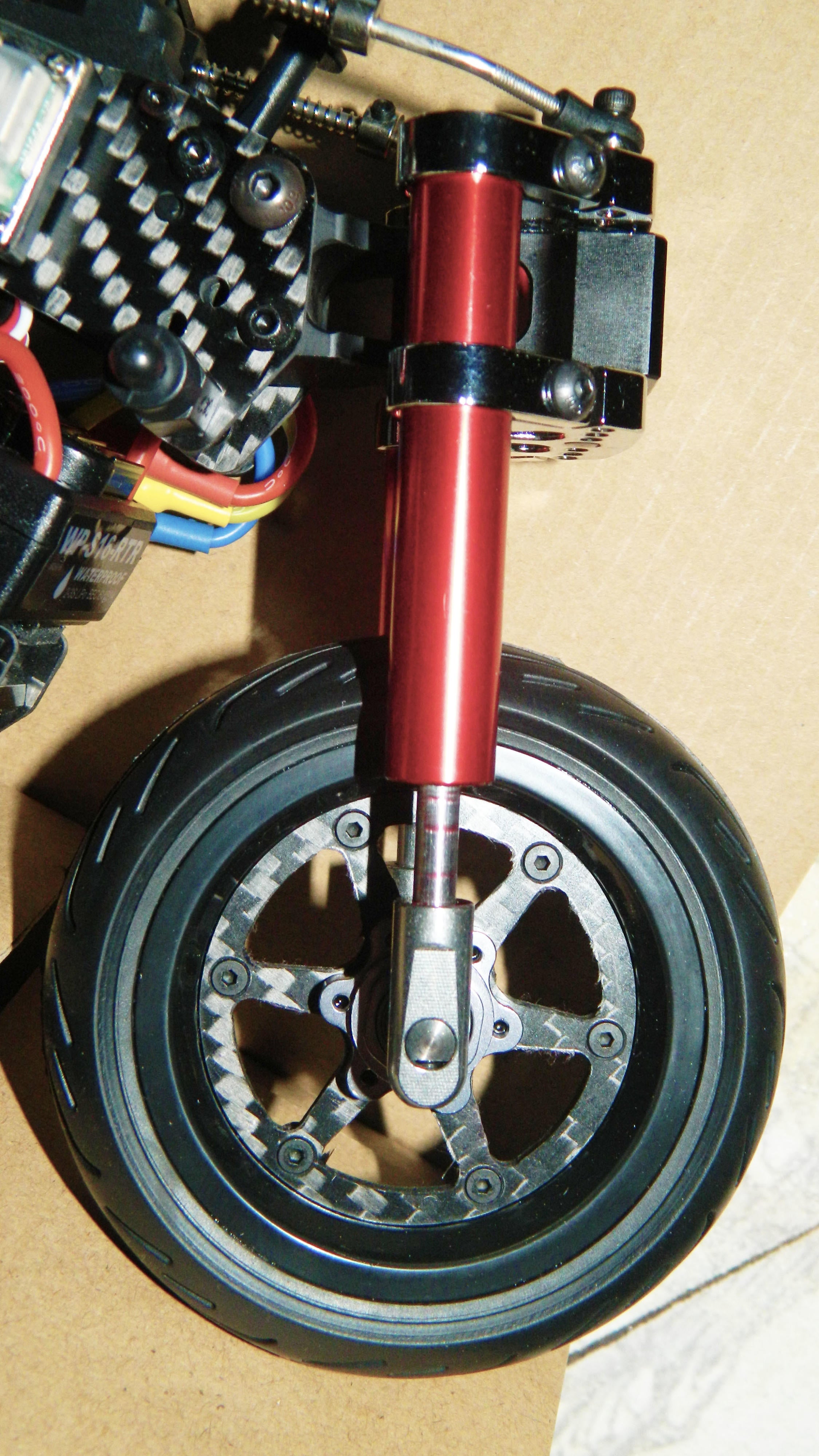 WARNING !!! GRATUITOUSLY SEXY SHOT
The following 2 pics are my favourites so far. With the rider in place all that is missing is a set of handlebars and a headlight. With a little imagination you could easily craft a vintage Norton or Triumph ( if you had to ) , obviously a little "artistic license" is involved but even without the front fairing the HKM-390 is still a very attractive model.
All together and with the front fairing in place i have to admit that this is one really attractive model . The only part that i would say is missing is a simple stand or mount so i can put this on my desk and look at it all day
. Batteries are on charge and fingers are crossed for a dry day so i can run a few batteries through it and see if it runs as fast as it looks..........................
Suspension test. Esc Specification
Model: WP-S16-RTR
NiMH = 4-9 cells,
Lipo = 2 or 3S (3S with fan)
Continuous Current: 25A
Surge Current: 90A
BEC: 6V @ 1A
Fan cooled: No
Battery connection: XT60
Brushless Motor compatibility:
2S Lipo: On-road - >12T, Off road >18T, 2040 size motor.
3S Lipo: On-road - >18T, Off road >24T, 2040 size motor.
Motor Specification
2435 5160kv
Similar to the XRide/Xracer motor of the same size/spec