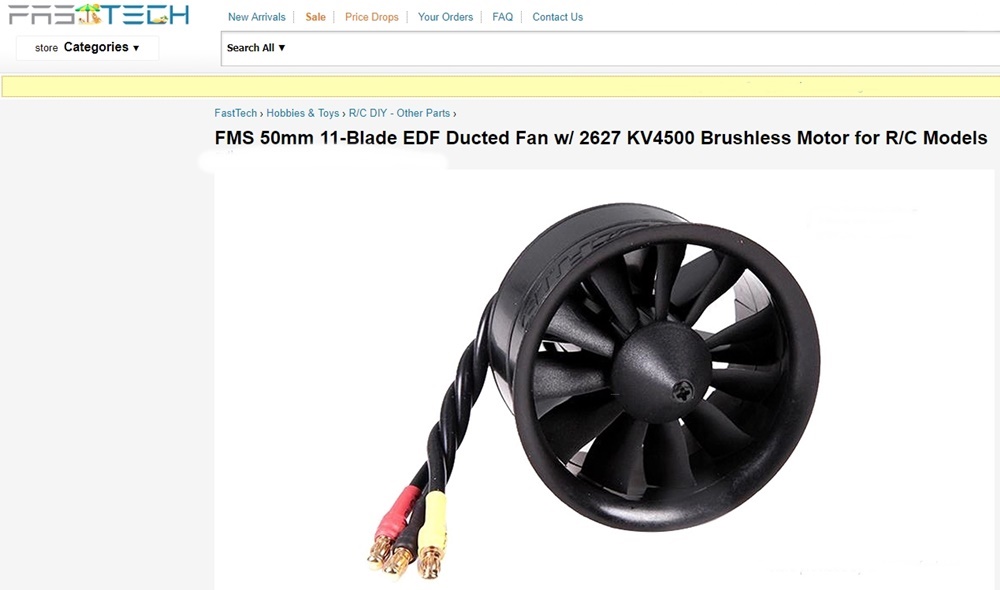 Sent for review testing by FastTech.com (
Product Page
)
I came home after my morning walk and there was a box waiting for me .

Inside was a 50mm FMS EDF ..
The bullet connectors were pre soldered so all I needed to do to run some current measurements was connect a ESC .
2s = The EDF pulled 11.5 amp from a 2200 2s battery pack
3s = The EDF pulled 19.5 amp from a 2200 3s battery pack
Now I have to say that the motor did run smooth out of the box .
On the 2s there was some useful thrust , how much ?
How ever on the 3s it was just crazy .. At full power the thrust is just simply impressive as is the noise this EDF makes .. ( Be loud )
This 50mm will go into a HK Prime Jet pro , and I will try both 2s and 3s batteries ..
3s will definitely power the Prime , and I think that 2s will do just fine ( I think ) , just have to see how heavy the prime turns out ..
Now if you read the speel on this motor , it is supposed to be 3s - 4s ....

On 4s this EDF would be insane , and I am not sure you would want to go there (?) .. That 4500kv motor is already howling on 3s ...
So from here on the FMS 50mm 4500kv EDF is partnering with the Prime Jet pro ...
This be only the first post on this project ..
Thank you Fasttech.com , hopefully we will have some flying video's to view not to far into the future .