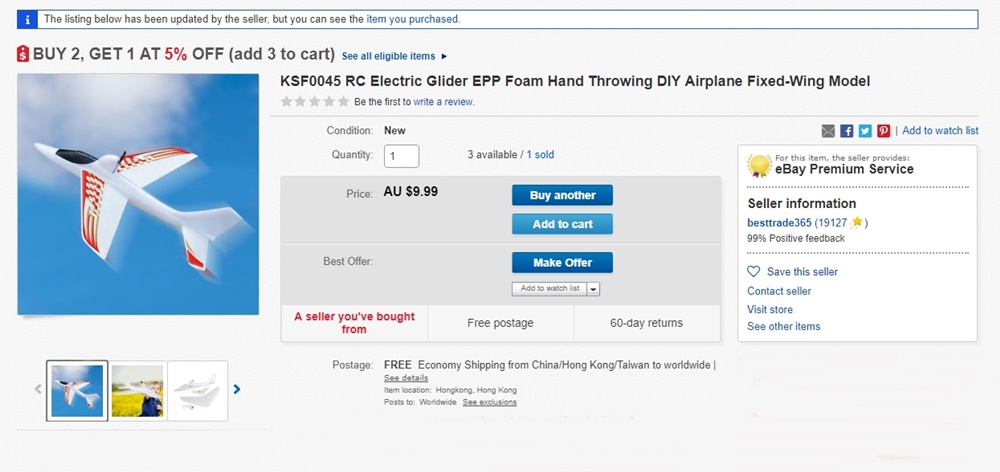 I was on FeeBay and spied this Lipo powered FF Glider .
Be very similar to the capacitor FF gliders , well (?) - Only it's not !
A) This particular glider is much more sturdy , not flimsy like some of the Capacitor Gliders out there
B) It's powered by a lipo battery , so you don't need to carry batteries about with you
C) Some what easy to tune for a decent flight
The lipo battery makes this one very interesting .
The motor does a pretty much full power run for 15 seconds and then cuts off .
So the battery should last for quite some time .

Just push down the button on top the canopy for a 15 second burst of power ( simple ) ..
And to recharge the battery , just connect to a USB power source .. Probably want a low current source for such a small battery .
To date , this one would have to be the most impressive Powered FF Glider I have ( to date .. )
Starting around $10 Ozzi bananas , it's probably a very affordable way to get anyone out and about flying a model .
I have bounced mine of the brick wall a few times now tuning the glide with no damage , so I would suggest it is rather durable .
I would definitely rate this one = Cheap Fun !
Oh! And let's not forget the potential of the internal goodies , for use in possibly other models .