https://www.geekbuying.com/item/Wltoys-12429-RC-Car-with-LED-Lights-RTR-White-408972.html
A (relatively) new model from WLToys the "12429", a 1/12 scale -four wheel drive -off road- open bodied-Desert Buggy styled bundle of joy. The 12429 blends newer build methods and old school reliability to create a sporty looking hard shell body riding on a stripped down 4WD- front and rear differential chassis...................... And it looks NICE
Had a play with this one

tons of fun , i will get to the review as soon as possible ( apologies for the late review, hospital etc has gotten in the way )
Basic information
Brand: WLtoys
Model: 12429
Scale: 1/12
Color: white
ESC: Brush
Charger: Included
Control method: Radio control
Transmitter Frequency: 2.4G
Battery: Li 7.4V 15000Mah
Transmitter battery:4x1.5AA
Driving time: 15min
Charging time: 2h
Control distance: >100m
Max speed:40km/h
Dimension
Size38.5*26*20.5cm
Package:48.5*27.5*21.5cm
Feature:
1.Structural control simulation with high-brightness LED lights and manual brain.
2.Forward and backward, turn left and right, it is a rear-mounted straight bridge climbing car with large wheels, high chassis and good climbing performance.
3.Data cable.7.4v2000mA USB charging cable. Line length 50CM XH-3P environmental protection (excluding 5V/2A adapter)
Package included:
1X RC car
1x Transmitter
1X Manual
1X Small cross sleeve
As always everything starts with the box.........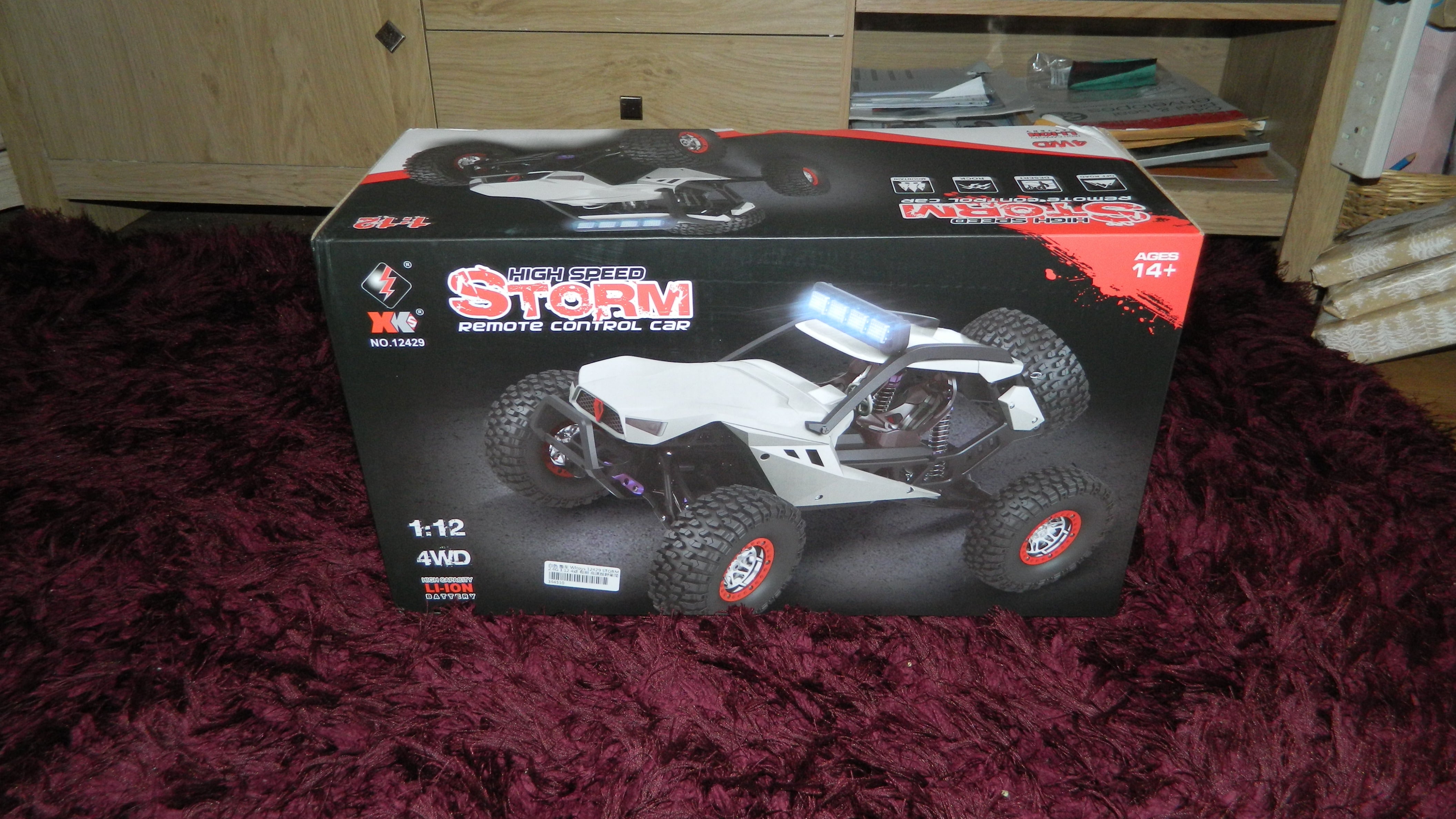 Everything arrived nicely packed and perfectly fine, there were no dings or marks to speak of.
The manual is basically a photocopy but it serves its purpose and includes a build diagram and parts list.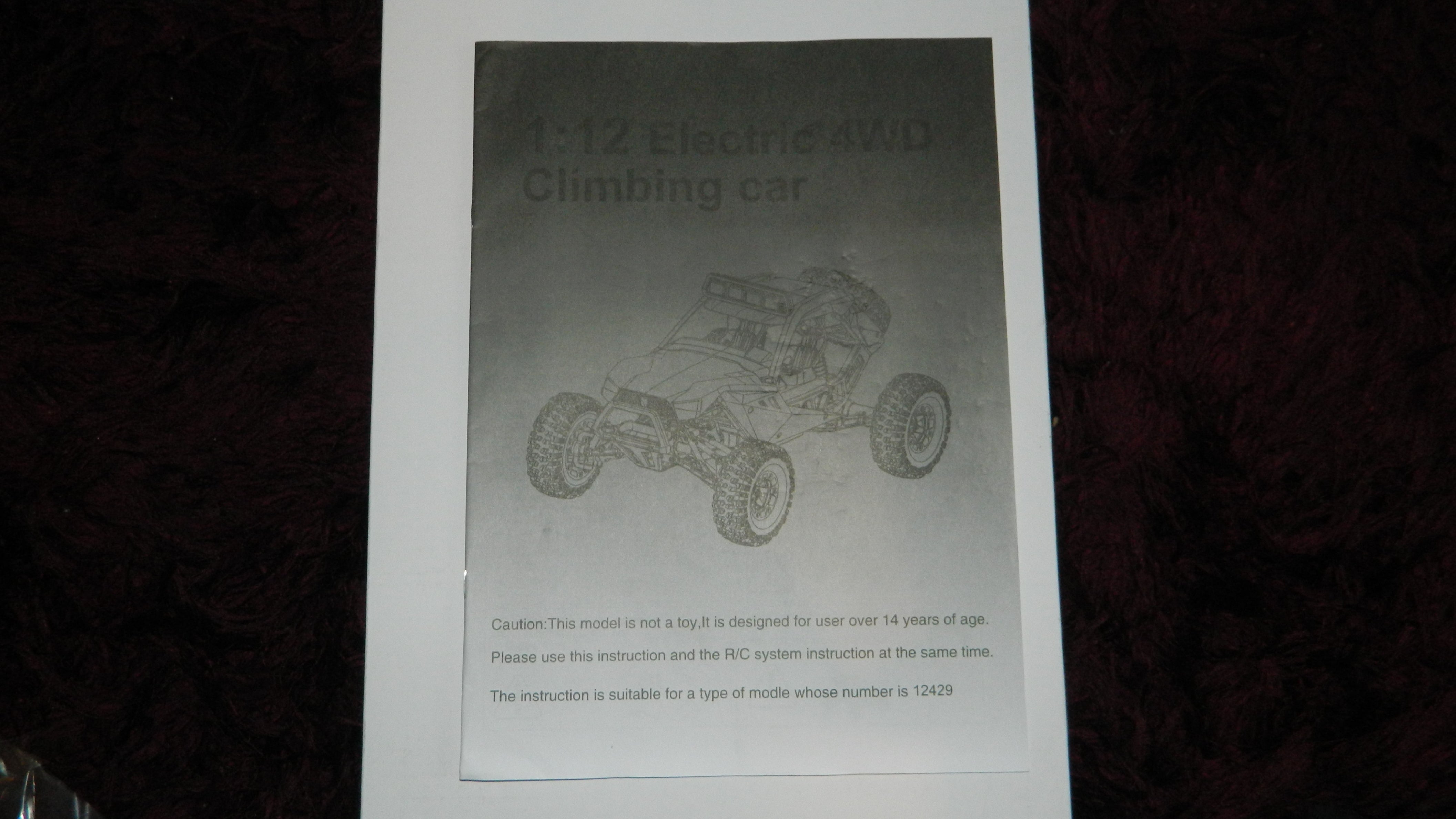 The transmitter is a little smaller than the usual generic pistol grip. All the typical adjustment functions are present plus an extra button marked mode ( i have no idea what mode does)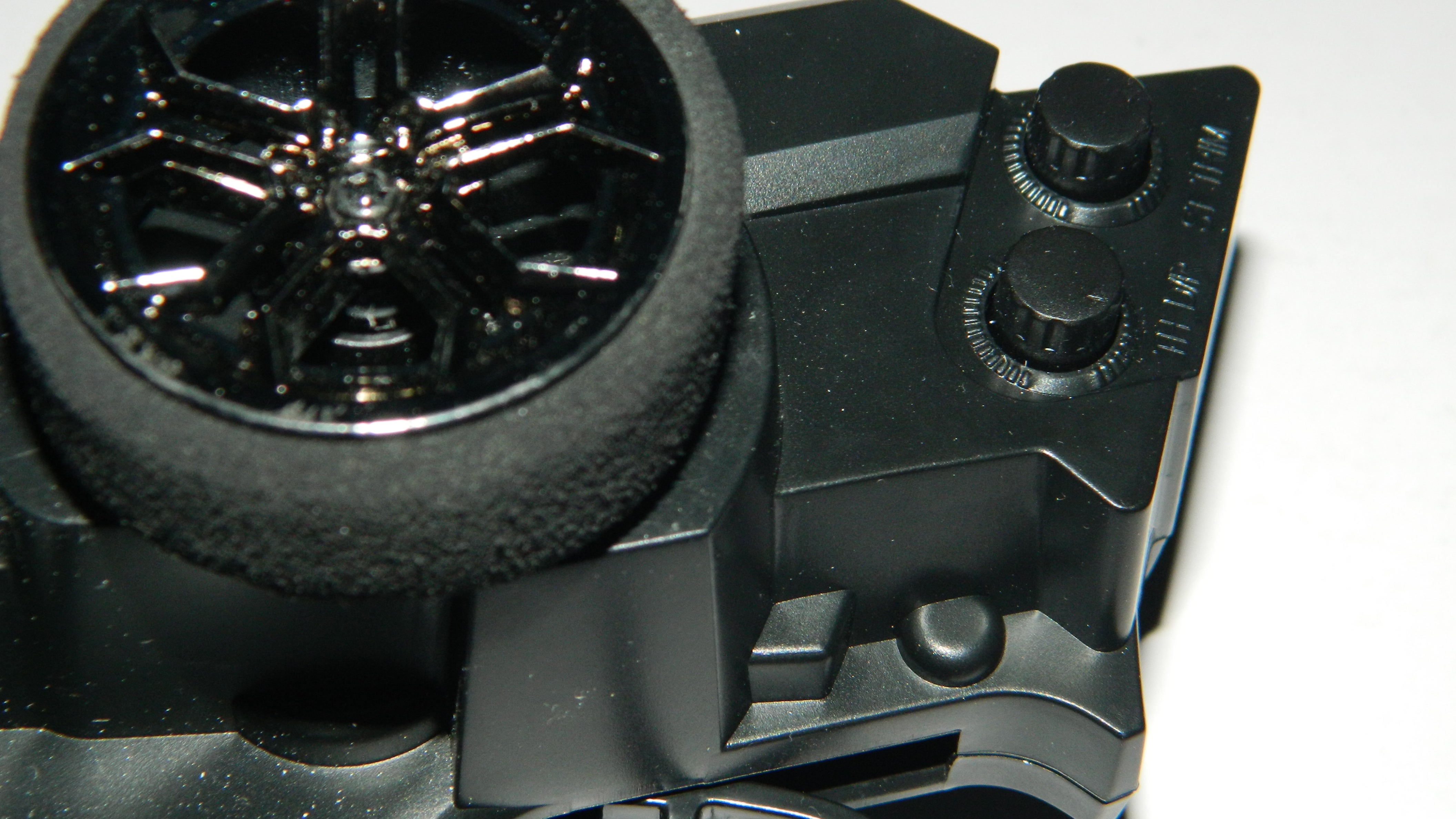 Side shot, you can see the over size tyres and stripped down body that creates the "buggy" look. The panels that represent the cars body are solid plastic rather than the typical thin plastic coke bottle style blown shell, this helps add some rigidity to the chassis whilst providing some firm points to attach components.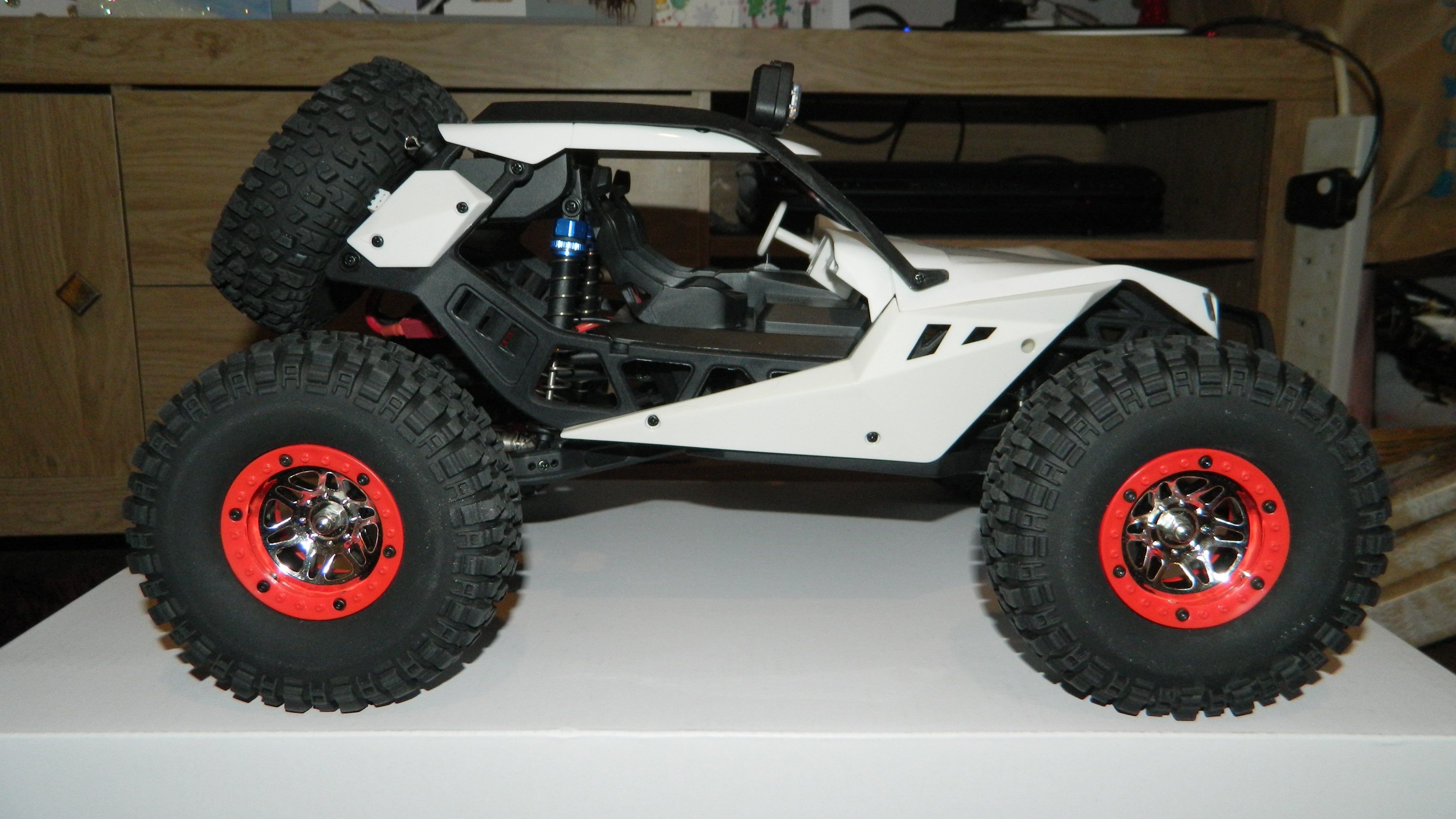 Front shot , the top light bar leds work but they didnt include actual headlights for some reason
The internal cab is nicely detailed the the usual dashboard instruments, they are of course simply for decoration but the increased attention to detail is very welcome
The rear suspension is part of the model as a whole rather than a separate piece that requires its own supports, this cuts down on parts and helps create a strong framework to hold the electronics and drive system.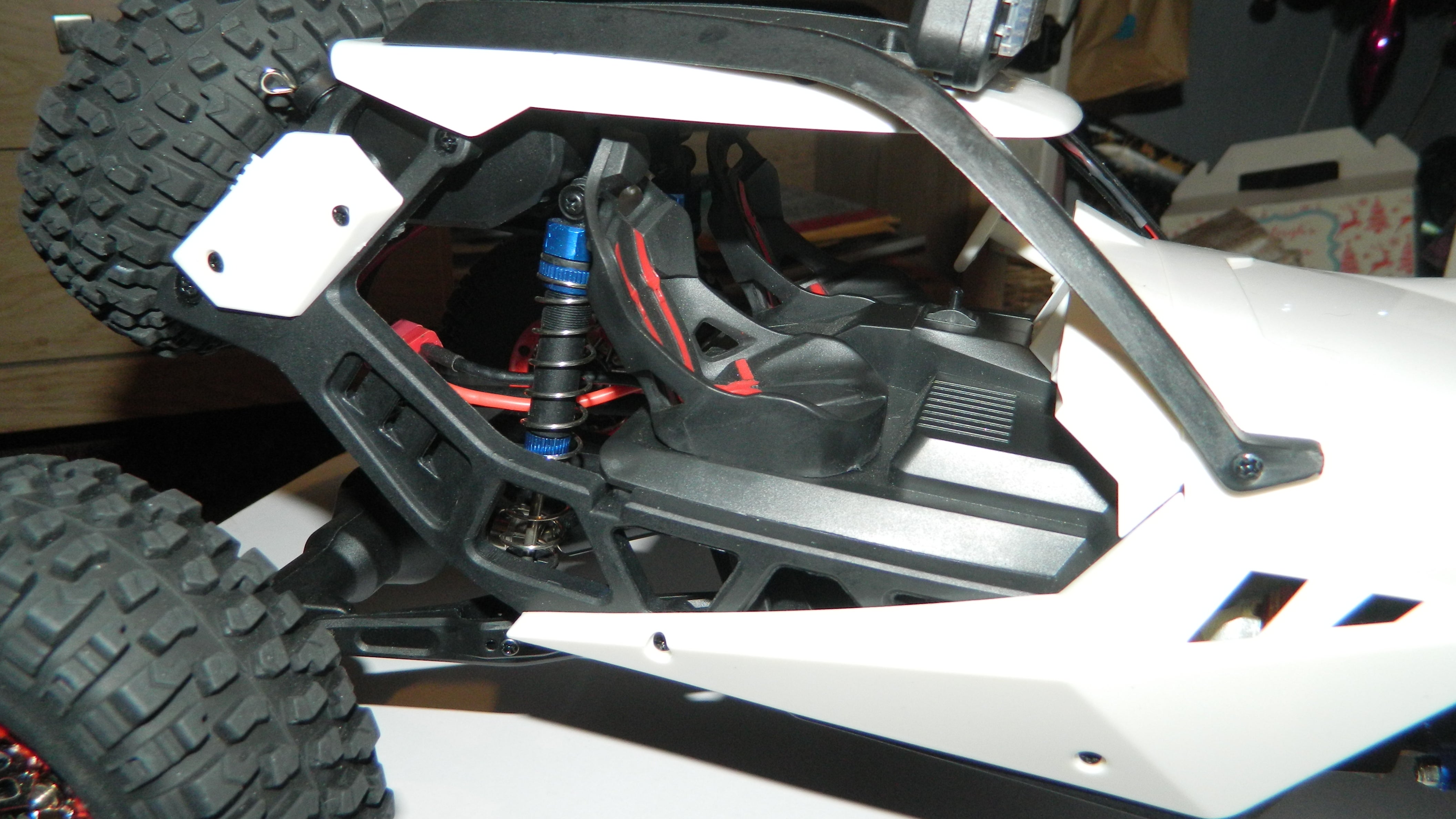 The battery is accessed by removing the two rear pins and moving the rear spare wheel.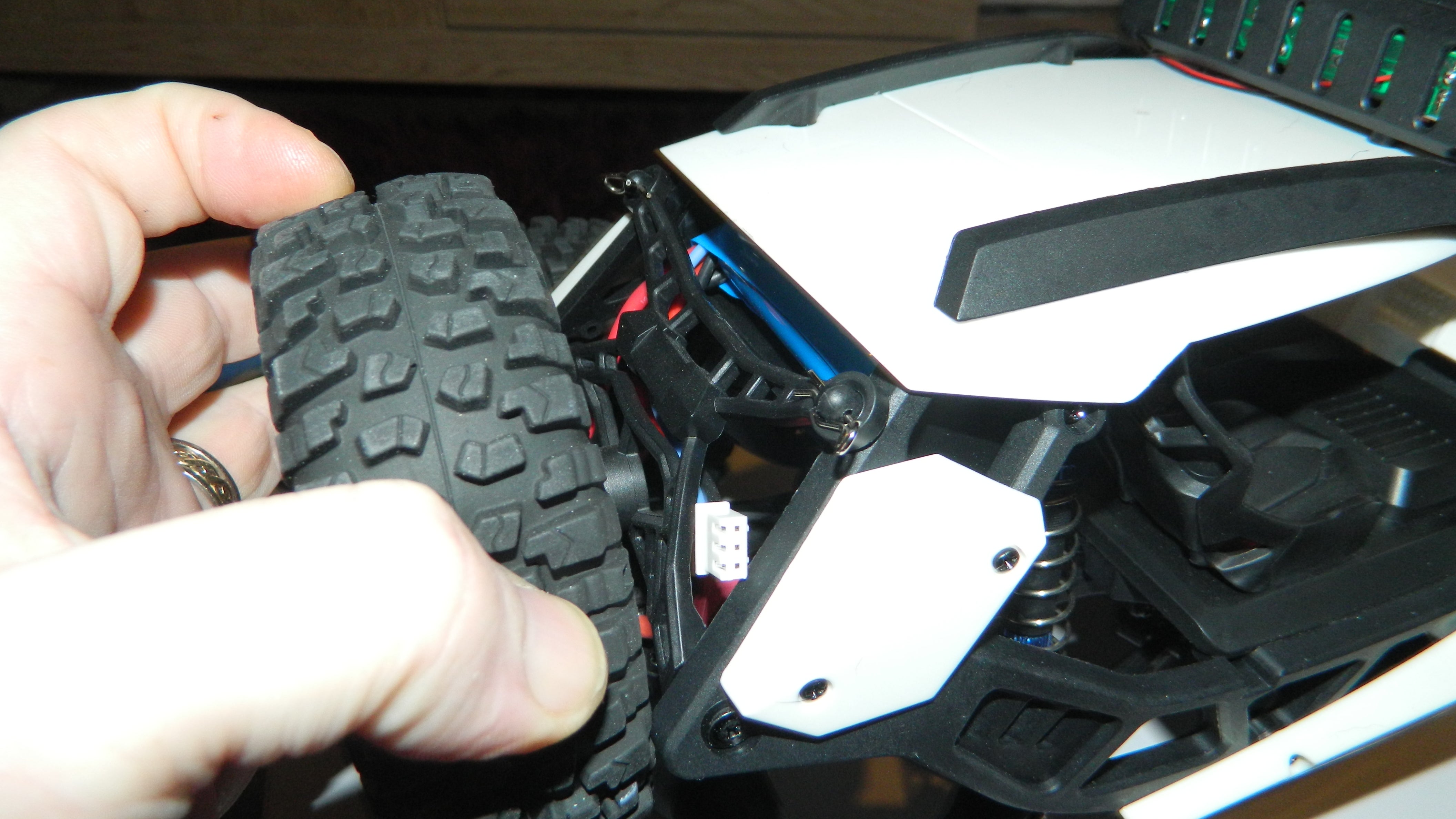 The underside of the chassis displaying the two different forms of suspension system. The rear drive system is more akin to the Crawler style differential were components are stripped down to their bare minimum creating a highly flexible rear end with a huge range of mobility. The front end is a more typical setup similar to what you would find on a Drift or other road type car having much boxier arms and more supports giving the front end a nice solid grip from which to control direction. The front end is also supported by a metal plate which is a nice touch.
A close up of the drive shaft and differential inputs, the metal components are more than enough to withstand some off road abuse and i will take a look at the actual internal gearing at some point in the future. You can of course also see the On/Off switch, it is out of the way and shouldnt be able to be knocked Off but it seems like it was just put there just because............ i would have rather they installed headlight Leds.
Roof mounted Leds , they are bright enough to be used as some sort of directional marker but thats about it, you wouldnt be able to use them to light up the area in front of you IF you were doing some night time FPV .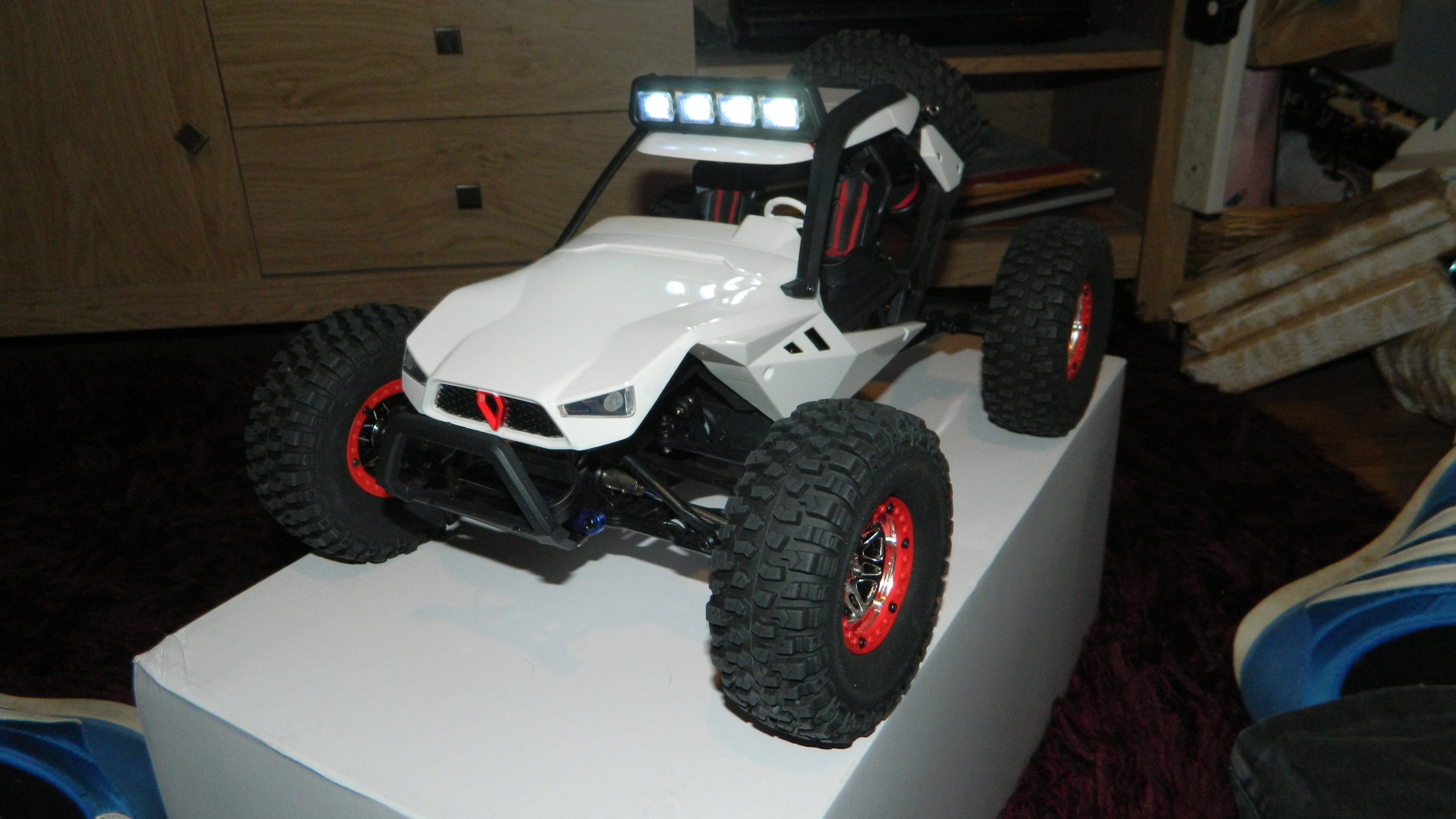 I will update with a teardown and a more detailed look at the front suspension ( which runs parallel to the ground) and the differential gearing.