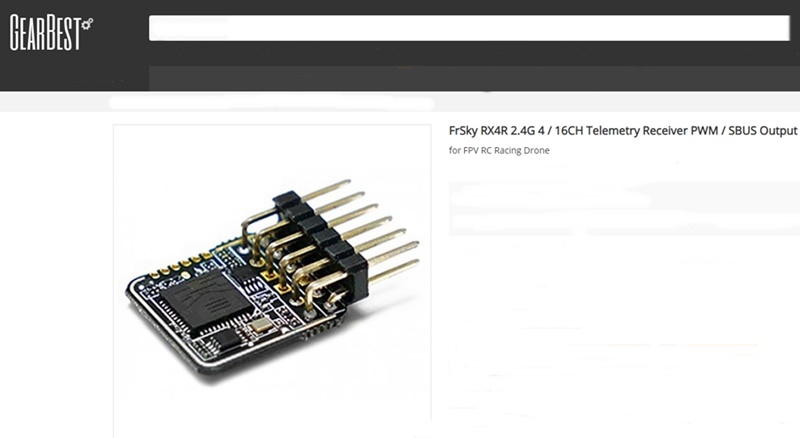 Sent for review by Gearbest.com
Discount Coupon ( GBold4570 )
Dimension: 18×17×7mm (L×W×H)
Weight: 2g/ 2.4g (with two antennas)
Number of Channels:16CH (1-4CH PWM from conventional channel outputs, 1-16CH from SBUS OUT port)
Operating Voltage Range: 3.5V-10V
Operating Current:
[email protected]
Operating Range: >2km
Servo Frame Rate: 9ms (HS—High Speed Mode)/18ms (FS—Normal Speed Mode)
For testing I was sent the Frsky RX4R from Gearbest.com .
I was very interested in this receiver for DLG purposes and it's possible 1s capability making for a very light Rx solution .
RX4R
Please dont forget that the servos always plug into the Rx negative to the middle or signal wire on the outside .
The bind button is very small ( diminutive ) , at first I missed it completely . I needed something to magnify the board with to actually spot it , some one must be getting old or this thing is small .
Voltage Testing
I really wanted to see how low the voltage could go before the RX4R browned out . Factory say's 3.5v and I wont argue with them . But in my tests I got the Rx down to 3.2v with a 500mAh maximum current setting on my power supply . This is the lowest any Rx has gone I have tested so far , especially at the 500mAh setting . Now I thought I might throw some other servos at it from my normal analogue servos . I just received some digital servos from HK so I thought , lets give them a try .
The RX4R browned out straight away .
With the Rx getting 3.2v , the RX4R was browning out with the servos simply connected to it . ( I kid you not )
Increasing voltage to 3.6v the Rx stopped browning out with the servos connected , but any attempt to use a servo caused the Rx to brown out . So it would seem the RX4R does not like the HobbyKing SCM12-5 or SCM9-5 digital servos very much . On the other hand analogue servos seem to behave very nicely at low voltage . ( I would suggest this would need further exploration )
Range testing the RX4R
I was easily able to get the maximum distance of 50 meters with my Taranis Q x7 in range test mode . Even using my body to try and block the signal there were no problems .
Interesting for DLG
My main interest in this Rx was it's low voltage capability as well the ability to give me live Rx Voltage data . Now keep in mind that if you use a UBEC or such you will get the voltage of the UBEC . But if you directly connect a 1s battery , then you can monitor the battery live as you are flying . So as you are having fun , you get live telemetry data on the state of your battery ( voltage ) . You can monitor voltage sag under load and voltage when not doing anything . ( Get some idea of the load the battery is put under ) .
DLG
The RX4R was put into my HK Raven 990 . And from past experience it does not take much weight in the nose to get the CG where the factory recommends . In fact with the RX4R and a small single cell lipo , maybe around 200mAh capacity . The CG is exactly spot on for the factory spec . So for my Raven at least , there is very little in the way of spare weight in the nose for CG . And the flying weight of the Raven comes in at almost spot on for 150 grams . So for models that require the minimum possible weight for CG , the RX4R looks to be the goods . And so far it's 1s capability looks very promising , but I would suggest caution and testing for hardware compatibility .
Now it would be fair to say that the RX4R has far greater capability than what I am looking for at this time .
Here is a very nice youtube video by
Drone Mesh
.
Now at this time I have no real interest in long range drones , or drone racing etc .
But I do like DLG , and I like the RX4R for it's size , weight ( lack off ) and live voltage telemetry if you chose to go 1s . ( Which I have done )
As mentioned the RX4R will live in my HK Raven for now , and I will be doing updates on things as I play with the Raven .
For a score , it has to be 10 out of 10 for now . Yes ok , what about the Digital servos from HK . Well this is something we always need to check for ( hardware compatibility ) especially when pushing extremes like low voltage . ( 1s )
A lot of issues could be avoided by running a Rx at 5v to 6v but then the live voltage telemetry would be of little use to us .
The Raven does have digital servos ( not very good ones in my opinion ) and I will be doing some tests shortly to see how low I can go with the Voltage in the Raven . ( EMAX ES - 9051 )
Don't forget , there is a Discount Coupon GBold4570 that brings the price down to $29.99 @ Gearbest.com
Video of some low voltage testing - HK Raven 990
So from the video ?
I got down to 3 volts with maximum current set to 900mAh
This is very good !
Any micro drone / quad battery should be able to handle this receiver .
Obviously your not going to run down a 1s to 3v ..
The test simply highlights that Voltage is not the issue .
So as long as the battery has juice , it should power my Raven just fine 1s .
So if you call it at 3.6v or 3.5v then you should be ok .
Because I was really hammering the Gimbals trying to brown out the Rx ..