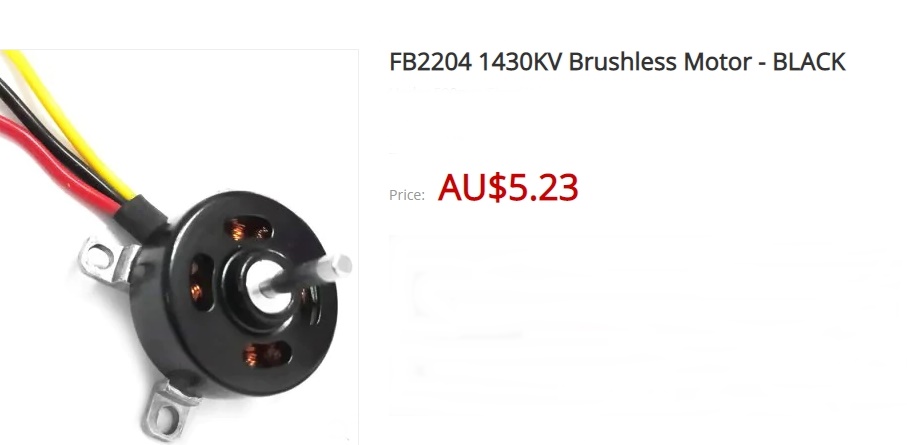 It came a few days ago and I thought it best to just test it ASAP .
To start with I went to the
2s Battery
...
5x4 = 2A
6x4 = 3.2A
7x4.5 = 5.5A
And from here we jump to :
9x4.5 = 7.5A and the motor is cooking . ( over propped )
I dont have any other props , maybe I should get me a few 8x3 or something (?)
And now we move to some
3s tests
.
6x4 = 5.6A / 12000+ RPM
7x4.5 = ? Sorry , the prop mounting method does not allow for full power pulls with this prop / battery combo ( prop was pulling off the hub ) , but let me say the thrust was impressive . Unfortunately the motor was once again cooking ( Too much prop @ 3s )
The motor + prop hub weigh some 29.83g
Comes with 2mm bullet connectors soldered to motor leads .
12000RPM @ 11v with a 6x4 prop (3s) and ran cool .
I would maybe suggest a 7x3 on a 3s as a possible Max prop
On a 2s the motor would be happy on a 7x4 or maybe a 8x3 maximum . (?) 7x4 definitely .
What do you want for $5.23 ozzi bananas (?)
Shaft is 2.4mm threaded ( ???? )
I was able to get one of those prop hubs ( prop saver ) on that use an O ring to hold the prop . ( not really for High RPM or high performance )
But then who the heck has a 2.4mm prop nut ?
Anyhow , for low speed , low RPM , Low Performance applications , this motor will do .