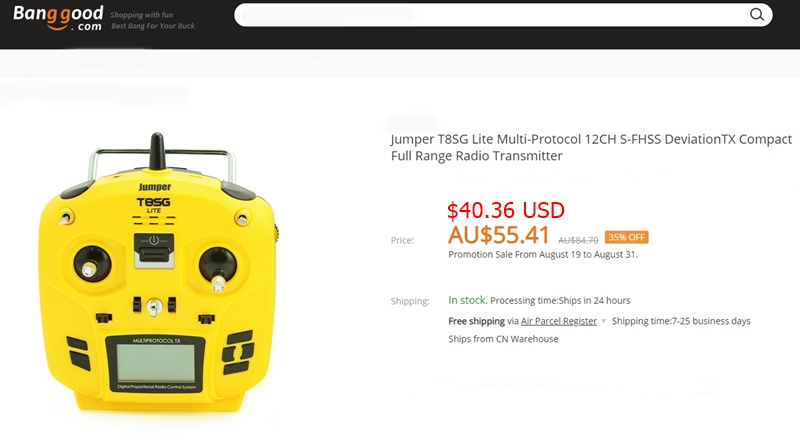 It arrived this morning !
Also this morning I went to the park to try some launch settings on the Whipit

Was getting there till the wind came up , oh well ! My back was saying enough anyways and I did have to walk home ..
( Just trying to increase my activity levels - so I am incorporating some whipit )
Back to the Jumper T8SG Lite .........

These are my initial un boxing - Impressions ! I have not done anything but take the T8SG Lite out of the box and move the sticks , flick some switches , open the battery cover ..

ok !
Gimbals ------- !
Very toy transmitter like .
The round hole for the sticks means limited movement in the other axis
? For some reason , the right gimbals started off ok and then started to bind ? ( Might be some dirt / grime ? )
Throttle is too lose for me , I like a lot more tension .
Switches ----- !
Both switches are 3 position - Feel nice
Rotary Switches on the side ---- !
Good tension
Easy to get to
I was afraid they might get in the way - but no !
Trim ---- !
They feel really nice and positive
Battery cover --- !
Pull up and then out ..
Yeah , I think it will do the job nicely .
Antenna Stub --- !
Lose - ?? Not that it matters ...
How it feels in the hand --- !
It's a small transmitter for sure , actually smaller than a WL Toys Transmitter . ( If you have one )
Sits in the hands rather nicely , all the switches are easy to get to and actually feels good in the hands physically .
Whats a bit of a let down is the gimbals , very soft and maybe to vague . ( Feels like unused )
I would really liked to have seen more tension on both sticks .
With the right Gimbals binding , I will have to disassemble to investigate ..
So ends my initial impressions on the unboxed Jumper T8SG Lite .
Next I open it up for a look see inside