As the post suggests : Testing a bunch of 9g servos . Fasttech.com was kind enough to send me some of their budget 9g servos .
The ones I got are labeled Tower Pro , ( ? ) same servo - different label ( My guess )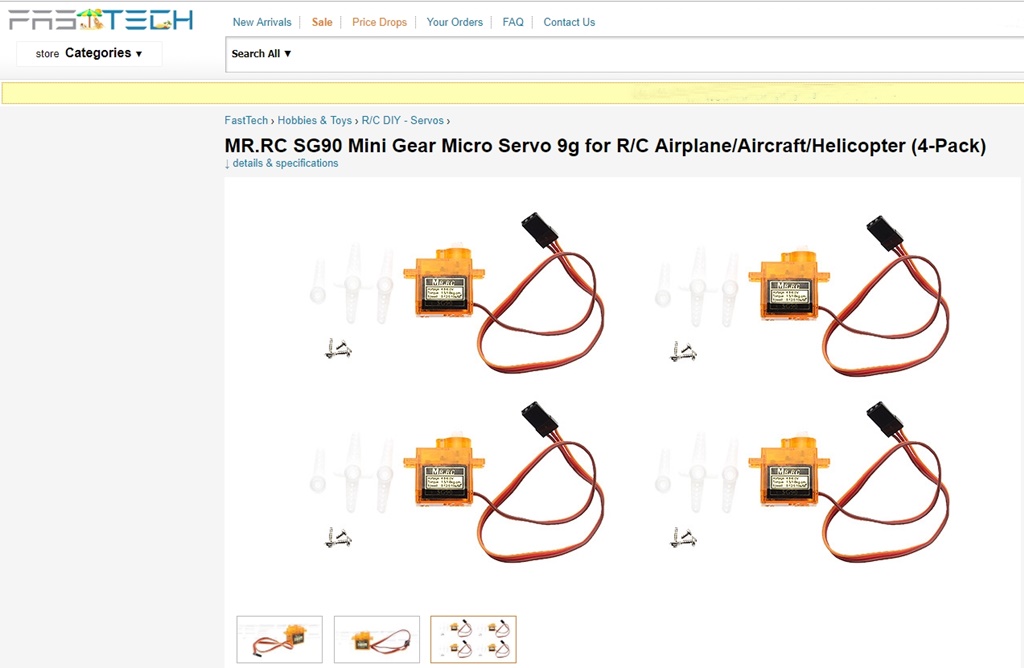 These are sold as a 4 pack .
And I personally love 9g servos , is there anything more important than affordable servos for the RC hobby ?
I still have boxes of 9g servos I acquired around a decade ago from HK .
Unfortunately those servos are not so cheap any more .
And what I really don't like about servo testing , is testing a single servo ..
So thanks to the kindness of fasttech.com I have some 8 servos for testing .
So I guess the most important thing about servos is how well they center !
And the second would be how they deal with load . ( ? )
So this simple test is about centering and load .
By no means is this a scientific / laboratory - quality test ..
1) The servos are double sided taped to my table ( flex + movement )
2) I use a BBQ skewer to magnify centering .. We are talking about 25 centimeters
3) These could be the cheapest servos money can buy ( 9g )
Also I am sort of refining on the fly , so ?

So this is servo No1 tested ...
1) I sort of noticed that the servo seemed to sound better after some weight lifting
2) Dont know that it centers better ?
3) Didn't break at least or burn out
Servo No2 tested :
So what might happen with servo No3
1) I might do a before and after centering video to see if weight lifting helps to run in the servo .
2) My cam did not start recording the 100Gram test , so I ended up doing it last ( My bo-bo )
3) 6 More servos to test .