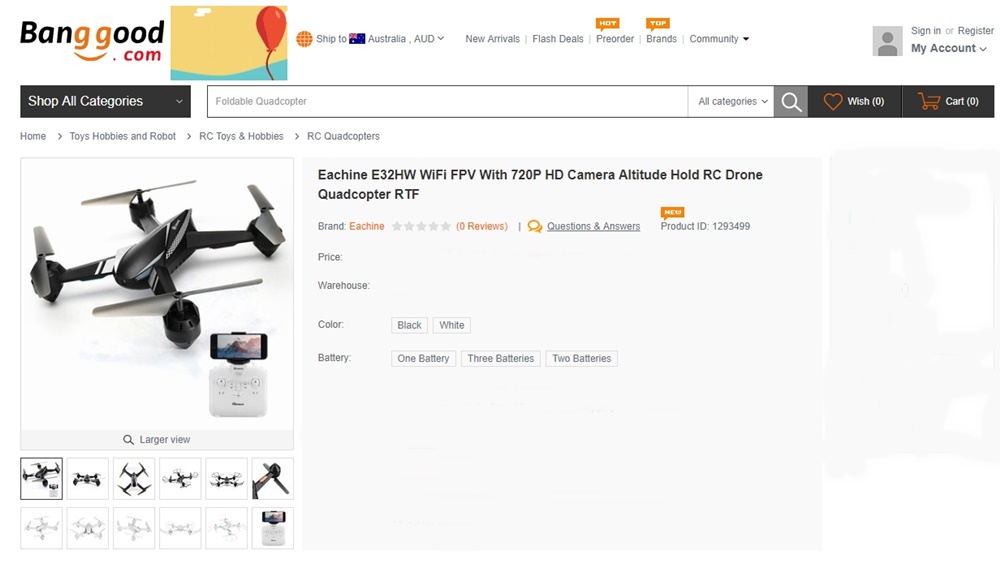 Sent for review by Banggood >
Product Page
The E32 came last week , but the weather also turned for the worse with wind gust's up to 100kmh ..
This morning was far better , but still windy .
The E32 is a single cell ( 3.7v or 4.2v Fully charged ) quad with altitude hold , one click landing , headless mode and one click return as well flip capability .
Also there is the WIFI for FPV (?) as well video recording directly to SD card or to your phone VIA the Eachine APP .
Speaking of the app , if you like me find the Google app store a complete PITA (?) , then it's relatively easy to find a direct download .
https://apkpure.com/eachine-mh/com.f...chinemh.sdrone
> Direct Download .
With the app installed on your smart device ( phone ) , you can receive video ( Wifi ) and record video .
You need the app to record video , which is annoying . With my Android phone lag spikes are common and 5 or more seconds long making FPV VIA Wifi not really feasible .
Altitude hold : Some quads leap off the ground up to 3 meters when power is applied or you use some form off auto take off . I was pleasantly surprised to find that such was NOT the case with the E32 .. It rises gently off the ground and when you stop giving throttle the quad hold what ever altitude you stopped at .. This is nice as if its really windy outside you can still fly indoors .
One click landing : It really works , it's not a controlled crash as with some quads but an actual landing .
High / Low rates : I only did a very quick flight as I spent most of the battery charge playing with the APP and video recording . And I only tried HIGH rates as it is still quite windy outside , I have not tried low rates yet . High rates give plenty of control and you are easily able to push through quite a bit of wind , it's not smooth or pretty but High rates give you plenty of wind fighting capability . And unlike other quads that lose altitude every time you correct heavily the E32 never showed signs of loosing altitude .
I really havent done much so far , except sort things out ( pre flight ) and set up the E32 ..
Hopefully get to the park ASAP and put in some real flight ..
So for now ? I am quite surprised that it impressed me as much as it did ..

There will be a proper review , but with so much bad weather ATM I thought I better put something in print ..