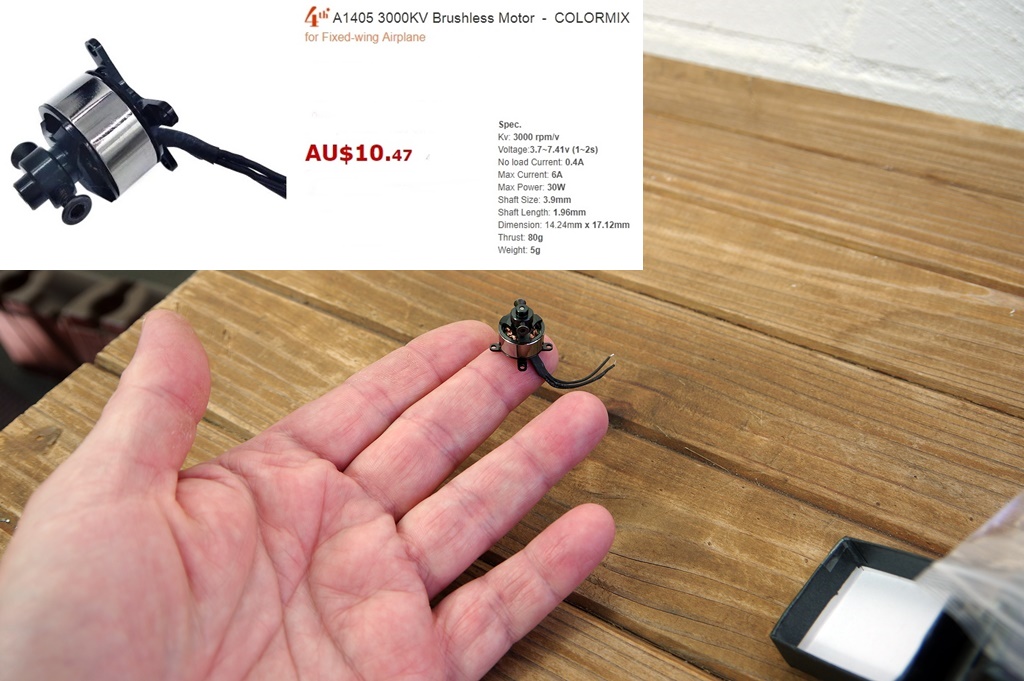 Well those 1.5mm screws showed up today .. ( I thought I had a 6A ESC ? - Must have misplaced it )
Anyhow .. I have a 12A ESC I can test with .
Motor is 1s - 2s so we will be using a 2s Battery ..
GB gives no specs on the motor ..
HK has a motor !
A1405
30 Watts
6A
3000kv
So using a 2s battery and ...
5x3 - 5x4 - 6x3 and a cut down 5x3 to 4.5x3 .
First I tested current draw and Watts , every prop was around 3.15Amp and 25 Watts and the motor ran cool . So obviously I am not maxing out the motor at all . Then for kicks I got out some cheap electronic scales and I tested for thrust . Motor is mounted to a wood block , I am setting the motor up for pusher ( push down ) to see how much weight the scales register . Obviously with the motor off one sets the scales to zero ...
5x3 prop gave around 110 grams of thrust .. 5x4 prop was about 115 grams and the 6x3 was around 120 grams , but obviously this is static thrust . Pitch would have something to say about flight performance , so I will go with the 5x4 ...
Well with about 3A current draw , around 110 grams of thrust .. I think the motor will fly my wing , especially if I can make it 100 grams RTF ..
Not sure the GB motor can live up the the HK motor specs , just does not feel like a 3000kv motor .. Its dark and tomorrow I will tack the motor with the 4.5x3 prop as it did rev out a little more on the little spinner .