Gamers rejoice! RealFlight 8 is coming to Steam!
Steam is the world's largest online gaming platform out there. I have to admit that when things get quiet in the Graham house I fire up one of my favorite games from the more than 1,800 game titles that they have. I was excited to find out that one of earliest games I ever purchased is now on Steam. That's right, RealFlight is now on the Steam platform! The anticipated unlock date is March 22, 2018.
I was on the phone with the Knife Edge team this morning, and not only did I get some info, but I was also able to get a contest going for our users on RCGroups.com!
What Could I Win?
I have procured an unlock key for RealFlight 8 for one lucky RCG member!
How Do I Enter?
IMPORTANT - Take a screenshot of your checked buttons and make sure your user name is visible. I have an example below: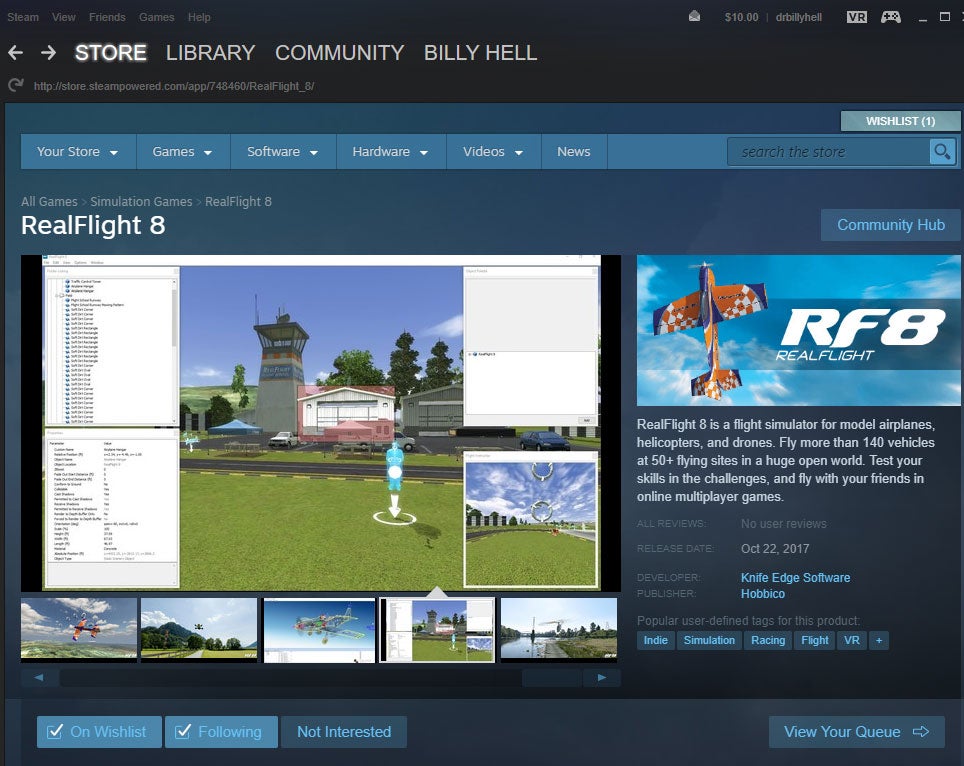 RealFlight 8 Review from RCGroups
Check out our own review of this RC flight sim. I had the whole RCG crew take some flights and give comments.
Is the Steam version the same as the CD version?
The Steam version of RealFlight 8 has the same content and features as the DVD version - 140+ models, 50+ flying sites, and nearly 200 challenge levels. All RealFlight 8 users will be able to join multiplayer sessions together, whether they got their copy on Steam, digitally from Tower Hobbies, or on a DVD. You can bring your old model collection into the newest version of RealFlight - Expansion Packs, Mega Packs, and Swap Page content are all supported.
Steam users get some extra benefits, too. Simple installation and automatic updates get you right into the action, and the Steam overlay lets you communicate with your friends or participate in the Community without leaving the simulator. Like every Steam game, it's also easy to take with you - just log in to your Steam account wherever you are.
More about RealFlight on Steam
From Knife Edge
RealFlight is finally on Steam - Get your hands on the simulator that's trained hundreds of thousands of RC pilots!
Classic convenience meets enhanced capabilities in RealFlight 8! It brings back all the features and functionality of RF7.5 with several key upgrades. The same game-changing, supremely realistic physics which have drawn pilots to RealFlight since the first edition are back and further improved… and there's so much more.
First up on the list of new capabilities—VR compatibility. Plug in a popular VR set available on the market and you're instantly at the field or behind the sticks. For full immersion, there's nothing else like it out there.
Plus, accessing the world of RealFlight is easier than ever with a simple, intuitive interface which virtually guarantees you'll be up and flying in moments. There's zero learning curve, zero hassle, just flying fun. New for RealFlight 8, you can fly with the custom-designed InterLink controller or hook up a game console controller you might already have around the house.
Next up are the flying sites and aircraft—every flying site and aircraft from RF7.5 is back. Plus there are over a dozen new aircraft and a customized FPV flying site. Plus, you can customize everything to your satisfaction with aircraft and flying site software that has also been upgraded to accept even more detailed HD models.
Far from last, and certainly not least, the game-like challenges which have helped sharpen thousands of pilots' skills are back and expanded so you get more tiers of balloon-popping, spot landing bang for your buck.
Trust in the RC flight simulator that has put more pilots in the air safely than any other, pick up your copy of RealFlight today!
Controller Required!
RealFlight 8 requires a controller to run. There are a few options here: For the best experience, we strongly recommend the InterLink-X™. RealFlight is designed for it, and your controls will all be exactly where they should be. You can use your RC Radio with an interface. The RealFlight Wired Interface works well for this, and there are 3rd-party wireless interfaces available. This option will require more setup on your part. You can use any 4-axis game controller. A gamepad will work, or an advanced flight stick. Your experience will not be as good as using a purpose-built RC radio, though. See the Announcements and Community Discussion for purchase links.
Good Luck!
By entering this contest you are not only giving yourself a chance to win a copy of RealFlight 8, you are supporting an RC sim on Steam and helping to get it in front of people that may be RC curious but have never had a chance to try. All that to say, you are helping promote the hobby and RealFlight!