Tobey was nice enough to send me one of the new Bearcats by Eleven Hobby for review...they can be ordered here...
http://bit.lc/4lfB
I have read that a few folks have had some issues with the tracking and getting their order in a timely fashion, but I must say that after my order was placed I did not have any trouble with any of that. The tracking worked for me and was accurate right up to receiving my order...which I got in just over a week.
The plane was packaged very well and made the long trip to Ga. in tact with no damage. As others have pointed out it was extremely easy to assemble...I took the extra time to safety tape all my Y harness connections, zip tie my wiring and glue the ties into the foam, and embed my receiver antennas in to the foam and tape them down so they cant lose proper orientation. Setting up the transmitter and adjusting the throws, and six screws and I was still done in about an hour and a half. Two things of note...the wing screws are really hard to screw in...they go in all the way but it took more torque than I expected. I also dremeled the tail wheel "stops" back a bit. I like a lot of rudder authority to handle P factor, crosswinds, etc. and the tail wheel was getting stopped and binding the servo with the extra throw. This would not be a factor with a normal amount of throw. To get the plane balanced with my intended 3200 and 4000mah 3s packs where I wanted to start I used one once of steel weight in the nose. The internal area is huge and makes using pretty much what ever battery you desire possible.
I had my lovely wife Heidi paint the radial and some slight exhaust marks and I went after the rivets with a silver sharpie. I also had Callie send me the flags for the cowling with another order. Not major work but these tiny details really improved on the already good looks. The end result is one sharp looking Bearcat!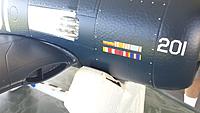 Flying the bearcat -
I like to fly my scale planes scale. With a warbird I study videos of the full scale plane and do my best to mimic...as closely as possible...what I see the planes doing at airshows....from taxi out to taxi in I try to keep it scale. I point that out because how others judge the flight performance of a plane and how I do may be different. I judge a scale plane based on how easy or hard it makes it for me to mimic its full scale counterpart. So for me I was looking for being able to mimic a Bearcats three point position takeoff, its high climb rate big maneuvers, and its three point position landings. The full scale Bearcat drivers have to keep that huge prop clear...so even if that's not a necessity with the model...I want to do it anyway.

Basic flight characteristics:
Everything you've read so far from other pilots is
so true
. This plane is a doll. Its a very easy plane to takeoff and land with the wide gear stance...especially easy if you let it come up on the mains taking off and wheel land it. Not a gigantic prop to get in the way.

It slows down very well...I mean VERY well. The larger 4000mah 3s packs and added once of weight don't seem to affect the slow flight stability. I used 3300mah and 4000's and it slows down great either way. Stalls are very docile at the right CG with a tiny bit of wing drop and an almost immediate recovery...and if you are slightly nose heavy they are straight forward with no wing drop. As others have pointed out...its not a speed demon for sure, but it has enough power to climb out smartly on takeoff and get you through basic maneuvers like loops, Cubans, etc. although they won't be big vertical maneuvers.
Scale flying:
The ease in flying this plane makes scale flying equally easier than most 1100mm planes. With the big vertical stab and rudder and the wide gear stance scale three point take offs are easy after you get used to it...the biggest trick is adding power very, very slowly so you're not off the ground in too little a space...although if that happens its so stable slow that it won't bite you. Tracking right down the middle is pretty easy...a little right rudder and a bit of back pressure and its off in about 30 to 40 ft...and you could take more runway if you want...just a matter of throttle management. (By the way...a full scale Bearcat can easily be airborne in 300 to 400 ft if the pilot wants to really give it the beans)
Landing the EH Bearcat in a three point stance is easy as well even with the heavier 4000mah packs. You have to use throttle and elevator to flare it into position but its easier than a lot of warbirds I've flown to three point. Also...getting the right landing flap angle and elevator mix makes this easier. I had them too steep at first and I was working harder. They are now at 40 deg. I also have to remember to add a tiny bit of throttle to extend the roll out...if I don't...as slow as it gets flaring up to a three point landing it will be stopped in just a few feet.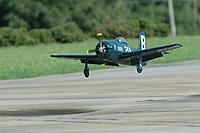 Flying this little Bearcat scale through maneuvers is easy for sure. Getting roll rates and such correct is a snap and she go's where you point her. The stock power system and prop don't allow for really big vertical maneuvers though...which is a big need for me as a pretty particular scale pilot considering the full scale Bearcat has a climb rate that is on steroids.
You can still do tighter vertical maneuvers with the EH Bearcat but to me the timing is really off...they start and end much too soon...its nice having the power to extend a climb and get the timing closer to that of the full scale plane. Over all though if one picks and chooses their repertoire carefully it is very possible and pretty easy to fly a good scale flight with the EH Bearcat.
The bottom line as I see it -
I'll start with the down sides...which are few. There needs to be parts support for this plane, and as I understand it that is coming very soon. The power system is really the only thing I wasn't pleased with, and that is really matter of opinion. There have been many that like it perfectly the way it is...including most of the guys I let fly it. I have a particular purpose for wanting more power and climb rate...so considering that I'm not really sure its fair to call that a down side. My experience at the three different flying sites I took it to was that from spectators to the fellas that flew it...they are divided at about 50% to 50% as to does it or does it not need more power.
The many up sides...
My experience dealing with Tobey and Banggood.com was very good. I received my plane quickly and undamaged. I can't speak for others but my experience was exemplary.
My Bearcat has 28 flights on it so far...23 of which I flew it and I have had 5 other pilots give it a go from intermediate to advanced skill levels. All of them liked it and had no trouble flying it. Three of them want one. That says a lot. Its easy to assemble and easy to fly. No bad habits. It looks great. ITS A MILITARY BEARCAT!!!


(Yeah...been waiting on a non Rare Bear for a while

) Its a good, honest 1100mm warbird that from assembly/set up to flying requires no more than intermediate skills...so its can be a great experience to a large portion of modelers. It would be an excellent first warbird in my opinion.

Obviously...the advantages of a 1100mm plane apply here...easy to store and transport. Take it on a questionable weather day and if you get caught in bad weather its easy to pack up quickly.
If you are like me and you're particular about power for whatever reason...this thing is easy to soup up! Many different motors in my parts bin would bolt right up. I'll post more on that later...


The Eleven Hobby Bearcat is one of my new favorites! Its been no burden taking it with me every time I flew for two weeks...and that ain't gonna change any time soon.
I highly recommend it! I think very soon we may have a squadron of them around here!
Many thanks to Tobey for sending me one and thanks to John Kemp for taking the photos. We plan to hook up for some video soon! As always...thanks to Heidi for putting up with my requests for her painting skills and for letting me fly so much!

Adam