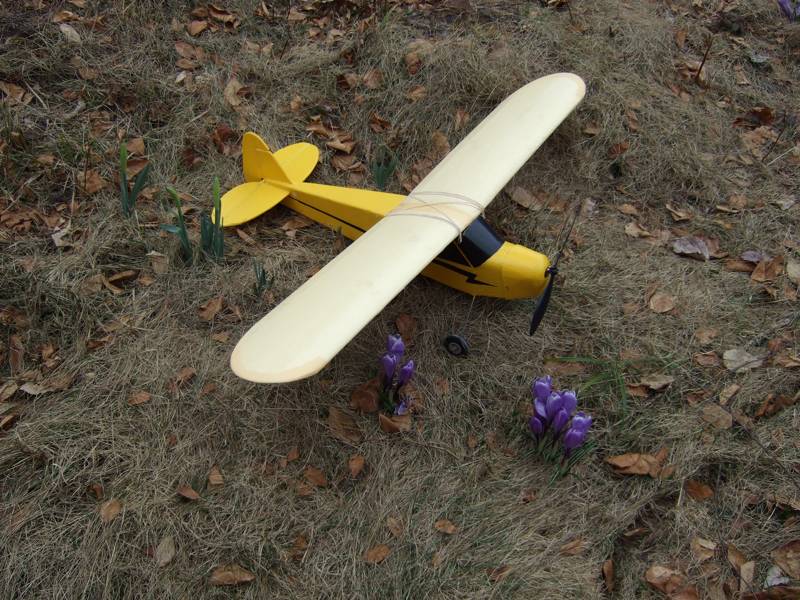 My second model was a Electric Orange's J-3 Cub. I really liked the looks of this model, and it promised to be an easy trainer. I built it before I had radio gear for it. Almost simultaneously I also decided to build a Foamflyer SO-11 -- which was not quite a trainer -- no dihedral, and a single aileron and no rudder. More about that one shortly.
Anyway, the Cub's construction in foam was an eye-opener. It was really great to work with such a carefully designed model and the parts fit together perfectly. Foam was so easy to cut compared to the balsa I had used back in my teenage years. I'd never built anything from scratch back then -- only kit balsa planes. Crossgrain cutting seemed impossible then, though I' became more of a woodworker later in life.
Unfortunately the Cub had problems for me, as a trainer. It was very sensitive to rudder, and the wings were not supported well enough for the gusty conditions I tried her in. The plane did some very squirrely stuff (maybe interference?) and in the maneuvering managed to crease one of the wing panels. I tried flyting again, and the wing folded this time.
I later tried a solid core foam wing, but never could get the plane trimmed properly, and crashed it beyond repair. The wing was undamaged, however -- I still have it.
This Cub is for me a mystery plane. I've always wondered why I couldn't fly it -- others had reported training fine on it. Some day I will have to build it again and try to figure out what happened -- was it me, or the design?