The Skysurfer is a EPO clone of the Easy Star by Multiplex. This plane is designed by J-Power. Banana Hobby has USA rights of distribution and sells them under their brand of BLITZRC. Unfortunately, Bananahobby has lousy customer service. They sold me this plane and the wings were missing. The burden of proof was on me to correct the problem. Two weeks, numerous phone calls and emails and I finally got what I paid for and expected in the box. The good new it is also available from China at BEVRC but they tend to go out of stock often and reorders are infrequent. ReadyMadeRc is another stateside vendor. Hobbyking sells it under their own name, the Bixler. It's the same plane. V1 had external pushrods and a black canopy. V1 interior is pretty roomy. V2 had externally routed pushrods and ribbing on the inside. The canopy is has a plastic bubble. I prefer V1 for its roominess.
All electronics in these kits are suspect. I just throw them away. Buy the ARF kit with the brushless motor and add your own ESC, servos and receiver.
EPO is very repairable but sensitive to warping if stored in a position when a surface is loaded. It's just a quirk of EPO. You notice because every time you fly the trim has to be adjusted. The fix is to add carbon fiber tubes on surfaces that get loaded such as a horizontal stab or even the fuselage. It's not a big deal because you can always trim it out, but simply counter it by adding CF.
Stock brushless optional motor is acceptable but I opted for a:
MOTOR:
Microdan 2505 2535 KV motor which weighs only 34 grams.
WATT METER TEST (installed) using APC sport 6x4
Microdan 2505 2535kv motor
Lipo -- 3S 2200 45C Nanotech
Resting voltage of pack before test. 12.53 volts
WOT voltage -- 11.74 volts, settling in a 11.3 volts
29.5 amps
333.4 watts.
Note: Required high timing on the Hobbywing Pentium 40 amp ESC.
MOTOR MOUNT:
Microdan CNC machined aluminum that slides right in the existing opening in the foam. Motor is retained with two small set screws. Blue Loctite retains the set screws. Motor mount is glued in with Plumbers Goop. Hot glue used to tack it place while the Goop cured overnight.
ESC:
40 amp Hobbywing Switchmode ESC set to high timing. At low timing the motor would screech or squeal and come to a halt. At the advice of Dan I went to high timing and the motor runs just fine.
RADIO and RECEIVER:
Spektrum DX7 and AR6200 receiver (comes with satellite but not necessay for this plane. It was in stock.)
PROP:
6x4 APC Sport with 3 mm aluminum collet
SERVOS:
4 HXT900s from Hobbyking. Longest arms used.
BATTERY:
3S 2200 -- 30C or better
All UP WEIGHT:
TBD
CG:
64 mm from leading edge
GYROS added:
I have several of the Esky rate gyros but this pair came out of a Harbor Freight Easy Star clone which was a real piece of junk. So, the Skysurfer with the MicroDan is now sporting gyros on the elevator and ailerons. With the HXT900 analog servos 30% gain is the max. Low medium temp hot glue mounts them to the fuselage. Test flight with gyros is tomorrow, time permitting.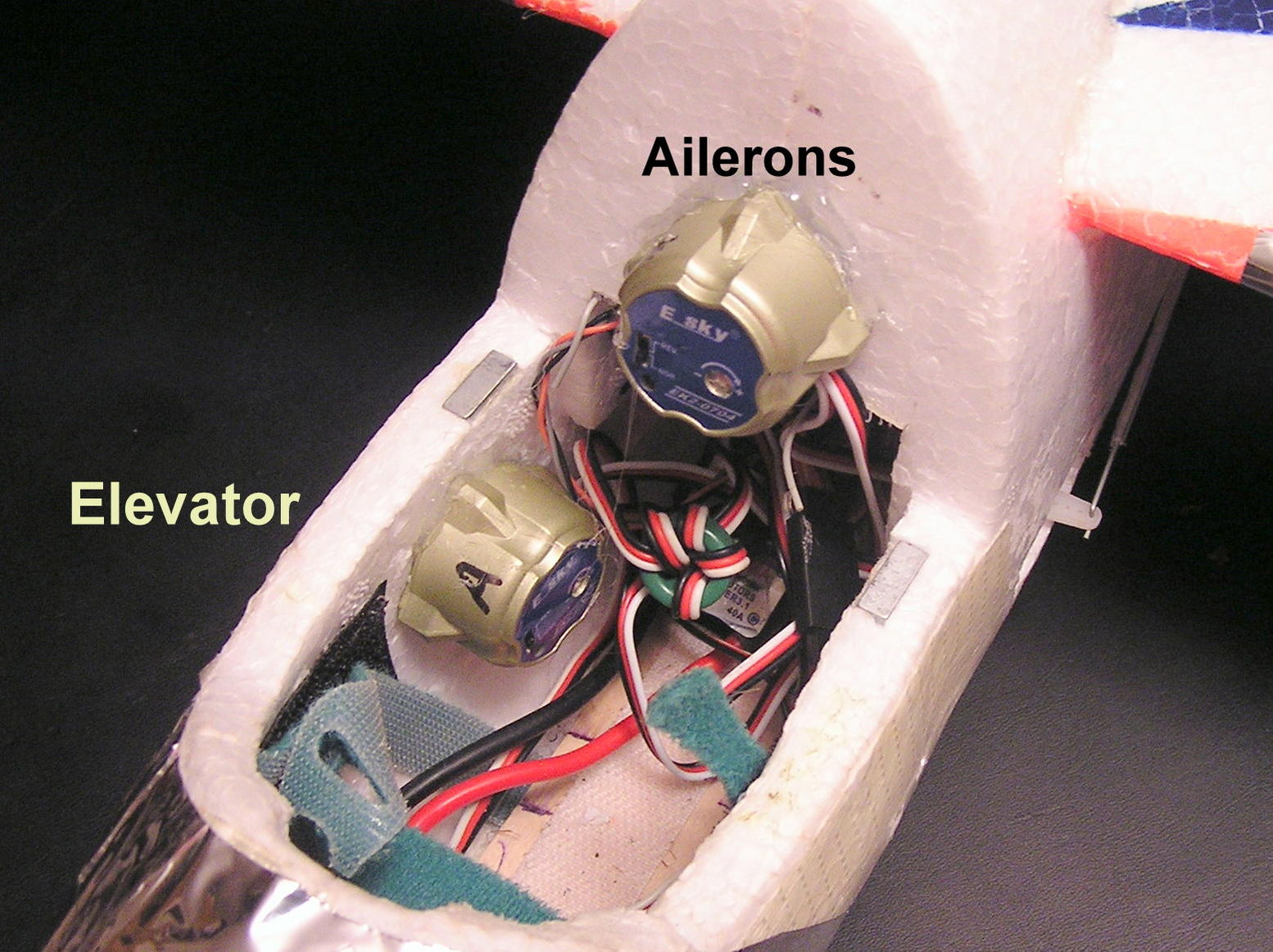 MODIFICATIONS TO AIRFRAME:
Wing

All control horns replace with Dubro Micro control horns.
Stock wing spar reinforced with CF tube on the inside. Gorilla glue used to bond the two together.
Added another 40" piece of 3 mm CF tube wing that connects in the center with a stainless sleeve.
Dual cabinet latches ($.87 each at Lowes) used to connect wing halves together.

Fuselage

1/16" plywood floor added to mount battery. Two velcro straps mounted under floor to retain battery to velcro on the floor.
Each side of fuselage had 12-14" piece of 1.5 mm CF to sides for strength.
When fuselage was glued together a 3 mm piece was inserted in the antenna slot on the bottom. Medium CA used to glue it in place.
Strips of plastic milk bottle taped to fuselage bottom as a protective skid and to facilitate ground takeoffs.

Horizontal Stab & Elevator

Added CF to both the horizontal stab and elevator to prevent warping if stored where those surfaces are loaded. (typical warping of EPO)

Rudder

Pushrod guide (Dubro) added to guide the small diameter and flexible rudder pushrod.

Paint

Decals removed from all surfaces. Plane painted with Duplicolor acrylic enamel and Krylon Dayglo. Duplicolor adpro used before painting but it only works well the Duplicolor paints. Top coated with Duplicolor clear acrylic enamel.
Monokote chrome trim tape applied to leading edge of wing, horiztonal stab and top of nose.

Hinges

All hinges cycled up and down to loosen them. 3M Extreme tape used top and bottom to hinge control sufaces

Air Inlet and Outlet added. Nose was 3/4" and outlet (under prop on top of fuselage)
More
GLUES:
Multiple glues can be used. Here is what I used.
EPO glues easily with
Medium CA and accelerator
if needed. So will hot glue but it is heavy. Use it for repairs. I also used
FoamTac
which a specially maded contact cement for RC on the fuselage halves. The glue takes overnight to fully cure. Medium CA can be used to bond areas that don't want to hold together.
Plumbers Goop
(a thicker contact cement) was used to glue in the motor mount. Hot glue was used to tack in the mount while the Plumbers Goop cured overnight.
Gorilla Glue
works well for gluing in CF reinforcements. The added CF on the wing was glue in with Gorilla Glue. You just have to not use too much because it does foam. I always apply 3M transparent tape on top of the glue joint.
PACKING TAPE:
I only use 3M Extreme Tape or 3M 3650 Storage tape.
These work well and last. Other tapes are cheap imitation. 3M Extreme Tape is the strongest while 3M Storage tape has the greatest longevity. It, too, is strong and is usually reserved to hinge high speed planes. The Skysurfer is a glider so the Extreme tape will do you just fine. However, avoid storing in the sun. The tape is UV sensitive.
UPDATE:
Maiden flight resulted in wings folding due to high speed dive where the wings folded on pull out. What happened was the spar cover on the right wing separated. I now know I should have fully taped the cover. I did not so the wings came off and the plane lawn darted. The fuselage stuck 10" in the soft ground. It's repaired thanks to medium CA, 3M Extreme tape and hot water to reshape the foam. Pictures below.