| | |
| --- | --- |
| Manufacturer: | Sky Angel |
| Power System | 50mm Brushless EDF |
| Battery | 3S 800-1000mAh Lipoly |
| ESC | 20 Amp Brushless |
| Weight: | 12-16 oz |
| Channels: | 3 |
| Distributed by: | Various Retailers |
| MSRP: | Typically less than $99.99 |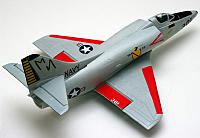 December 2009. I receive a large box from Sky Angel. Inside are four wee jets, each powered by a 50mm brushless EDF power system. These four models were the first 50mm EDF models designed by Jalin, the founder of the JPower and Sky Angel product lines. I was REALLY excited at the thought of having an EDF model small enough to fit in the trunk of my car. In fact, all four of the models I initially received would fit in the trunk of my car together, at the same time! December 14, 2009 ... I start a thread in the Foamy EDF section to share the exciting news with other EDF enthusiasts. In a year's time, that thread has garnered over 300,000 views! Take a peek below if you have not already browsed the thread that I started a year ago today:
The first four Sky Angel 50mm EDFs I received were the North American F-86 Sabre, the AMX International , the General Dynamics F-16 Fighting Falcon and the McDonnell Douglas F/A-18 Hornet. In the context of this review, I will refer to these four airframes as the Generation I models. The second batch of 50mm mini EDFs I received later in 2010 were the Aero L-39 Albatros, the Lockheed Martin F-35 Lightning II, the Lockheed T-33 Shooting Star and the Douglas A-4 Skyhawk. These four Generation II models included several notable improvements over the first generation kits. Other Generation II Sky Angel 50mm models released, of which I have yet to get my hands on, include the Mikoyan-Gurevich MiG-15 and the McDonnell Douglas T-45 Goshawk. Even though these mini EDFs have been available for almost a year, they are far from old news. Sky Angel has plans to release numerous additional airframes, as is evidenced by the additional half dozen released throughout the 2010 year. This review is slightly different than most reviews that I do. Normally I need to complete a review in a month or two if possible, while the product is still considered a new release. In the case of this review product, I have been using and having fun with these little EDFs for over a year now. They are still near the top of my list when it comes to the planes that see the most flight time when I head out for a session. I always have a little extra room to tuck one of the Sky Power 50mm EDFs in my car and take it along.
If you have spent any time at all in the 50mm thread linked above, you will probably already be familiar with much of what will be outlined in this review. For those readers, this review will at the very least serve to centrally locate much of the media scattered throughout that thread in one convenient location. If you have yet to experience the incredible value and thrill that these little EDFs offer up, read on to learn about what is in my opinion the most exciting new EDF product line offered up in 2010!
Kit Contents
The Sky Angel 50mm EDFs are available from a number of different vendors (Venom Group, Banana Hobby, Toysonics, PW-RC, Hobby King, NitroPlanes, to name just a few) in such an array of RTF, ARF or airframe only versions that it is a little difficult to accurately list just what may come in the box when you order one. Each vendor offers up their own version of these little jets, with possible subtle differences from one vendors offering to the next. As a buyer, I would suggest you exercise due diligence and read the item description carefully, to ensure that you will receive the exact configuration that you are after. The products that I received directly from Sky Angel came equipped as below:
In The Box:
Fuselage with EDF power system and servos pre-installed
One piece wing assembly with aileron servos pre-installed
Horizontal and vertical stabilizers, with control surfaces pre-hinged
Pre-formed push rods
Clevis' for all control surfaces
Tube of adhesive
Black and white assembly manual
20C 850 or 950mAh 3S lipoly battery with mini bullets and balance lead
Pre-installed pilot figure (some models)
Required for Completion:
Minimum three channel radio system required; I use a JRX9503 transmitter and Spektrum AR6100e or AR6110e 6 channel receivers in my Sky Angel Mini EDFs
Provided for Review:
Thunder Power G4 Pro Power 45C series lithium polymer batteries in the 850mAh 3S, 1250mAh 3S and 1750mAh 3S sizes
| | | | | | |
| --- | --- | --- | --- | --- | --- |
| Capacity/Cell Count/Voltage | Thunder Power Part# | Weight | Dimensions (mm) | Max Continuous Current | Max Burst Current |
| 850mAh 3-Cell/3S 11.1V | TP850-3SP45J | 74g | 20 x 31 x 60 | 38A | 76A |
| 1250mAh 3-Cell/3S 11.1V | TP1250-3SP45 | 115g | 18 x 31 x 92 | 56A | 112A |
| 1750mAh 3-Cell/3S 11.1V | TP1750-3SP45 | 153g | 25 x 31 x 92 | 78A | 157A |
The Sky Angel 50mm mini EDFs all were designed to fly on 3S 850-950mAh sized lipoly batteries, when utilizing the included stock EDF power systems. Peruse the thread that I linked above and you will see that folks are stuffing ALL varieties and sizes of lipos in these little jets. Lighter is always better when it comes to electric aircraft and the stock batteries are typically good for flights in the range of four minutes or so, less if you lack self control on the throttle stick. In a quest for longer flight times and a little more power, folks have put larger lipos in most if not all of the airframes. Some of them require a little creative foam removal while others will accommodate larger lipos with no modifications necessary. I prefer and have been using Thunder Power lipoly batteries since the day of their once ubiquitous brown stripe series 3S 2100 packs. I really like the 45C G4 packs and Thunder Power makes 3 different sizes that fit nicely into the various Sky Angel EDF airframes.
Assembly
Assembling a Sky Angel 50mm EDF kit takes but an hour or two. The bulk of the assembly involves gluing the tail feathers on and attaching control horns to the control surfaces. The Generation II kits all feature a removable, bolt on wing, while the Generation I kits that I received all required that the wing be glued on. Due the ultra-portable size of these EDFs, having a removable wing is certainly not an important factor as far as transportability is concerned. But it can facilitate easier upgrading of the power system if you decide to do it AFTER you have flown on the stock power system for a while. The included multi-page black and white, photo-illustrated assembly manuals are very nicely done! They include the all important but often omitted center of gravity and recommended control throw data. The language is clear and the illustrations and sketches helpful.
Some of the Sky Angels 50mm Mini EDFS feature a bolt on wing
Launching and Landing
The F-16 and F-18 models I received came with small tricycle landing gear. I personally do not prefer to weigh my smaller EDFs down with the unnecessary weight that putting wheels on them adds. Since these EDFs are all under a pound AUW RTF, hand launching is the way to go! But the age old question must then be asked: under or over?! The answer I would give is probably different than the answer you would get by asking a dozen other folks who are flying these 50mm EDFs. And whether I decide to toss it overhand or underhand mainly depends on the model in question and its wing position and fuselage contours. If at all possible, I like to use an assistant and have them throw it for the first couple of flights. This lets me keep both hands on the radio sticks and even if their launch is less than great, I have time to make necessary corrections.
Once I have the airplane all trimmed out, self launching is usually not difficult at all. On an underhand toss, I try to visualize tossing the model straight out in front of me with the intent to make it land 25 to 30 feet away. This helps me release it with either a flat trajectory or one with a shallow and slight angle of attack, instead of a nose high one. Overhand tosses are more like an overhand push. It is best to try and throw it straight forward instead of pointing the nose skyward as it leaves your hand. I concentrate on keeping the wings level and firmly push the model forward out of my hand. Remember to follow through. Oh, and one final thought on the launch is that I use my left hand so that my right hand can stay positioned on the aileron/elevator stick through the entire launch sequence, in order to make immediate pitch/roll axis corrections. I am right handed by nature but have learned with practice to hand launch with my left hand.
Landing the Sky Angel 50mm EDFs is usually as easy as pulling the power back as you turn final and gliding them in. There is so little mass involved that even a slightly mucked up touchdown does little to no damage to these little jets. If the nose does get snapped off, the EPO foam is usually easily repaired. A little hot water can be used to restore the foam to its original shape if it has been deformed and foam safe CA or epoxy can then be used to glue it back together.
Douglas A-4 Skyhawk
Wingspan:
21" (533mm)
Length:
27.5" (700mm)
Weight:
12.3 oz(350g)
I REALLY like the way the Sky Angel A-4 Skyhawk looks. The color scheme possesses a nice contrast, with it's gray fuselage and bright red and yellow highlights. The fan in my A-4 was pretty crusty sounding, indicative of the fact that some of the stock fans are not balanced very well. In spite of this, my A-4 flies quite nicely. I use an underhanded launch, gripping the fuselage in my left hand. The kit included missiles but I decided that they would probably not last through but one belly landing and I thus left them in the box. I cranked up my aileron control throws a bit over the recommended throws and the roll rate is now pretty quick. I use Thunder Power Pro Power 45C 850mAh 3S lipos in my A-4, with no modification necessary.
Lockheed T-33 Shooting Star
Wingspan:
30.75" (784mm)
Length:
26.75" (683mm)
Weight:
12.65 oz(360g)
POWER SYSTEM UPGRADE: Installing a Dons RC Wicked 6000Kv Motor and Wemotec Micro Fan
If you want your Sky Angel 50mm EDF to go faster than the stock power system propels it, you need look not further than www.donsrc.com. Don, known around RCGroups as "The Don", is the go-to guy for quick, painless and precise power system upgrades. Don sent along one of his Wicked 6000Kv motors, mated up to a Wemotec 50mm Microfan. Don is capable of dynamically balancing the fans he sells and he does a superb job of it! I decided to upgrade the power system in the T-33 Shooting Star. The process does not take very long at all.
| | | |
| --- | --- | --- |
| | Foam removal on upper fuselage | |
| | | |
| --- | --- | --- |
| | Foam removal on lower fuselage | |
A few minutes with a Dremel and sanding drum is all that is required to prepare the fuselage to accept this higher powered EDF system. Don also sells a series of Pentium ESCs that work very well with his EDF power systems. I used a DonsRC Pentium 40 amp ESC that I already had on hand.
Sliding the Wicked/Wemo Combo into place
The slight increase in AUW when upgrading the power system is more than worth it when you see how much better the T-33 performs! I use a Thunder Power Pro Power 45C 1750mAh 3S lipo and it fits nicely in the largish T-33 battery compartment. In the video below, Don dopplered mine in the mid 70 MPH range. You can pick up a little more speed by pinching down the exhaust ducting a little and losing the tip tanks. Don modified his Sky Angel T-33 with the same high performance Wicked/Wemo power system, plus the additional modifications listed, and hit speeds in the mid 80 MPH range! This illustrates another very attractive feature of the Sky Angel 50mm EDFs. The power systems can be easily upgraded, and at a very modest price. My Sky Angel T-33 is probably my favorite 50mm airframe and this is probably mainly due to the performance increase provided by DonsRC. While the stock power systems are good for around 160-200 watts, depending on your choice of lipo and fan balance, this power system from Don makes nearly double that and comes in at around 350 watts! The T-33 really grooves at wide open throttle and is very stable. The Wicked/Wemo combo sings (screams?!) smoothly at high RPMS, thanks to Don's dynamic balancing job on the fan. The T-33 flies like a much larger plane. One caveat though is that I have noticed the wing tanks on my Wemo/Wicked powered T-33 oscillating a bit on some wide open throttle passes! I do not think the wing has a spar per se and the additional power may be pushing the limits of what this little foamy airframe can handle power-wise.
General Dynamics F-16 Fighting Falcon
Wingspan:
20.9" (530mm)
Length:
26.75" (680mm)
Weight:
11.5 oz(325g)
The Sky Angel F-16 is the fastest of the four initial airframes released, with the F-18 in close second. These two airframes, along with the AMX, use a unique control configuration. Both the aileron and elevator halves on each side are connected to the same servo with push rods. Stated another way, there is a servo located aft of the trailing edge of the wing on either side of the fuselage. Small diameter push rods go forward to the aileron control surfaces and also aft to the elevators. Many modelers experimented with using just the elevator control surfaces, in a taileron configuration, and pinning the aileron surfaces so they would remain fixed in the neutral position. I found that the roll rate of the F-16 was absolutely insane with the throws kicked way up. The Sky Angel F-16 and F-18 were unique in that very small landing gear was included in the box, as were some foam missiles. I decided to leave all of these extra pieces off and keep the airframes as light as possible.
AMX International
Wingspan:
19.7" (500mm)
Length:
27.5" (700mm)
Weight:
11.6 oz (330g)
Before I ever laid eyes on the Sky Angel 50mm AMX mini EDF, I knew I would love it. I had already owned and flown a couple of the larger JPower 64mm AMX EDFs, one on the stock power system and one on a 600 watt, 4S upgraded power system. The eye popping color scheme of the larger AMX was used on the smaller one as well. When overhand launching the 50mm AMX, I found it really needed a notably firm push forward or it would struggle to get up on step for a few seconds. Though it is not in any way a difficult model to fly, I did find that it was a little more crucial to manage your airspeed, especially when turning a tight corner and using the elevator to tighten the turn. If your airspeed gets too low, the little AMX would sometimes bite a little and fall out of the turn. The AMX also included missiles in the box and thanks to its mid wing configuration, I went ahead and installed them.
Aero L-39 Albatros
Wingspan:
21" (533mm)
Length:
27.5" (700mm)
Weight:
12.3 oz (350g)
Though the L-39 is an oft modeled airframe, I have a soft spot in my heart for ANY size Albatros! I have seen the Sky Angel mini version in both the red color scheme that was sent to me and a blue/yellow Breitling version. The L-39 is a natural candidate for an underhanded toss, its fuselage offering up the perfect hand grip. I fly mine using the stock power system and performance is satisfying and brisk. The stock fan in my L-39 is particularly smooth and powerful. I use a Thunder Power 3S Pro Power 45C 850mAh lipo in my Albatros and I can routinely squeeze flights of 5 minutes out of it, with a little self-control on the throttle. For the cost of a little foam in the front of the battery area, I was able to squeeze a Thunder Power 3S Pro Power 45C 1250mAh lipo in it. I find myself really wanting to upgrade the L-39 to a power system with more watts though. Its sleek shape just begs to go faster! I do wish my L-39 had come with a pilot or two but for now, it is unmanned. When flying it, I find it reminds me of the way that the AMX responds in tight turns, with a tendency to drop the nose if the speed gets a little too slow. But that is not to say that it is ill behaved or difficult to fly at all! In fact, none of these mini EDFs are really that difficult to fly. I hope to upgrade my L-39 soon. Check over in The Don's forum here on RCGroups if you would like to see how he has already improved the performance of his Sky Angel L-39!
North American F-86 Sabre
Wingspan:
25.4" (645mm)
Length:
25.2" (640mm)
Weight:
13 oz (370g)
Of the four original Sky Angel 50mm mini EDFs that I received, the F-86 Saber quickly became my favorite. Never mind that many flogged it for its arguably unscale oversize inlet and the little foamy aileron servo protector protruding from it's belly. I am not known to be a F-86 enthusiast but I just love flying this little one! The stock fan that I am using has only grown smoother and made my F-86 seem even faster with age. I would guesstimate that I have upwards of 150 flights on mine so far. The area for the battery is definitely small, perhaps the most limited of all the mini EDFs? I had to remove a little foam to get the thickness of the Thunder Power G4 3S 850Mah packs to fit. The F-86 came with under wing tanks but I removed them after one was dislodged on a landing. I have launched the F-86 both under and over handed and it is pretty easy to do, whichever way you prefer. The F-86 needs a little speed across it's wings for the ailerons to gain effectiveness, which if anything just serves to underscore the need to keep the wings level on launch. I am amazed at just how slowly this one will fly. Add in a decent head wind component and it will almost stay motionless in one place. One would suppose the feathery light weight of these models would preclude flying them on windier days but I have had this little F-86 out on some days where the winds were 15 MPH and higher and it penetrates incredibly well!
McDonnell Douglas F/A-18 Hornet
Wingspan:
18.75" (475mm)
Length:
27" (688mm)
Weight:
11.75 oz (335g)
Since the Sky Angel F-16 comes schemed in the USAF Thunderbirds demonstration team colors, it would only make sense that the F-18 come in the US Navy's Blue Angels finish. And I like the way Sky Angel did it up. The paint is a high gloss blue but anybody who has ever seen the Blue Angels in person knows that their aircraft are spotless and super polished. My Sky Angel F-18 included landing gear and missiles, neither of which I opted to use. It also uses the same mechanically mixed elevator/aileron arrangement as the AMX and F-16. Second only to the F-16 in speed, the F-18 looks super cool in the air. It is quite photogenic! I use the overhand launch method on the F-18 and it is quick to get up and on step. The battery bay on the F-18 is somewhat roomier than some of the other Generation I mini EDFs.
That Inevitable CRASH!
The saying goes that "it is not IF you crash but WHEN you crash"! And how true that is! It didn't take me long at all to experience my first crash when flying one of the Sky Angel 50mm EDFs. And the worst part of it was that it was completely my own fault! While yanking and banking the Sky Angel F-16, I went for the elevator down trim and instead hit the power off switch! What a rookie mistake THAT was! And the poor little F-16 nosed over and went in pretty hard. One of the coolest features about these little EDFs though is that 11 to 16 ounces of foamy mass connecting to the terra firma does not really get spanked very hard by Father Gravity. An hour or two spent with some hot water to help restore the crumpled foam to its original shape, with a little epoxy added in and the little F-16 looked fit for duty again. And if you DO manage to utterly destroy an airframe, some vendors sell replacement airframes for as little as twenty US dollars! If that doesn't take most of the sting out of wadding one of your airplanes up, nothing will!
Conclusion
The final chapter cannot yet be written on these Sky Angel 50mm mini EDFs. There are several reasons for this. One is that Sky Power continues to release new models in the product line. As I was putting the finishing touches on this article, Sky Angel announced the release of the Grumman F9F Panther and Lockheed Martin F-35 Lightning II. I have also been informed and promised that the release of several 50mm twin airframes is imminent. The Fairchild Republic A-10 Thunderbolt II and the Sukhoi Su-34 will supposedly be the first of several twins to be released. I am hoping that I will soon have some media samples of the twins and when I do, I will certainly share media of them in the Sky Angel 50mm EDF thread. The word on the street is that there will also be some 30mm and 40mm EDF models released.
In my opinion, the Sky Angel 50mm mini EDF jets are the standout EDF product for the 2010 review year! Maximum bang for minimum buck and they are loads of FUN! How can you go wrong with an EDF jet that costs south of one hundred bucks and will fit in your car, even if it is a tiny little Smart Car?! The lipos required to fly the Sky Angel EDFs are relatively affordable 800-1200mAh 3S packs, depending on what EDF power system you elect to use. And with the crazy low price of the airframe only version, folks LOVE to experiment with different power systems! If you want to set one up as a bona fide hotrod, head on over to the Carrol Shelby of these mini EDFs, DonsRC.com. Don has done a lot of experimenting on these airframes and he really knows how to make them go fast. The one caveat is that you will probably need to move into the slightly larger 1750mAh 3S class of lipo to keep the hotter power systems happy.
Likes:

Incredible amount of fun; maximum bang for the buck!
Assembly can be completed in an hour or two
Brushless EDF power system and servos pre-installed
Overall lightweight mass of models and EPO foam keeps damage to a minimum in crashes
Power system upgrades are easily performed
Modest battery requirements (800-1750mAh 3S)

Dislikes:

Hit or miss fan balance and longevity
Often difficult to find desired models in stock at vendors
The question must now be asked .... which of the Sky Angel mini EDFs is my personal favorite? My F-86 has received the highest number of total flights and I still fly it regularly. But my T-33, hopped up with Dons Wicked/Wemo combo is like that one special ride that I keep in the garage and take out when the weather is perfect. It is so stable in flight and sounds so perfectly smooth at full RPM, thanks to Don's balancing job. I am very anxious to get my hands on the T-45, as many report it as their favorite airframe. The Panther also is a must have for me. Now ... which one is YOUR favorite?!
Thunder Power was very supportive of my Sky Angel review project and they wanted to extend a little bonus to any and all who read this review and decide to jump into the 50mm EDF waters. If you would like to get the same batteries I use in my Sky Angel EDFS and save some coin doing it , a special code has been created for readers of this review. Use code "RCGSA50MMEDFS" to save 40% off on the purchase of Thunder Power RC G4 Pro Power 45C 850, 1250 or 1750 3S lipos! Call them directly at 702-228-8883, Monday through Friday from 8:30AM to 4:30PM Pacific Standard Time to place an order using this code
A special thanks to Jalin, my friend, for "sharing" his great ideas with me, to The Don, for turning my T-33 into a hot rod and to Thunder Power for providing their G4 lipoly batteries for this review.