Introduction

The Yardbird RC F-15 pusher jet.
Wingspan:
24in.
Weight:
12.6oz.
Length:
35.5in.
Servos:
(2) YB1122 9g micro servos
Transmitter:
JR X9303
Receiver:
AR 6100
Battery:
Sonic Power 3s 1300mah (25c) lipo battery
Motor:
Motrolfly DM2210-1700
ESC:
Motrolfly FM-20
Prop:
APC 7 x 5
Manufacturer:
Yardbird RC
Available From:
Yardbird RC
Yardbird RC has done it again!!! Rick Meeks and his crew at Yardbird RC have added yet another AWESOME new product to their growing lineup of pusher jet airplanes. The all new Yardbird RC F-15 pusher jet takes advantage of the latest in foamy technology and engineering and puts it all together in an easy to assemble, easy to fly, pusher jet package that has the performance most of us have come to expect from Yardbird RC.
The Yardbird RC F-15 pusher jet comes with an extensive hardware package that includes carbon fiber pushrods, carbon fiber wing and stab spars and custom YBRC light plywood control horns and motor mount. Yardbird RC even includes a clear molded canopy and two pilots that give the F-15 that great scale look in the air. Yardbird RC also includes a very comprehensive manual that guides you along the quick assembly process and takes you from work bench to flight line in only a few short hours.
Iíll take you through the quick assembly and give you my flight thoughts and impressions on the all new Yardbird RC F-15 pusher jet. I think you'll find that Yardbird RC doesn't disappoint!!
If youíre looking for a little preview of what this gem is capable hereís the demo video from the Yardbird RC website. It features some great onboard camera shots!! Just a little something to pique your interest!!!! :)
Kit Contents
| | | |
| --- | --- | --- |
| Proudly made in the USA!! | Well protected contents. | Out-of-the-box. |
There are a couple of reasons I love flying Yardbird RC airplanes: They fly great right out of the box (can't beat that), and they are proudly made, manufactured and distributed right here in the good old USA. Yardbird RC does a great job of packaging its kits, and as usual, my F-15 kit arrived in great condition. Everything in the box came nicely packaged and protected from damage.
The first thing I noticed when I opened the box was the fantastic decal package that YBRC includes with each of these kits. These decals really bring the F-15 to life, and they add a tremendous amount of appeal when you see the F-15 in the air.
I was extremely eager to get building on my F-15; building an YBRC pusher jet is about as easy as it gets in putting a foamy kit together.
The Yardbird RC F-15 Pusher Jet Contains:
CNC precision cut 6mm foam F-15 pusher jet parts
Carbon fiber pushrods as well as carbon fiber wing/stab spars
Laser cut lightweight plywood control horns/motor mount
Dubro EZ connectors and nylon clevis
Clear molded canopy and included pilot busts
Extensive red and white decal package
| | |
| --- | --- |
| Included hardware package. Photo courtesy of YBRC. | Subsonic Planes combo package. |
The Yardbird RC F-15 Pusher Jet Requires:
180W brushless outrunner
20A 2-3 cell lipo capable brushless speed controller
3s 1800mah lipo battery
(2) 9g or similar micro servos
APC 7 x 5 prop
At minimum a 3 channel radio capable of v-tail mixing
Foam safe glue
Miscellaneous building tools (X-Acto #11 blades, small screw driver, etc.)
Items Used To Complete My Yardbird RC F-15 Pusher Jet:
Motrolfly DM2210-1700 brushless outrunner
Motrolfly FM-20 (20A) brushless speed controller
Subsonic Planes 3s 1300 mah 25C lipo battery
APC 7 x 5
(2) 9g YB 1122 micro servos
Futaba 7C 2.4 GHz radio with an R617FS receiver
Ultimate RC Foam Glue
Assembly
The Manual (including supplemental instructions)
| | | |
| --- | --- | --- |
| The YBRC F-15 assembly manual | Excellent photo-illustrated manual | Supplemental instructions |
The YBRC F-15 pusher jet comes with a very comprehensive assembly manual that takes you step-by-step through a successful build of the F-15 kit. I found that the photo-illustrations in the manual definitely helped to minimize my building time. They provide a very quick visual reference which perfectly complements the manualís text.
The YBRC F-15 pusher jet also comes with a separate supplemental instruction sheet that explains how to install and mount the recently upgraded laser cut light plywood control horns and motor mount.
Airframe Assembly
| | | |
| --- | --- | --- |
| Removing the milling tabs. | Right and left side of the front wing deck. | |
The YBRC F-15 is really simple to build. As with most all CNC routed foamy kits the first thing I did was take the time to remove all the milling tabs from each piece of 6mm foam part in the kit. This is easily done with an X-acto blade or fine sandpaper. The right and left wings halves were then glued together. I used the Ultimate RC Foam Glue almost exclusively throughout the build of my F-15 pusher jet. While the glue does take a little longer to dry then other foam safe CA/kicker glue combinations I was very pleased with how well it sealed up the glue joints and was almost invisible when dry.
It's very important to work on a flat surface to ensure the plane is built as true and straight as possible.
I was very impressed with the extensive use of carbon fiber in this model, such as in the elevon assemblies. Each elevon has a carbon fiber rod that gets glued and inserted into a precut channel and adds a tremendous amount of stiffness to each elevon with very little extra weight. Another place you will find carbon fiber added on the YBRC F-15 is in the front of the aft wing deck. YBRC does a terrific job of adding carbon fiber in places where additional structural support is needed. This definitely adds to the pusher jetís robustness when flying at blistering speeds.
| | | |
| --- | --- | --- |
| Aft fuselage and inside inlets in place. | Belly plate and door installed. | Upper and lower fuselage assembly glued in. |
With the wing halves joined and the elevons hinged in place the aft fuselage and inside inlets are glued in. YBRC makes fitting such structures together super easy; you simply align the tabs on each piece with precut slots. The tabs on the F-15 pieces fit perfectly into the precut slots, and there was no additional trimming or adjustments needed.
YBRC provides a very nice belly plate assembly that is hinged and then glued in place and provides an easy access point for the F-15 electronics. The belly door is held in place via the hinges and small strips of velcro. The upper and lower fuselage assembly, when glued in and completed, provides the F-15 the support brace needed for the motor mount and is also where the clear canopy and two pilot busts will be mounted.
Motor and ESC installation
Powered By Motrolfly

Motrolfly DM 2210-1700
Type:
Brushless Outrunner
Voltage:
7.4V to 11.1V
RPM/Volt (Kv):
1623
No Load Current (Io):
1.560A @ 10V
Resistance:
0.0621
Weight:
1.9oz. (53g)
Maximum Current:
20A
Maximum Watts:
180W (on 11.1V)
Cells:
2s-3s lipo

Motrolfly DM2210-1700 motor installed.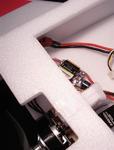 Motrolfly FM-20 ESC installed.
My YBRC F-15 pusher jet came with the new laser cut light plywood motor mount assembly. The motor assembles very easily, and I chose to use medium CA to hold it together. I opted to mount my Motrolfly DM2210-1700 to the motor box prior to gluing the motor box onto the upper fuselage assembly. The Motrolfly motor is held in place on the motor box with a few small wood screws. The motor box/motor assembly is then just glued onto F-15.
The Motrolfly FM-20 speed controller is mounted behind the belly pan door and is held in place using small pieces of velcro. This Motrolfly setup provides TONS of power for the YBRC F-15, and I was very impressed by how well it performed.
Radio and Battery Installation
| | | |
| --- | --- | --- |
| Laser cut control horns. | YB 1122 9g servos installed. | Subsonic 3s 1300mah pack and AR 6100 installed. |

Motrolfly FM 20A ESC
Type:
Brushless
Voltage:
7.4V to 11.1V
Weight:
20g
Maximum Current:
20A
BEC:
2A
Battery Type:
Nimh/Nicd and 2s-3s lipo
Just like the motor mount, the YBRC F-15 pusher jet kit comes with upgraded laser cut light plywood control horns. I was very impressed with the quality of the new horns, and I found that they fit perfectly in the elevon slots. The (2) YB1122 9g micro servos fit precisely in the precut slots on the F-15 fuselage sides, and I glued them in place using the Ultimate RC Foam Glue. The YBRC F-15 kit comes with carbon fiber pushrods and Dubro EZ connectors for finishing the elevon control setup. The carbon fiber pushrods provided in the kit were very robust and offer a very solid connection between the (2) YB1122 9g micro servos and elevon control surfaces.
The Finishing Touches
The YBRC F-15 pusher jet kit comes with a pair of 6mm foam pilot busts and two sets of decals that can be applied to the foam busts. The pilot busts are then glued in place under the supplied clear canopy which gets glued on top of the upper fuselage assemble. Once completed, the pilot busts give the YBRC F-15 a FANTASTIC finished look and adds a great deal of scale realism to the pusher jet in the air.
I couldn't have been happier with how my finished YBRC F-15 pusher kit turned out. With the supplied decals and the pilot busts and clear canopy installed my YBRC F-15 pusher jet looked like it was ready to be put into service fresh off the assembly line. The decals really give the F-15 an eye popping appeal and greatly add to the planeís visibility in the air.
My finished YBRC F-15 pusher kit came in at an AUW of 12.6 oz., well inside the manufactures published weight range (9.5-13.5), and I knew that with the power setup on board that my F-15 was going to fly GREAT!!! For the first few flights I trimmed my F-15 right at the recommended CG point of 2.9 in. measure from the back of the engine mount. I have since moved my CG back to 3.3 in. to suit my own personal flying style.
Control Throw Setup
Elevon control throws were setup per the instruction manual
Low Rate Up
Low Rate Down
High Rate Up
High Rate Down
35 deg.
35 deg.
45 deg.
45 deg.
Flying
Basics Including Takeoff and Landing
| | |
| --- | --- |
| The author preparing to launch his F-15 pusher jet. | My YBRC F-15 coming in for a landing. |
The YBRC F-15 pusher jet can be safely launched using a couple of different techniques. The manual suggests holding the F-15 pusher jet on the aft fuselage section right between the elevons. I found this to be a great way to hand launch the little pusher jet. By holding the F-15 at roughly a 30 degree angle (nose high attitude) and with about half throttle the F-15 jet will just fly right out of your hands.........no real toss required.
The second way I like to launch to my YBRC F-15 pusher jet is to hold on to the upper fuselage section just behind the clear canopy, and while holding the plane at once again about a 30 degree angle giving it a light toss while simultaneously applying full throttle (see photo above). All I can say is PURE POWER!!! Using this launch method my F-15 accelerated skyward like a homesick rocket ship. For those of you that like the thrill of a rapid hand launch you will not be disappointed at all using this method.
On low rates, the YBRC F-15 tracks surprisingly well for a plane that only weighs just over 12 ounces. It penetrates the wind quite well and can be easily seen in most all sky conditions thanks in part to the highly visible decals. The YBRC F-15 has an excellent speed range that can go from just faster than a crawl to near limitless vertical full power runs. Any intermediate to advanced pilot will become quite comfortable flying the F-15 after only a few minutes on the sticks. Using the Sonic Power 3s 1300mah (25c) lipo battery will give you on average about 10 + minutes. of flight time depending on throttle management.
Because the YBRC F-15 slows down so well and maintains excellent control authority at such slow speeds I felt very comfortable when it came time to land the little pusher jet. The manual explains a terrific technique to use when landing the F-15 pusher jet: Just gradually reduce power until youíre about 3 ft. off the ground, and then make a "pizza box" flop style landing. When flown correctly, this landing technique puts the F-15 in a slight nose high attitude (almost like a harrier style landing) and results in the F-15 landing flat on its belly pan. Itís a very easy technique to use once you have practiced it a few times.
Aerobatics/Special Flight Performance
Feel The Power


Sonic Power 3s 1300mah (25C)
Prop:
APC 7 x 5
AMPS:
21.5A
Watts:
252W
Watts/Lb.:
320W/Lb.
On high rates the YBRC F-15 pusher jet is fully capable of performing basic aerobatic maneuvers such as rolls, loops, tailslides, and yes, even a decent rolling circle with correct stick inputs. My F-15 pusher jet also has plenty of power to perform such 3D maneuvers as hovering and even high alpha harrier flight. While definitely not as stable in 3D flight as dedicated 3D airplanes, I was impressed that with correct and timely stick movements, the F-15 could pull these maneuvers off reasonable well.
I was very pleased with the roll rate on my F-15 on high rates. While the roll rate wasn't blistering fast it definitely was higher than I expected it to be. I enjoyed the roll rate so much that I pretty fly my F-15 on high rates just so I can perform the occasional "semi snap roll" and turn on the dime response. I will have to say that my F-15 does indeed perform AWESOME high G loops just like what is shown in the demo video on the Yardbird RC website. My F-15 shows no signs of snapping out flying this maneuver, and it definitely has a lot of WOW appeal when flown in front of other club members.
My F-15 required a fair amount of down elevator when flown inverted, so I've adjusted my CG slightly further aft to help minimize the amount of elevator needed.
Is This For a Beginner?
While the YBRC F-15 pusher jet can be a very docile flyer when set up on low rates and has excellent flight characteristics it does not posses the self-leveling qualities that many of today's trainers have. I think it would make for a very good 2nd or 3rd airplane once the basics of RC flight are mastered.
Photo Gallery
Flight Video
Downloads
Conclusion
I'm extremely pleased with not only how easy and enjoyable it was to build my YBRC F-15 pusher jet but even more so with how well this plane flies. With the help of the detailed manual and carbon fiber being used throughout, the F-15 goes from box to flight ready in no time. The flight performance of this little pusher jet is very impressive, and I think that any pusher jet fan will be as impressed with the flight performance as much as I have been. The clear canopy and included pilot busts definitely give this pusher jet lots of appeal both on the ground and in the air, and you are sure to get lots of attention any time this little beauty is taken to the field.
Rick Meeks and the crew at YBRC have once again produced another high quality kit that not only fits great into my RC budget but also fills the gap for that "everyday flyer" type of airplane.
Pluses:
Very affordable
Comprehensive manual
Lots of carbon fiber throughout
Ease of assembly
Excellent flight characteristics
Looks great in the air
Fantastic power package setup
Minuses:
The Ultimate RC Foam Glue does require a longer bond time than other foam safe type glues