Posted by Nickerz | Nov 06, 2021 @ 12:04 AM | 8,406 Views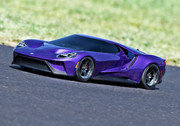 Today I MIGHT have bought a Traxxas 4-Tec 2.0 Brushed - Limited
Purple
Edition (TRA83056-4-PRPL). I say "MIGHT" b/c I found it online late at night at a hobby shop's website out of MI so I wasn't able to call them and confirm if they truly have it in stock. If they do, then this could be a gem as I'm currently bidding on one on eBay (which has a buy it now price of $1k btw) but I probably won't get it as the seller has a reserve that hasn't been met yet. I don't want it that bad but if I get a good deal on it, I'll simply try to flip it to make some money on the deal. So we'll see...

Total paid was...
$299.99 (Traxxas 4-Tec 2.0 Brushed)
$28.88 (Free Shipping)
$N/A (Tax)
$328.87 (Grand Total)
So far I received an email confirming my order but I still need to call the Hobby Shop tomorrow to confirm they truly have it in stock. In the past, I've ordered things from websites, only to be told later they didn't have it in stock after all. We'll seeeee...

But if this goes through, here's a teaser pic...