Archive for September, 2019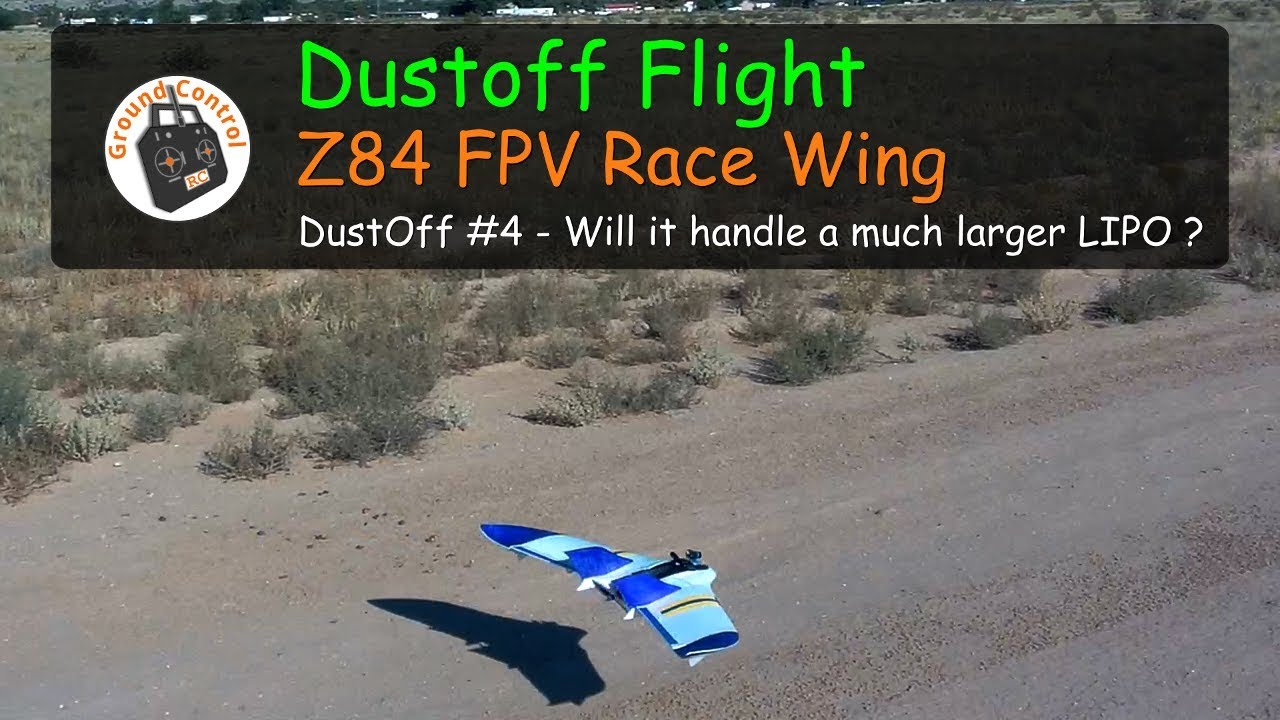 DustOff #4 - Zeta Z84 FPV Race Wing - Will it handle a much larger LIPO?
#Ground Control RC #Glue & Fly Series #Scratch Build Planes
Here is a link to the Video:
https://www.youtube.com/watch?v=ZzxKwlEpkIA
The Z84 is a pretty nice Wing with a decent power system.
This version is the PNF that has a 2208 2600kv Motor, 30A ESC, and 5050 Prop.
I've found a 6040 Prop works much better than the stock 5050 Prop as it produces more thrust and is more efficient.
In this Flight I'm testing a new Landing Skid System and a much Larger LIPO.
I normally use these 3S 2200mah 25C LIPOs for my larger Planes but I'm using my smaller 3S LIPOs in the "Glue & Fly" Series F-22 Mini V3 today, so I hope this Wing can handle the 60-70 grams of additional weight ;-)
***Note the Setup & Tips Video for this Wing has already been posted.
Here is the link:
https://www.youtube.com/watch?v=NQjpcpdKLm0
The KMP 6040 Composite Prop proved to provide a lot of thrust with good efficiency.
When I landed I still had 3.85v per cell ;-)
My new favorite Prop for this Wing.
***Note: I replaced the T-plug on mine with an XT60 Plug on the ESC
You Can Help Support Us By Using Our Affiliate Link To The Product Below. A small commission (At No Cost To You) helps us buy more items to review.
Zeta Wing Wing Z-84 Z84 EPO 845mm Wingspan Flying Wing PNP
https://www.banggood.com/Wing-Wing-Z...47791920140372
Prop I use:
1pc KMP 6040 6X4E High Efficiency Propeller
https://www.banggood.com/1Pcs-KMP-6X...47791920140372
A LIPO to use:
ZOP Power 3S 1500mAh 40C Lipo Battery XT60 Plug
https://usa.banggood.com/ZOP-Power-1...47791920140372
Gens Tattu 3S 1300mAh 45C Lipo Battery With XT60
https://www.banggood.com/Gens-Tattu-...47791920140372
Gaoneng GNB 3S 1300mAh 40C XT60 Plug Lipo Battery
https://www.banggood.com/Gaoneng-GNB...47791920140372
Turnigy 2200mAh 3S 25C Lipo Pack
https://hobbyking.com/en_us/turnigy-...asc=3451564005
See you in the Air!
Build, Fly, Crash, Repair, Rinse & Repeat!
Consider Supporting Our Channel by becoming a Patron at:
https://www.patreon.com/groundcontrolrc
Patrons of the Channel will have Exclusive access to Aircraft Plans & Content!
See Us On Youtube | Patreon | RCGroups
https://www.youtube.com/c/GroundControlRC
https://www.patreon.com/groundcontrolrc
https://www.rcgroups.com/forums/member.php?u=754189