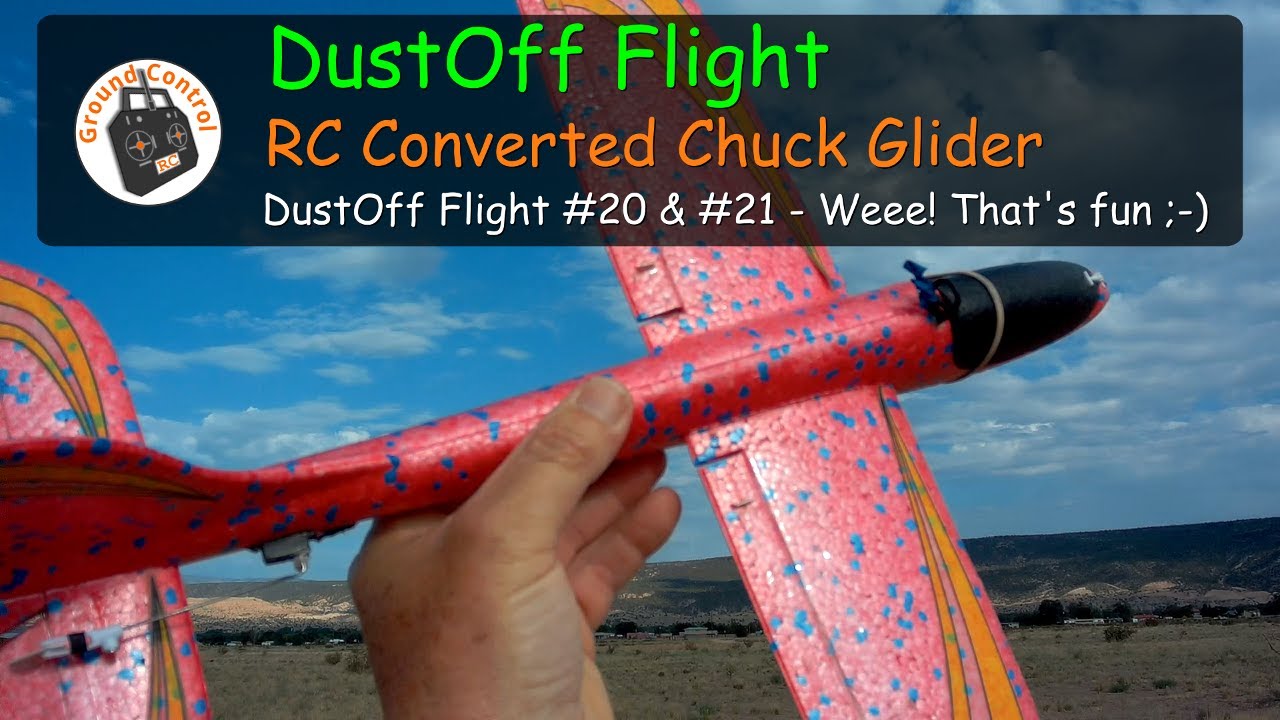 DustOff Flight #20 & #21 - RC Converted Chuck Glider - Weeeee! That's Fun ;-)
Banggood GCRC
https://www.banggood.com/custlink/GmDmQ1nVkO
Here is a link to the Video:
https://www.youtube.com/watch?v=3ui2TU6_5SY
Time to blow the Dust Off of this Converted RC Chuck Glider ;-)
Well, I'm glad I took this Converted Chuck Glider with me to the Field as I'll fly it in any Wind ;-)
The Wind Forecast was for 3mph (5kph) and the Wind was actually 6-11mph (10-18kph).
This Converted Chuck Glider handles it just fine ;-)
I'll have to take it out sometime when I have 15-20mph (24-32kph) wind to see how this Glider, which has no Gyro, can handle that ;-)
You Can Help Support Us By Using Our Affiliate Link To The Product Below. A small commission (At No Cost To You) helps us buy more items to review.
Here is a link to the Playlist for this RC Converted Chuck Glider:
https://www.youtube.com/playlist?lis...OknBblSrwuqP2T
Here are links to all the components we used in this project:
48cm Big Size Hand Launch Throwing Aircraft Airplane Glider DIY Inertial Foam EPP
https://www.banggood.com/48cm-Big-Si...47791920140372
DYS BE1104 1104 Brushless Motor 5400KV 6500KV 7000KV 2-3S for 100 120 150 RC Drone FPV Racing Multi Rotor - 7000KV
https://www.banggood.com/DYS-BE1104-...47791920140372
2 Pairs Gemfan 3025 PC Propeller CW/CCW For 1104 Motor 120 150 160 RC Drone FPV Racing Multi Rotor
https://www.banggood.com/2-Pairs-Gem...47791920140372
2.4G 4CH
...Continue Reading