Posted by Nickerz | Aug 18, 2021 @ 10:26 PM | 28,152 Views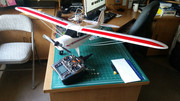 The goal of this project will be to simply add the EZ-XPORT Module (more info about this blogged
here...
) to my HobbyZone Super Cub S BNF (
HBZ8180B
) which will let me add the HobbyZone X-Port modules (especially the Sonic Combat Module to dogfight!) AND still keep SAFE.
The stock receiver (
SPMA3170
) has SAFE but it doesn't have the X-Port feature that was included in the previous Super Cubs (i.e., DSM, LP, even the 2006 original Red/White model) and this newest receiver doesn't have an extra channel (i.e., Aileron which was included in the previous models) to plug in the EZ-XPORT Module, which will then allow me to add/use the HobbyZone modules (i.e.,
Aerial Drop Module
,
Sonic Combat Module
,
Night Flight Module
).
One option to make this work on my Super Cub S AND still keep SAFE, is I can replace the stock receiver with the E-flite Apprentice S receiver (
EFLR310013
) which has SAFE and enough channels to add the EZ-XPORT Module!

To do this, I will have to buy a brushed ESC (since the stock receiver is an ESC/Receiver combo) and since the Turnigy 30A ESC doesn't come with plugs/connectors, I'll buy the E-flite EC3 Male (
EFLAEC301
) plugs (which they refer to as "Device" for Male ends and "Battery Connector" for Female-
EFLAEC302
) and simply solder this to my new ESC.
Last, I'll then need to buy 3.5mm Female Bullet Connectors and solder these on to the Turnigy ESC. I have 4.0mm bullet connectors as these are bigger than the stock bullet connectors that come on my Super Cub S receiver, so I emailed Horizon Hobby tech support (which recently changed btw and is HORRIBLE - they used to have the best and easiest support but now they won't take your call and will make you wait days to email back and forth - just horrible!) and they confirmed the stock bullet connectors are the 3.5mm size.