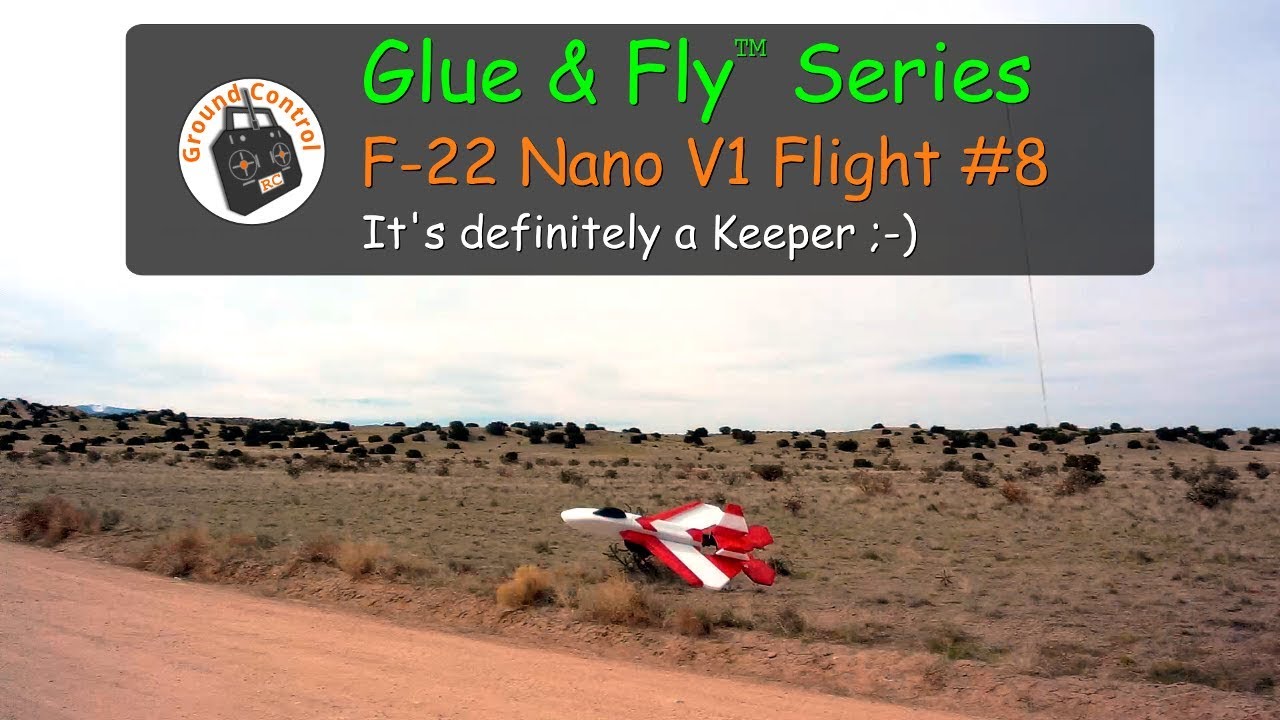 Glue & Fly™ Series - F-22 Nano V1 - Flight #8 - It's a Keeper ;-)
Tuned and ready to see it's capability ;-)
Banggood GCRC
https://www.banggood.com/custlink/GmDmQ1nVkO
Here is a link to the Video:
https://www.youtube.com/watch?v=6If-AqZv-as
Here are links to all the Components I chose for this Nano Parkjet:
***Motor
HappyModel EX1102 13500kv Brushless Motor (1.5mm Shaft - 13500kv)
https://www.banggood.com/custlink/3v3KUbNbSI
***Receiver I used (Make sure the Receiver you choose matches your Transmitter Protocol!)
Receiver 4CH Low Voltage DSM2 DSMX
https://www.banggood.com/custlink/DmvvqnbNIQ
***Servos (I have ordered these and the ones they sent did fit the Micro Receiver I have. These were JST-SH 1.25mm Pitch on the Connector)
2Pcs 1.7g Low Voltage Micro Digital Servo Mini JST Connector for RC Model
https://www.banggood.com/2Pcs-1_7g-L...47791920140372
***Prop
10 Pairs LDARC 2.5 Inch 65mm-2blades Racer Propeller(hole diam:1.5mm) M2 Screw Fixing For Toothpick FPV
https://www.banggood.com/10-Pairs-LD...47791920140372
I cannot find the DYS 7A OPTO ESCs any more.
I have just received this 7A OPTO ESC but I have not tested it yet.
***ESC
1-2S 7A Brushless ESC High Speed For RC Airplane
https://www.banggood.com/1-2S-7A-Bru...47791920140372
#GroundControlRC #GlueAndFly #ScratchBuildPlanes #GFSNanoF22 #GFSNanoF22V1
See you in the Air!
Build, Fly, Crash, Repair, Rinse & Repeat!
Ground Control RC™ Glue & Fly™ Series Scratch-Build Planes
Consider Supporting Our Channel by becoming a Patron at:
https://www.patreon.com/groundcontrolrc
Patrons of the Channel will have access to the latest Aircraft Plans & Exclusive Content!
See Us On Youtube | Patreon | RCGroups
https://www.youtube.com/c/GroundControlRC
https://www.patreon.com/groundcontrolrc
https://www.rcgroups.com/forums/member.php?u=754189