Network-Wide Banner
This ad will display in every forum except the FPV and Multi-Rotor forums, which are available separately. It will also appear on select webzine and special interest sites within the RCG Network.
450x110 pixels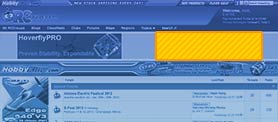 Mega Banner
This huge network-wide ad slot gives you maximum exposure. It is more than twice the size of the normal banners and is displayed more often. This ad will also be shown on the tablet version of RCGroups (iPad, Kindle, Android, etc).
950x110 pixels
Regular Mass Email Banner RCG
Do you want your banner in link in our mass email that goes out to over 100,000 opted-in RC enthusiasts? Buy now and Jim Graham will contact you!
625x75 pixels