Model Aero Steve Shumate designed Polaris Seaplane Parkflyer Review
The Polaris may look a little familiar if you have been in the hobby for a number of years. Read on to see how a fantastic aircraft design from the 80s reappears decades later.
By
Jon R. Barnes
| Apr 30, 2009, 05:45 PM
Introduction


Wingspan:
29"
Wing Area:
343 sq. in.
Weight:
17-22 oz.
Length:
38.4"
Wing Loading:
~8.4 oz/sq. ft.
Servos:
GWS Naro + Digitals (3)
Transmitter:
Spektrum DX7 Transmitter
Receiver:
Spektrum AR6100e (Revision 1.6E)
Battery:
1600-1800 mAH class 3S lipoly
Motor:
Suppo 2212/6 Brushless Outrunner
ESC:
Suppo 30 amp Brushless Speed Controller
Prop:
APC E 6x4
Flight Duration:
8-12 minutes
Designers:
Laddie Mikulasko/Steve Shumate
Available From:
Model Aero.com
Price:
$64.95
Great radio controlled airplane designs never die. They endure and evolve with the times and the technology. I remember seeing the Northstar seaplane in the Balsa USA advertisements that regularly ran in RCM magazine. Laddie Mikulasko's Original Northstar seaplane design would always catch my eye when flipping through the RC magazines of the 80s, and I was determined to someday build one.
Laddie Mikulasko's Original Northstar
Fast forward several decades, to the late 2000s. No, I never did get around to building a Northstar, and yes, I still think it is a great looking sea plane. Enter the godfather of foamy park flyer design, Steve Shumate. Steve is perhaps one of the most prolific park flyer aircraft designers of our day. He has a long list of foamy plane and jet designs to his credit and most, if not all of them, can be built from plans that are readily available for all to use. Steve's latest design efforts take the classic Northstar sea plane and shrinks it down to a park flyer sized plane which utilizes the clean energy served up by modern brushless power systems and lipoly batteries. The Polaris!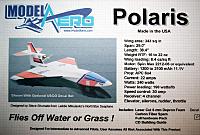 And for those of us who would rather not build one completely from scratch, Scott DeTray from Model Aero thankfully obtained the rights to kit the Polaris from Steve. Scott puts together a very complete kit, with excellent laser cutting of the Depron foam pieces. I was thrilled to hear that Model Aero would be kitting this one!
Kit Contents
In The Box
Laser cut 6mm Depron foam pieces
Carbon fiber spars
Light ply firewall and tail reinforcing plate
Illustrated instruction manual on CD Rom
Full hardware pack
Carbon push rods
Required for Completion
Minimum four channel radio system with three servos (Rudder, elevator, aileron)
Complete power system
1600-2100 3S lipoly battery
Prop
Provided for Review
Gorgeous, high quality vinyl decals
Suppo 2212/6 Brushless Outrunner
Suppo 30 amp Brushless Speed Controller
APC E 6x4
GWS Naro + Digital sub micro servos (3)
Assembly
This review is not in any way a comprehensive build thread. Steve's original RCGroups thread and the Model Aero assembly manual do an excellent job of guiding you through the complete build of the Polaris. This review will offer some tips and additional photos which may provide additional clarity.
A great place to start learning about the wonder that is the Polaris is the extensive thread on RCGroups that was originally started by Steve Shumate in September of 2008.
In its many pages, you will see not only Steve's original design and build photos but also a plethora of cool modifications, alternate paint schemes and videos. Steve also makes the plans available in PDF format in that thread.
If you would like to have a peek at the color illustrated instruction manual that Scott includes with the kit, he has made it available on his web site. Between the included assembly manual and the information loaded RCGroups thread, any questions you may have during the build have probably already been answered.
I used both foam safe cyanoacrylate adhesive with accelerator and five minute epoxy in assembling my Polaris. The instructions suggest a variety of acceptable adhesives that may be used, including 3M 77 spray, Ultimate RC Foam glue, UHU Creativ for Styrofoam, etc. Building an aircraft out of foam typically involves a fair amount of sanding. My weapon of choice to make quick work of it is the emery boards that your mother or sister use to dress their fingernails. But don't take theirs! Instead, sneak into any beauty supply shop, and you will find a large selection of different grits and shapes. The Depron foam does not clog the grit of the boards at all and a quick wipe on your pant leg will usually completely purge the foam residue from the board. They make quick work of the foam shaping process and generally last a long time.
Wing
Mostly, assembling the wing is gluing the carbon spars into the laser cut slots. I used epoxy for this step. A little goes a long way, and rubbing alcohol will clean any excess away before it dries.
My ever faithful 3M Blenderm tape was used to attach the ailerons to the trailing edges of the wing. It is best to round the leading edge of the wing early in the building process. The same holds true of all of the shaping and rounding of the Depron that is required to give the Polaris it's pleasing curves and aerodynamic shape. It is more difficult to do it after the model is complete.
Fuselage
The fuselage gets assembled in steps, with some of it getting attention early in the build and the rest towards the end of the build. It is important to ensure that you keep the sides of the fuselage symmetrical while building it. You do not want a twist in the airframe. The nose is constructed by gluing a bunch of identical pieces of Depron together in a laminate fashion and then attaching this block to the front of the fuselage. I used a razor saw to rough cut the initial shape and finished it with my emery board.
The final step in the assembly of the fuselage involves cutting a battery hatch into the top forward section. Use the plans for an idea of the approximate location. I placed a strip of hook and loop fastener on the fuselage deck inside the battery hatch. I slid the battery all the way forward towards the nose until it would not go any further, and it fit pretty snugly in the compartment. To secure the battery hatch, I used one piece of Blenderm tape at the forward end as a hinge, with another holding the rear of the lid in place during flight. When opening the hatch to remove the battery, I peeled the tape off slowly as it tends to try and lift the decal a little.
Tail
There are quite a few small Depron parts that make up the tail/pylon assembly. You will need to lengthen your ESC wires due to the motor sitting up high on the pylon. I followed the assembly directions, and if I found myself a tad bit confused, a few minutes spent cruising the RCGroups Polaris build thread would usually dissipate my confusion. The elevator servo gets buried in the structure in the tail. It is important to make sure you get it right before you close the lid on the coffin, including ensuring that the neutral is properly set, the servo horn screw is installed and finally, that the horn clears the foam on all sides throughout it's full range of movement. I use hot glue to anchor it in place.
There are two light ply pieces used in the assembly of the tail pylon. One is used for a motor firewall and the other beefs up the point of contact between the tail pylon and fuselage. It is especially important to ensure that the firewall has the correct thrust line. Scott cuts the kit pieces very accurately, and careful assembly of them will result in the correct thrust line. But double check that it looks right before you epoxy the firewall to the foam. After the firewall was attached to the pylon, I applied a light coat of epoxy to to the entire firewall.
Radio Installation

GWS Naro Digital +
Weight:
0.35oz (10g)
Dimensions:
0.87" x 0.43"x 0.98"
Operating Speed(4.8V):
0.16 sec/60°
Operating Speed(6.0V):
0.13 sec/60°
Stall Torque(4.8V):
22 oz-in.
Stall Torque(6.0V):
28 oz-in.
Street Price:
Less than $20.00
When it comes to mounting the other two servos and the radio receiver, a fair amount of flexibility is offered. I elected to mount my aileron and rudder servos on the bottom of the fuselage deck, while others may decide to mount them topside. Hot glue again holds them in their cut outs. I also used a dab of hot glue to stick my Spektrum AR6100e to the fuselage deck, immediately above and on the other side of the location of the two servos. It seemed prudent to mount it above the deck instead of below.
| | |
| --- | --- |
| | |
Due to the liquid environment that most Polarises will probably find themselves in, one has to give at least some consideration to keeping the water out of and off of the electronics. The push rods are well engineered, and by design will probably not permit much water to leak into the radio compartment through their points of entry. The carbon fiber rods pass through a rigid push rod guide tube, over which a piece of heat shrink is applied. A little dab of petroleum jelly at the end of the shrink wrap provides a good seal and yet allows the push rod to move freely.
Before sealing the rudder and elevator servos into the fuselage, it is best to go over their installation with a fine tooth comb. Don't forget to put in the servo horn retention screws!
Completion
I completed my Polaris in 6-7 longer evening build sessions but had to stop to take photos as I built. I was very anxious to apply the fancy Coast Guard decals to the Polaris because they are really great looking and quite heavy duty.
Before getting to the eye candy, I decided to spend a little time dressing the foam out. Depron foam really looks pretty decent, with no additional finishing necessary. However, if you are willing to spend a few extra hours with it, it is possible to smooth and seal the grain of the foam a little. I lightly sanded the entire airframe with a fine grit sand paper. I both vacuumed the dust and wiped the entire plane with a damp rag when finished. Next was a quick visit to the paint booth, where I applied several light coats of white enamel paint with my Paasche airbrush.
| | |
| --- | --- |
| | |
Once the white paint had dried, it was time to place the decals. These are well worth the additional cost in my opinion. They are some of the nicest graphics I have used in a while. They go on easily, and the various panels align nicely to create a cool looking Coast Guard Transport scheme. Another decal set is also available from Model Aero, it being a more futuristic Space Transport theme. Back to the booth for a few sealing coats of water based polyurethane, and at last, the Polaris is finished!
The recommended CG location is 7.69" (7 11/16") ahead of the centerline of the carbon wing spar
Suggested Transmitter Programming
Deflection
Exponential
Elevator:
1.0" up/down
40%
Ailerons:
0.75" up/down
40%
Rudder:
1.25" left/right
25%
I always use the factory recommended throws, at least until I get a few successful flights logged on an airframe. I ended up using the throws in the chart above as my low rates, with my high rates being pretty much maxed out. Exponential set at 40% all the way around. CG was spot on using a 3S 1800 mAH lipoly battery pack. My AUW came in at 20.4 ounces.
Flying
Lets see now ... Water? Check! Grass? Check! Gravel running track? Check! Pavement? Check! What am I missing here? Ah, snow! Well, not very much of that around here right now, so it looks like I will have to let that one slide for now. If you intend to fly your Polaris off of surfaces that have a harder density than Depron, you need to apply a protective coating to the bottom of the airframe or you will tear the belly up. I used a 3M product that I have since been unable to source and covered the bottom of my Polaris nose to tail, including the tip floats. (I have since found a similar product and ordered samples but it has yet to arrive.) This 3M stuff is GREAT! It really protects the foam underbelly of the Polaris and I think it also helps it get on step even quicker, as it is quite smooth and slippery.
Basics
My maiden flight took place in a small mitigated wetlands pond. I knew it must be pretty shallow, as there were ducks standing out in the middle of it! With a tug on the bill of my ball cap and a deep breath, I shoved the throttle stick forward and aimed the Polaris into the gentle breeze. I was amazed at how quickly it got up on step. And shortly thereafter, it was airborne. The only trim it required was a click or two on the ailerons. I flew a few lazy circles around the pond and then set up for the first landing. It was a three bouncer and not what I had visualized. I powered back up and went around and shot a few more landings. Each one was a little better than the one before it. I was a little dismayed to see that the decals on the bottom of the wing had released and were barely hanging on. I guess I had not allowed the WBPU enough time to properly set up and dry. Now that the maiden flight was over and she was up and down and still in one piece. Now it was time to REALLY start having fun!
The right trim built into the motor thrust line is very apparent when looking at the Polaris from the side. But it has the effect of pulling the Polaris up on step quite quickly. The kit is very well designed and it's good bloodlines are evident in it's performance, both on the ground and in the air.
Taking Off and Landing
Since the Polaris is a sea plane at heart, the water is naturally the first place that most will want to take it for the first flights of fancy. The rudder is very effective and the Polaris is easily maneuvered in a wet environment. The airframe sets in the water in such a way that the bottom half inch or so of the rudder is submersed. If you are not in a hurry to take off, the Polaris will perform some pretty impressive high speed boat-style maneuvers after it gets up on step in the water. It rotates easily when on step and will climb out at a very steep angle.
| | |
| --- | --- |
| | |
I have thus far flown the Polaris from almost every surface possible. From water to grass to a gravel running track to pavement to a club runway made of landscaping fabric, the Polaris can take off and land on all of them with absolutely no problems. It is very curious and cool how the Polaris will instantly weather vane around and face itself directly into the wind, if present, when placed on the ground. It is especially evident when placing it on a hard take off surface. The 3 mil clear tape on the bottom of the fuselage does an excellent job of protecting the Depron foam from abrasion and scrapes. And as mentioned, it also makes the bottom very slippery. I am amazed at how well the Polaris does when taking off and landing in grass, even grass that is not especially short. The power system has plenty of watts to get the Polaris skidding across the grass and in the air right quick.
The large delta wing of the Polaris allows it to perform some pretty amazing high alpha, slow forward flight. Landings at almost zero ground speed are entirely possible and easily performed. Add in a head wind of 5-10 MPH and you can harrier it all the way to the ground at less than a walking pace. I have flown the Polaris in winds as high as 15 MPH and though it's light weight will cause it to get buffeted around a bit, it handles the wind surprisingly well.
Aerobatics and Flight Performance
The Polaris is an incredibly versatile air frame. It performs very well, from a speed slow enough that it looks like it is about to fall out of the sky all the way up to wide open throttle. Takeoffs can be short and quick or a little more extended and gradual. Landings are particularly impressive. Due to the extremely stable high alpha capability of the Polaris, you can literally drop it at your feet with a gentle splash. When flying on high rates at high speed, mine will roll like a spiraling football. Loops can be large and lazy or small and tight. Inverted flight is also stable and easy, though I do find that my airframe requires a good amount of down elevator to hold the nose up. I have toyed with the idea of shifting the CG back a little but the plane flies too well to mess with the recipe.
In Flight data courtesy of Eagle Tree Systems
An average of 250 watts, with a flight duration of around 8 minutes, and at a cost of only around 950 mAH!
Is This For a Beginner?
In all honesty, I think the Polaris would not be too difficult for a beginner to handle. It requires a fair amount of time to complete the kit though, and a beginner may not want to make this investment in building hours. And it is made of foam and may not handle the less than perfect landings that a new pilot may regularly dole out to it. I usually enjoy flying mine quite slowly, and it will cruise around at a low throttle setting for flight duration of up to 10-15 minutes. It certainly would make a great first sea plane for those who have not yet got their feet wet by flying off water.
Flight Video/Photo Gallery
Downloads
Downloads
Conclusion
I am lovin' my Polaris very much. It takes a few evenings or days to build it up, depending on the speed of the builder, but it is so worth the time. The laser cutting is great and the parts align nicely. The optional decals are very nice and really give the kit a professional, finished look. This is one airplane that I can honestly say can be flown ANYWHERE! Hats off to Laddie, Steve and Scott for combining their talents to make such a good looking and great flying super sea plane kit. It has almost universal appeal, as is evident when perusing the RCGroups build thread. I have seen posts from Polaris pilots in locations all over the world, with many of them showcasing the extreme flight maneuvers possible with the Polaris in their posted videos.
And the GWS Naro Digital + servos are fantastic! The Polaris is the second plane that I have used them in and they are not only quick and quiet, but the street price will give you a couple bucks change on a twenty dollar bill. They are an amazing value in digital sub micro servos.
Pluses
Fresh look at a classic design is a winner
Excellent quality in a laser cut kit
Can take off and land on just about any surface!
Heavy duty vinyl decals really dress the model up
Super wide performance envelope ... slow to fast
Minuses
None that I can think of!
A special thanks to Laddie, Steve, Scott, Terry and Don for making this review possible!!
Last edited by Angela H; May 01, 2009 at
08:29 AM
..
Discussion