Great Planes Edge 540T E-Performance Series 3D EP ARF 50" Review
Take a very popular aerobatic design, have a notable kit manufacturer take a fresh look at it, throw in a bunch of watts and some carbon fiber and what do you get?!
By
Jon R. Barnes
| Mar 17, 2009, 02:17 PM
Introduction


Wingspan:
49.5"
Wing Area:
490 sq. in.
Weight:
3.25 to 3.5 lbs. (3 lbs. 4.5 oz. as reviewed)
Length:
48"
Wing Loading:
15 to 16 oz/sq. ft.
Servos:
Futaba S3115 Micro High Torque Servos (4)
Transmitter:
Futaba 10C Transmitter 2.4GHz FASST system
Receiver:
Futaba R617FS 2.4GHz FASST 7-Channel Receiver
Battery:
Great Planes ElectriFly Power Series Lithium Polymer 2100mAh 14.8V 20C Battery Pack
Motor:
Great Planes ElectriFly RimFire 42-50-800 Brushless Outrunner
ESC:
Great Planes ElectriFly Silver Series 45 amp Brushless
Flight Duration:
5-6 minutes of 3D/Aerobatic flying
Manufacturer:
Great Planes Electrifly
Available From:
Your Local Hobby Retailer or Tower Hobbies
Price:
$169.98
Pull a roll of dollars out of your pocket and start waving it around, announcing that you are ready to purchase a radio control aerobatic/3D ARF and you will get all kinds of Edges, Extras, Yaks, Sukhois, and so on shouting your name and claiming that they are exactly what you need. Use the abundance of information available on RCGroups to narrow your choices, and you will instead probably end up discovering a few more planes that you should throw also into the hat of consideration. The renaissance of aerobatic and 3D type ARFs, due in part to recent advances in electric technology and new techniques in super lightweight kit manufacturing has resulted in an excellent selection of airplanes in this genre. This review will look at the Great Planes ElectriFly Edge 540T Aerobatic Airplane. This is a 50" class ship and part of ElectriFlys E-Performance Series of ARFs.

Can I pose in one of the photos Daddy?
Kit Contents
Inside the colorful box, you will find a kit that is constructed of balsa and ply with carbon fiber reinforcement and covered in Top Flite MonoKote (White, Sky Blue, Sapphire Blue, Royal Blue, and Medium Purple). The cowl, wheel pants and landing gear are all prepainted fiberglass. The control surfaces come prehinged. Of note, the control surfaces are of an airfoil design. The wings are removable and are joined with a carbon fiber joiner spar. The motor box is preinstalled, and using the recommended Rimfire motor will result in perfect spacing out to the included 2.5" white spinner. Foam wheels for the mains are 2 1/4" diameter, and the tail wheel is 3/4". The fiberglass cowl attaches to the fuselage with magnets. The canopy is magnetically retained at the rear, and by wee dowels in the front.
In The Box
Balsa and ply fuselage, with carbon reinforcing
Two piece removable wing with carbon fiber wing joiner
Prepainted fiberglass cowl, wheel pants and landing gear
Lightweight, clear canopy
Black and white, photo-illustrated instruction manual
2.5" white spinner
Lightweight foam mains and tail wheel
Decal sheet
Full hardware set
Required for Completion
Four channel radio system minimum, five channel with mixing capabilities to run separate aileron servos
Four micro servos
Two 12" servo extensions
Two 16" servo extensions
One y harness (only if using one channel for the ailerons)
Power system (Brushless motor, speed control and lipoly battery)
Prop (Size depends on selection of power system)
BEC (If going with a higher power 3D power system)
Included for Review
Futaba S3115 Micro High Torque Servos (4)
Great Planes ElectriFly RimFire 42-50-800 Brushless Outrunner Motor
ElectriFly Silver Series 45 amp Brushless Electronic Speed Control
Castle Creations 10A Receiver Battery Eliminator
Great Planes ElectriFly Power Series Lithium Polymer 2100mAh 14.8V 20C Battery Pack w/ Balance Connector
APC 12x6 E Prop
Carbon fiber wheel pants and landing gear (Optional BLING!)
Assembly
The Edge builds quickly and easily. The Hobbico manual is well written and well illustrated, and it is available online. It includes an assortment of additional information, including the suggestion to inventory the box contents for any damage. Should you find any, contact Product Support and they will assuredly make it right!
This CAUTION is also worth noting: Caution: The Edge Electrifly EP was designed to be strong where needed, but light weight for excellent flight performance. Care must be taken when assembling the plane to avoid damage.
Wing
The two piece removable wing is very brightly covered in Top Flite Monokote, incorporating multiple shades of blue. The ailerons are already hinged. All that remains to prepare the two halves is to install the servos, attach the control horns and make up the linkages.
For the most secure servo mounting possible, harden the holes with CA after drilling them. Do not use accelerator on the CA, so that it can more thoroughly wick into the wood, and make sure you wait for the CA to completely dry before installing the servo mounting screws or you may not be able to easily unscrew them later if necessary. If positioned correctly, the aileron control horns will rest on a hardwood plate installed in the aileron. The linkages are advantageously short and direct.
There are very small diameter carbon rods which get glued into the wing root to function as anti-rotation pins. A 12" servo extension is required to bring the aileron servo leads into the fuselage radio compartment. It is imperative to secure the extension connection. Some use a piece of dental floss tied around the connectors; I like to use the ultra tacky 3M Blenderm tape. One of the strings installed to ease pulling the aileron leads through the wing was missing on my kit. An easy solution to getting the lead pulled through without it is to use a long nylon ty-wrap as a fish tape. They are flexible and at the same time rigid enough to easily snake through the wing ribs and up into the aileron servo compartment. Tape the aileron servo lead to the end of the ty-wrap and pull it to the root.
A different covering pattern and color scheme on the bottom of the wings will provide an important visual cue for orientation when tumbling the Edge all over the skies.
Fuselage
The fuselage of the Edge 540T is a study in lightweight structural engineering. It is amazingly light and and at the same time, surprisingly strong. The canopy hatch and fiberglass cowl both utilize magnets for retention. Though they are plenty strong enough to hold both pieces in place during flight, the manual does suggest an insurance policy in the form of a few pieces of tape if you are an extreme flyer. Needless to say, I was just fine without the tape.
It almost seems a contradiction to even mention it but the front of the canopy has a pair of wee dowels that index into a pair of small holes in the fuselage. They are somewhat delicate, in that you must be careful when inserting them and locking the hatch down into place. It is possible to break them off. BUT, once the canopy is snapped into place, they are definitely strong enough for the task assigned to them. Extremely lightweight, high performance planes like the Edge will stand up to just about any insane flight maneuvers you want to put them through but they may not stand up to any careless handling of them when they are not in the air. So, be gentle with the Edge when handling it.
The landing gear that is included with the Edge is both sturdy and sharp looking. The axles are well designed, and the entire design of the landing mains smacks of intelligent engineering. It is best to grind flat spots onto the tips of the axles to aid in securing the wheels with the wheel collars.
The wheel pants attach the to the landing gear with a couple of small machine screws, which thread into nuts already embedded in the wheel pants. The most difficult of the landing gear assembly is attaching the two landing gear assemblies to the fuselage. The socket head cap screws are recessed, and you must insert them through access holes in the bottom of the fuselage. Using a little tape to make them stick to the tip of my hex driver makes this potentially difficult exercise a walk in the park.
Tail
The big rudder on the Edge comes already hinged and attached. Attaching the horizontal stabilizer and elevator halves is done in the conventional manner. Attaching the wing halves while attempting to properly align the horizontal stabilizer makes the task easier.
The included tail wheel hardware is of a very interesting design and different from anything I have encountered before. A tiny nylon pin with a hole in it gets inserted into the bottom of the rudder and holds a somewhat lengthy extension of the tail gear wire in place. The other end of the tail wheel wire gets inserted into a nylon bushing. It seemed a bit too tight for my liking so I worked it in and out until it loosened up a bit.
The rudder servo is of the pull-pull variety. This is the first time I have ever assembled this commonly used type of rudder control and the assembly manual walked me through it with no problems with the exception of the ferrules: They were of such a small inside diameter that it was near impossible to pass the line through it the second time. My wife is a seamstress and gave threading those needles a go, but she gave up, and I had to patiently persevere. Those of you with younger eyes will probably do much better than I did!
The airfoil design of the control surfaces on the Edge is especially noteworthy. It not only contributes to the model looking more like the real plane but it without a doubt enhances the overall flight performance of the Edge as well.
Radio Installation
Modern 2.4 Ghz receivers are comparatively small. The Futaba 2.4 FASST receiver used for this review is almost lost in the spacious internals of the Edge fuselage. I opted to attach it to the rear of the battery tray. The Futaba 3115 servos all fit nicely into the provided servo cutouts.
The transmitter used in this review is the Futaba 10C 2.4 GHz FASST system. The assembly manual for the Edge lists three different rates: low, high and 3D. And the 10C is fully capable and configurable so as to accept the triple rates. I have been flying the Futaba 10C for several months now, and it is one Cadillac of a radio! Very nice!!
Power System Installation

Rimfire 42-50-800
Type:
Brushless Outrunner
Number of cells:
Li-Po 3s-5s
RPM/V:
800
Weight:
7 oz. (198g)
No Load Current:
2.6A
Shaft Diameter:
5mm
Max Constant Current:
50A
Max Surge Current:
80A
Max Constant Watts:
925W
Max Surge Watts:
1480W
Suggested Propeller Size
10x5E-14x7E

Electrifly Silver Series 45 amp Brushless ESC
Number of cells:
Li-Po 2s-4s
Output Current:
45A continuous, 50A surge
Weight:
1.76 oz. (50g)
Max Output Power:
500 watts
BEC:
5V/2A
Dimensions:
2.76" L x 1.30" W x 1.30" (70mm x 33mm x 10mm) )
Electrifly makes a very complete selection of brushless motors. Accepting the well researched power system recommendations results in a very easy and quick power system installation. The Electrifly motor selected as the best fit for the Edge hauls it around the sky with power to spare. There are so many advantages to using the Rimfire motor and Silver Series ESC. And did I mention the very modest prices of these components?
The Edge fuselage comes with a motor box already attached to the firewall. The bolt pattern of the Rimfire motor matches the hole pattern on the motor box perfectly. The spacing on the motor to spinner backplate is also perfect when using the recommended motor. When going with the high performance 14.8 volt power system it is best to use an external BEC and disable the internal BEC of the speed controller. I mounted both the Silver Series ESC and Castle BEC to the right side of the motor box.
The down thrust and right thrust built into the motor box is entirely apparent when viewing the installed motor prior to covering it over with the cowl. The fine looking fiberglass cowl attaches to the front of the fuselage by means of a series of magnets. The cowl comes with a ply ring installed, which contains the mating magnets.
I used a little piece of hook and loop material to secure the Castle BEC and Silver Series 45A ESC to the side of the motor box, with a single nylon ty-wrap on each providing a little extra peace of mind.
Completion
In no time at all, the assembly of the Edge is complete. And when I finally took a step backward to look at it, I really thought it looked crisp. Using the recommended 4S Electrifly 2100 4S battery puts the center of gravity right in the sweet spot.
Control Surface Throws
High Rates
Low Rates
3D Rates
Ailerons:
3/4" [19mm] 15° up, 3/4" [19mm] 15° down
1/2" [13mm] 10° up, 1/2" [13mm] 10° down
1-3/4" [44mm] 40° up, 1-3/4" [44mm] 40° down
Elevator:
3/4" [19mm] 12° up, 3/4" [19mm] 12° down
1/2" [13mm] 8° up, 1/2" [13mm] 8° down
2-1/2" [64mm] 42° up, 2-1/2" [64mm] 42° down
Rudder:
3-1/2" [89mm] 30° left, 3-1/2" [89mm] 30° right
2" [51mm] 17° left, 2" [51mm] 17° right
5" [127mm] 45° left, 5" [127mm] 45° right
Center of Gravity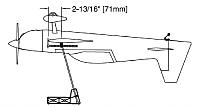 2-13/16" [71mm] back from the leading edge of the wing at the side of the fuselage
The Edge 540T includes some very nice fiberglass landing gear and wheel pants that are perfectly color matched to the Top Flite Monokote. Though the Edge already has a generous amount of carbon composition components, most of it is internal and not readily visible when the plane is in the air. If you would like to get some of that high tech looking carbon out where it can be seen, Electrifly has made a set of alternate landing gear and wheel pants available. (BLING! and more BLING!!) Now THAT is what I am talking about!
Flying
Taking Off and Landing
The moment of truth. That first take off. I slowly eased the throttle forward but I was only able to restrain myself for a moment before I shoved the throttle stick to the stop! And the Rimfire brushless outrunner responded with a satisfying yowl of nearly 500 watts! The Edge accelerated straight up like a rocket, with my elderly eyes eventually being the weak link to cry uncle. Subsequent take offs were equally exhilarating. Though I really enjoy a longer roll out and a more realistically scale take off, it is just too fun to "punch it" and let the Edge loose. The Electrifly power system is ideally suited for the Edge and provides gobs of power.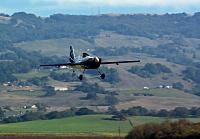 Landing the Edge is not nearly as fun as the front end of each flight can be but we all like to look good when bringing a thoroughbred machine like the Edge home at the end of a flight. The thin wing and airfoil tail surfaces mean you have to carry a little power in on final. If you let the Edge slow down too much before you have dropped down into ground effect, it may reach the point where it will cleanly stall forward out of the sky and potentially test the structure of the sturdy landing gear. (But then anyone who has flown a higher performance aerobatic airframe already knows that, right? ) So, turn her on to final, pull the throttle back to a few clicks above full idle, let her slide down the glide slope and then finesse her onto the ground with a blend of throttle and up elevator.
Aerobatics/Special Flight Performance
Have you ever had a cool dream? One where, say, you can dunk a basketball?! I had a dream that I could REALLY fly this airframe as it was designed to be flown. And what a great dream it was! The control surface throws were maxxed out and the Edge demonstrated it's extreme capabilities. High alpha rolling harriers, snaps, blenders, slow rolling circles and other maneuvers that I do not even know the name of! Yes, yes and OH YEAH!! Don't wake me yet, because this is just too much fun. (Through the advances of modern dream recording technology, I was actually able to capture my dream in HD! See video number one below!)
There is no better way to get a true snapshot of what your power system is doing in the air than the Eagle Tree eLogger. I took mine for a ride in the Edge and the numbers are reported in the graphics below. One of the graphics even reports on the altitude during the flight, thanks to Eagle Tree's Stand Alone Altitude sensor. How much current are you pulling ... how many milliamps have you used out of the battery on a given flight ... what are your peak watts ... what is the lowest voltage the battery may have dropped to during the flight ... etc, etc. The bottom line on the recommended Electrifly power system is that it performs superbly and is a perfect match for this airframe!
Is This For a Beginner?
In a word, NOPE! This baby will shred the sky and leave you standing in a pile of sky blue and cloud white confetti paper and then ask you "Is that all you got?!" It has no bad habits. It is pure and stays in whatever orientation you put it in. You just need to be able to keep up with it! If you have flown any four channel aileron equipped plane, you can probably handle the Edge... BUT, only if you keep the rates set to low and tool around the sky performing basic aerobatics. Flip the rates to 3D and you had better have your self prepared for some very extreme aerobatics and 3D flying!
Flight Video/Photo Gallery
I love to fly radio control planes, and I also love to shoot video and take photos. You cannot do all of the above at the same time, so I allowed a much better pilot than myself to take a turn or two at the sticks while I shot the media. Please enjoy these stills and also the video of a very skilled pilot putting the Edge through its paces.
Downloads
Downloads
Conclusion
The Electrifly Edge 540T is a well designed, well constructed, colorfully covered and extremely capable aerobatic airframe. Whether under the guidance of an aspiring aerobatic/3D pilot or the thumbs of a highly skilled competitor class pilot, the Edge is a satisfying plane. While shooting some of the media for this review, I was amazed and astounded to see it flex its aerobatic and 3D muscles! So much so that I had to remind myself to stop the open mouthed gawking and GET THE SHOTS! I myself have also logged dozens of flights on the Edge during the course of this review, and I have enjoyed pushing myself to further develop and hone my aerobatic and 3D skills. The Edge has not surprised with me with any bad behavior at all. It is stable, predictable and a pleasure to fly. While flying it, I can just "sense" that this one is ever so capable. Others that I have offered the sticks to in the past months have been duly impressed by the capabilities of the Electrifly Edge 540T. More than once, the post flight discussion has been similar to this:
"Now who do you say makes this one?" "Electrifly, you say?!" "NICE!!" (Pilot then slowly shakes his head up and down and smiles)
There are an abundance of good looking and great performing planes in this class but before you lay your cash on the barrel and select your next aerobatic/3D plane, I encourage you to take a close look at this 50" Edge 540T!
Pluses
Lightweight, aerobatic do-all monster of an airplane!
Fuselage has carbon fiber reinforcement
Plenty of power on the recommended Electrifly power system
Included fiberglass cowl, pants and gear is very nice
Optional carbon fiber gear and pants are even nicer
Airfoil control surfaces
Pull-pull rudder hardware included
Two piece removable wing with carbon joiner rod
Blue is my favorite color and there is plenty of it in the color scheme!
Minuses
No pilot figure included
Microscopic inside diameter of the ferrules on the pull-pull cable hardware really tested this old mans eyes
A VERY special thanks to Team NorCal: Terry "blueskyrider" & Don "gp125racer", for their assistance with the media!
Last edited by Angela H; Mar 17, 2009 at
07:33 AM
..
Discussion