August 9 - 11 is the
Sandhills Open Road Challenge
, in Arnold, Nebraska, one of the the most fun automobile related events in the US. This is our 11 year competing in the SORC, which includes two separate, two leg, high speed open road rallies (a 24 mile on Thursday and a 56 mile on Saturday) with speeds up to 140 mph and a 1 mile standing start speed event, where we hope to top 160 mph this year. The Event Usually sells out in a couple days after they open registration, 9 months early. Since we are "lifers" (we bought our number for $100 in 2003) we are guaranteed a spot. I think the SORC sold a lifetime number last year for $10K.
Our 2+2 in the Standing mile "shoot out", running over 150 mph.
The fastest car in the standing mile will likely go over 220 mph, on a 2 lane highway, sanctioned by the Custer county sherriff.
We have won the 115 mph class at the SORC in 2007, 2010 and 2011 and are going for a fourth win and a Three-peat in 2012. ORR competition is very tight, with the object to average your exact "target speed" over the course, without exceeding your maximum "tech speed", which at the SORC is 140 mph for us and Class we are competing in.
At larger, higher speed Open Road Races, the Tech speeds are can be much higher: our tech speed is 168 mph at the
Big Bend Open Road Race
.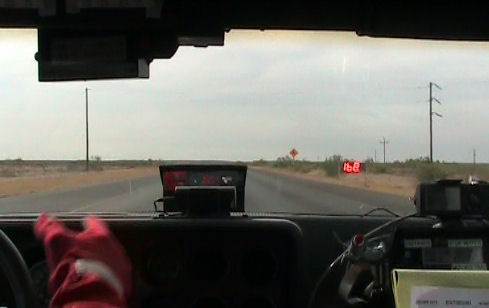 Thru the Speed Trap at the BBORR in 2011.
169 mph would have been a DQ, but they certify your speed through this trap, so everybody pushes it to show off (if they can).
At the BBORR in April we won the 140 mph Class, averaging 140.002 mph over a winding 118 mile course. We were only 12 feet off perfect after 118 miles, a error of less than .002%.
Our Car is a 1986 Pontiac Grand Prix 2+2 we've owned for over 15 years. Similar to the Plymouth Superbird, Aproximately 1200 of these were built to homologate the Nose piece and rear window/decklid Spoiler for NASCAR. Richard Petty Designed this himself, with help from aerodynamics people at Pontiac (he copied the profile of an '82 Trans Am). In late 1986, NASCAR allowed front wheel drive bodies to compete in NASCAR, so this car was the end of a era of "real" car bodies competing in NASCAR.
All of the roadgoing examples of the 1986 Pontiac 2+2 are pretty much the same: Silver with Gray interior, heavily optioned, 305 4bbl/Single Exhaust 157 Hp, 200R4 console shift Automatic.
Ours has been improved with a 500+ HP 502 Cubic Inch Big Block, Tremec T-56 Magnum 6 Speed Manual Transmission, Ford 9" disk brake reak axle with 3.25:1 Detroit Locker, 12" BAER brakes in front with 16X8" Pontiac GTA wheels and 255/50ZR16 tires all around.
For safety, the car has a 10 point cage, 5 point racing harness and onboard fire suppression. For winning OR Races we have at least 4 separate GPS devices (2 GPS speedometers and a back up GPS speedometer along with a track GPS to "see" what the road does over or around blind hills and corners) and a Timewise 747 Rally computer, that can measure a road to +/- 2 foot accuracy over a mile @ 140 mph.
We are shooting for 2 more Fender Trophies at this years SORC
The other Great thing about the SORC besides the cars, the Racing and the food is the House we stay at has a 2 Acre field that is perfect for flying planes while I'm unwinding before and after the races. I have 10 batteries for AS3X SBACH charged and ready to go. I can't wait.