Great Planes ElectriFly ARF Widgeon G-44 Review
The Grumman Widgeon - one of the most beautiful twin engined amphibians of all-time is now available as an ARF from ElectriFly. Let's get one floatin' and flyin' just for you.
By
Mike McDougall
| Dec 21, 2011, 08:37 AM
Introduction
ElectriFly G-44 Widgeon


Wingspan:
51 in
Length:
36 in
Wing Area:
373 sq in
Weight:
3.81 lb
Wing Loading:
29.3 oz/sq ft
Servos:
Futaba S3114(x2) Futaba S3115(x2)
Receiver:
Futaba R617FS
Battery:
FlightPower 3S 11.1V 3350mAh 30C Lipo
Motor:
RimFire 400 28-30-950 Brushless Outrunner (x2)
ESC:
ElectriFly SS-25 Brushless ESC (x2)
Propeller:
ElectriFly 8x6 SF (x2)
Power WOT:
27 Amps - 315 Watts
Transmitter:
Futaba 9CAP with FASST Module
Manufacturer:
ElectriFly
Available From:

Hobbico Dealers and fine Hobby Shops
Price:
$179.99
The Grumman G-44 Widgeon was the little brother of the famous Grumman Goose and the smallest seaplane ever produced by that manufacturer. The prototype Widgeon first flew on July 22, 1940. With the advent of World War II, the 6-person Widgeon was quickly placed in service with the Coast Guard and U.S. Navy for use on search and rescue missions. It would later serve the Navy as a transport and even as an amphibian trainer. The U.S. Army would also use them as observation planes. Of the 276 G-44 Widgeons produced, only about 35 remain in flying condition throughout the world today.
Possibly the most famous Widgeon was featured in the opening sequence of the popular 1978 TV Series "Fantasy Island". Referred to as "De Plane!, De Plane!" by actor Hervé Villechaize (Tattoo), N4453 had a somewhat checkered past that included drug running prior to its starring role in the series. This very famous Widgeon now resides in the aircraft collection of an antique dealer in Hollister, Missouri.
The ElectriFly Widgeon accurately captures the graceful lines of the original Grumman seaplanes and the colorful Monokote trim scheme is very pleasing to the eye. Reliable electric power takes much of the worry out of twin motor operational risks and greatly speeds up the build process. I think it's about time to get started building this one.
Kit Contents
| | | |
| --- | --- | --- |
| Kit art is very eye-catching. | Components were well protected and undamaged. | The fuselage looks great even in the box! |
Kit Includes:
Fiberglass Fuselage with Vertical Stab and pre-installed Pushrod Tubes
3-Piece Built-up Wing
Built-up Rudder, Horizontal Stab, and Elevator
Fiberglass Motor Nacelles and Sponsons
Cockpit Floor
Fuselage Cradle
Pre-Made ESC Extensions
Generous Hardware Package
Colorful Decal Sheet
24-Page Photo-Illustrated Instruction Manual
| | | |
| --- | --- | --- |
| Wings and things | Fiberglass floats, motor mounts and hardware | Lots of hardware |
Kit Requires:
Two 400 Watt Brushless Motors
Two 25 Amp Brushless ESCs
Two 8x6 Slow Fly Style Props
3200 mAh 3-cell Lipoly Battery
Minimum 4-Channel Radio
Two 21 oz-in Torque Servos and Two 39 oz-in Torque Servos
2-24" Servo Extensions
2 Servo Y-Connectors
RC-56 Canopy Glue
Thin & Medium CA Glue
6-minute and 30-minute Epoxy Glue
Thread Locking Compound
Assorted Drills, Knife Blades, and Screwdrivers
Recommended by Great Planes and supplied by Hobbico for this review:
Two RimFire 400 (28-30-950) Brushless Motors
Two Silver Series 25 Amp Brushless ESCs
FlightPower EON 3350 mAh Battery
Two Great Planes 8x6 Slow-Fly Props

Rimfire 400 (28-30-950) Outrunner Motor
Type:
Brushless Outrunner
Number of cells:
LiPoly 2s-3s
RPM/V:
950
Weight:
54g
Max Surge Current:
20A
Max Power(watts):
220W
Shaft diameter:
3mm
Male Motor Connector :
2mm

FlightPower EON Series LiPoly Battery
Type
Lithium Polymer
Number of cells
3-cells
Capacity
3350 mAh
Voltage
11.1 Volts
Weight
279 gm
Dimensions (L x W x D)
135 x 44 x 24mm
Maximum continuous discharge
30C
Maximum continuous current
100.5 amps

ElectriFly Silver Series ESC
Type
Brushless Speed Control
Number of cells
2-4 Lipo cells
Max Continuous Current
25 Amps
Max Current Surge
28 Amps
BEC
2.0 Amps
Operating Frequency
8.5 kHz
Voltage Cutoff
67%
Timing Angle
12 Degrees
Brake
On or OFF
Dimensions (L x W x D)
40mm x 26mm x 8mm
Weight
26 grams
.
Futaba R617FS Receiver
2-Futaba S3114 Servos
2-Futaba S3115 Servos
1-Deans Ultra Parallel ESC Adapter

Futaba R617FS Receiver
Frequency Band:
2.4 GHz
Type:
FASST Frequency Hopping
Number of Channels:
Seven
Antenna:
Dual Antennas
Range Classification:
Full Range
Size
1.6" x 1.1" x .35"
Weight with case:
9.8g/0.34 oz.
Power:
4.8V - 6V

Futaba S3115 Servos
Type:
Analog
Size Factor:
Micro
Bearing:
Nylon
Operating Speed 60°:
.15 sec (4.8V)
Torque:
39 oz-in (4.8V)
Weight:
17g/0.6oz
Dimensions:
1.1" x 0.5"x 1.2"
Gear Type:
All Nylon

Futaba S3114 Servos
Type:
Analog
Size Factor:
Micro
Bearing:
Nylon
Operating Speed 60°:
0.10 sec @4.8V
Torque:
21 oz-in @ 4.8V
Weight:
7.8g/0.28oz
Dimensions:
0.9" x 0.4"x 0.18"
Gear Type:
All Nylon
Assembly
The 24-page instruction manual includes numerous illustrations and pictures and helpful building tips. Seasoned ARF builders should have no problems with this plane. However, newer modelers may need to get a little help from someone with more building experience.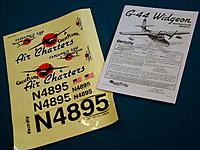 Colorful decal sheet and detailed Instruction Manual
Wing
Assembly begins with the wing center section. The first order of business is the installation of motor mounts, motors and motor lead extensions. I chose to route the motor leads through the top opening of the motor mount bulkhead rather than take them through the larger opening lower in the mount. My hope was to keep the leads as high on the wing as possible and as far away from water exposure as possible. The motor leads were binding slightly on the top motor mount opening, so I used my Dremel and raised the opening a little to clear the wires.
| | |
| --- | --- |
| Bulkhead cut to clear wires. | Motors and mounts in place. |
Next comes the installation of the servos in the outer wing panels. The recommended Futaba S3114 servos were a perfect fit in the cover plates. I used Vaseline petroleum jelly to coat the top of the servos and the servo output shafts before I installed them in the plates to help waterproof them.

Coat servo top and output with Vaseline.
Once the servos and linkage were installed, I discovered that the linkage would bind up as the servo tried to move the aileron surface through its full travel at high rates. The solution was to bend the linkage so that the servo horn and Faslink could move parallel to the wing surface and not be forced up by the surface control horn.

Linkage bent to remove binding.
The next step was to trial fit the outer panels and the wing joiners to the wing center section. I found that the joiners were a pretty loose fit in the wing pockets. The result was that the outer wing panels could move over 1/2" at the tips -- from 1/4" dihedral to 1/4" anhedral! I used a long flat ruler to insure that the top of the wing surface was flat and the outer wing panel taper gave the wing a little dihedral effect. A flat top wing surface, or an outer panel with dihedral shouldn't make much difference, as long as both outer panels have the SAME amount of flatness or dihedral.

Top of the wing set flat.
Fuselage
The fuselage assembly was very straightforward and the pre-installed windows were a big timesaver. However, the rudder and elevator pushrods were hard to install and difficult to operate. A closer inspection revealed that some fuselage paint had flowed into the pushrod tubes and was causing the obstruction and binding. A few minutes work with a hobby knife opened up the tube ends and the pushrods worked fine. I coated both pushrods with CorrosionX before I installed them in the fuselage to keep them from rusting.
| | |
| --- | --- |
| Excess paint in the pushrod tube | Paint cleared out |
I decided to omit the kit's water rudder assembly because I did not like the looks of the non-scale water rudder hanging below the fuselage. Instead, I choose to program throttle differential to provide directional steering control on the water. I found that a 30% mix of Rudder over Throttle gave excellent slow speed and high speed water control.
Radio Installation
Before I began the radio installation, I treated the Receiver, the ESCs, and all the servo and battery connections with CorrosionX. This product is specifically designed to protect electronic circuits and has a 40,000 Volt dielectric strength. Over the years I have found that Murphy's Law has a special clause for seaplanes, and it's not a question of "IF" water will get into your electonics, it's a matter of "WHEN".
Before I installed the ESCs in the fuselage, I ran each ESC with its motor to confirm proper rotation. I found it very helpful to then color code the ESC leads to match the motor extension color code.

ESC leads color coded
The recommended Futaba S3115 servos were a perfect fit in the fuselage and the Futaba R617FS Receiver fit neatly just ahead of them. I ran the receiver antennas through short pieces of tubing to orient the antenna ends at 90 degrees to each other and to keep them away from other wiring and away from the servo arms and control pushrods.
Interior and Final Assembly
I knew I wanted to install the included cockpit floor in the fuselage to help hide the wiring and servos in the fuselage. I also wanted to install a pilot figure to add to the scale appearance of the Widgeon. The problem was that if I permanently mounted the pilot figure on the floor, it was almost impossible to slide the floor in place. I found my solution in hook and loop fastening material. I arranged the pilot figure and applied the hook material to the pilot and the loop material to the cockpit floor while the whole assembly was flat on my workbench. I was then able to install the floor in the fuselage and afterwards easily slide the pilot figure in place.
The next challenge was to connect all the wing wiring to the receiver and ESCs in the fuselage. I decided to use two short servo extensions for the ailerons to keep from having to plug the wing aileron wires directly into the receiver. I guess a short Y-harness would have worked just as well but I wanted to be able to experiment with spoilerons and flaperons at some point.

Short aileron servo extensions in place
I soon found that I needed another pair of hands to hold the wing near the fuselage while I plugged in the six ESC connections and the two servo connections. I was glad my wife volunteered to help out. Once all the wiring was in place, I tested the motors and servos to once again confirm proper motor rotation and servo operation before I began the cockpit floor and pilot installation. Only after the floor and pilot were in place, was I able to finish tucking in the wiring and finally bolt down the wing.

Pilot and wiring in place
Completion
The completed Widgeon weighed 3 pounds and 14 ounces. I was able to move the battery around on the battery tray and get the plane balanced perfectly. Before the first flight, I checked the balance on each of the GP 8x6 Slow-Fly props and found they needed balancing. I decided that the best way to balance them was to apply a big drop of thick CA to the tip of the light blade of each prop.
I set the control surface throws at the recommended amounts for low rates and for high rates. Since I prefer to fly with exponential, I then programmed in 25% exponential on low rates and 35% exponential on high rates.
Flying
Basics
Flying off water adds a whole new level of enjoyment to our hobby. Flying a scale, twin-engined amphibian off water, ramps up the fun and the adrenaline rush even farther.
Taking Off and Landing
The Widgeon plowed up a pretty good bow wave at low speeds and the props would contact that wave and noisily spray water. I found that if I held up elevator as I applied power, the spray was minimized and the hull came up on step quickly and then I could relax the elevator. It was much easier to taxi the Widgeon on step than it was plowing through the water at slow speed. However, there was a noticeable torque effect that required right rudder and right aileron input to keep the left sponson out of the water and keep the wings level as I trasitioned from dead stop to on step. Once up on the step, the Widgeon would accelerate cleanly to flying speed. Just a little up elevator was all that was needed at that point to get airborne.
| | |
| --- | --- |
| Bow Wave | Torque Effect on Takeoff |
Landings took a little practice. The Widgeon would bounce and stall if I tried to slow it down too much. Landings needed to be faster than I had anticipated. I had to carry some throttle and speed all the way to the touchdown. My best landings were accomplished by flying the Widgeon all the way down to the water rather than trying to force the flare for the touchdown.
Normal Flight
Once airborne, the Widgeon flew great. The climb out was brisk and very stable. I only needed a little over 1/2 throttle for a comfortable cruising speed and there was plenty of power left when I wanted to show off. I discovered that the torque effect that showed up during takeoff was also present to a lesser degree during rapid throttle transitions. If I punched the throttle, the left wing would dip and if I pulled the power off rapidly, the right wing would dip. This torque effect was not a problem, just something I needed to keep in mind if I got low and slow and then decided to punch it to go around. Counter rotating props might cure this behavior, but I haven't had a chance to try that out yet.
Aerobatics
The Widgeon had plenty of power for nice large loops and big stall turns. Aileron rolls were pretty axial but they needed a dose of down elevator half way through to keep them level. Inverted flight needed some down elevator, but the plane was very stable even in steep inverted turns. Snap rolls were very fast and I found that spins took a full turn to recover after the sticks were neutralized. After that discovery, I decided to leave a little extra altitude for spin recovery just in case. It was nice to know that I could wring out the Widgeon with a few cool moves to impress the onlookers when I got tired of scale looking takeoffs and landings.
Is This For a Beginner?
No. Scale seaplanes are not suitable for first-time pilots. However, pilots with intermediate flying skills and a little floatplane experience should have no problems. The Widgeon should make an excellent second or third floatplane.
Flight Photo Gallery
Flight Video
Conclusion
The Great Planes ElectriFly Widgeon will undoubtedly be one of the best looking seaplanes at this year's premier float flying events. Whether gently floating along on the water or cruising by at altitude, this Widgeon is simply stunning! Great Planes has done a wonderful job of reproducing a classic seaplane twin in a just right-sized ARF package.
Because the Widgeon is a scale model, it will require more attention to the control sticks than a normal sport model, but the results will be well worth the effort.
A WORD OF THANKS
Thanks to my Wife for her help with the photos, video, and grammer check. Thanks also to
Hobbico
for providing the Widgeon G-44 for this review!
Pluses:
Stunning Good Looks
Very High Quality Fiberglass Parts
Pre-Installed Windows
Stock Power System has Plenty of Power
Fuselage Cradle is Included
It's a Twin!
Great Flying Seaplane!
Minuses:
Paint in the pushrod tubes
Dihedral Braces were a loose fit in the wing panels
Last edited by Angela H; Dec 13, 2011 at
04:01 PM
..
Discussion