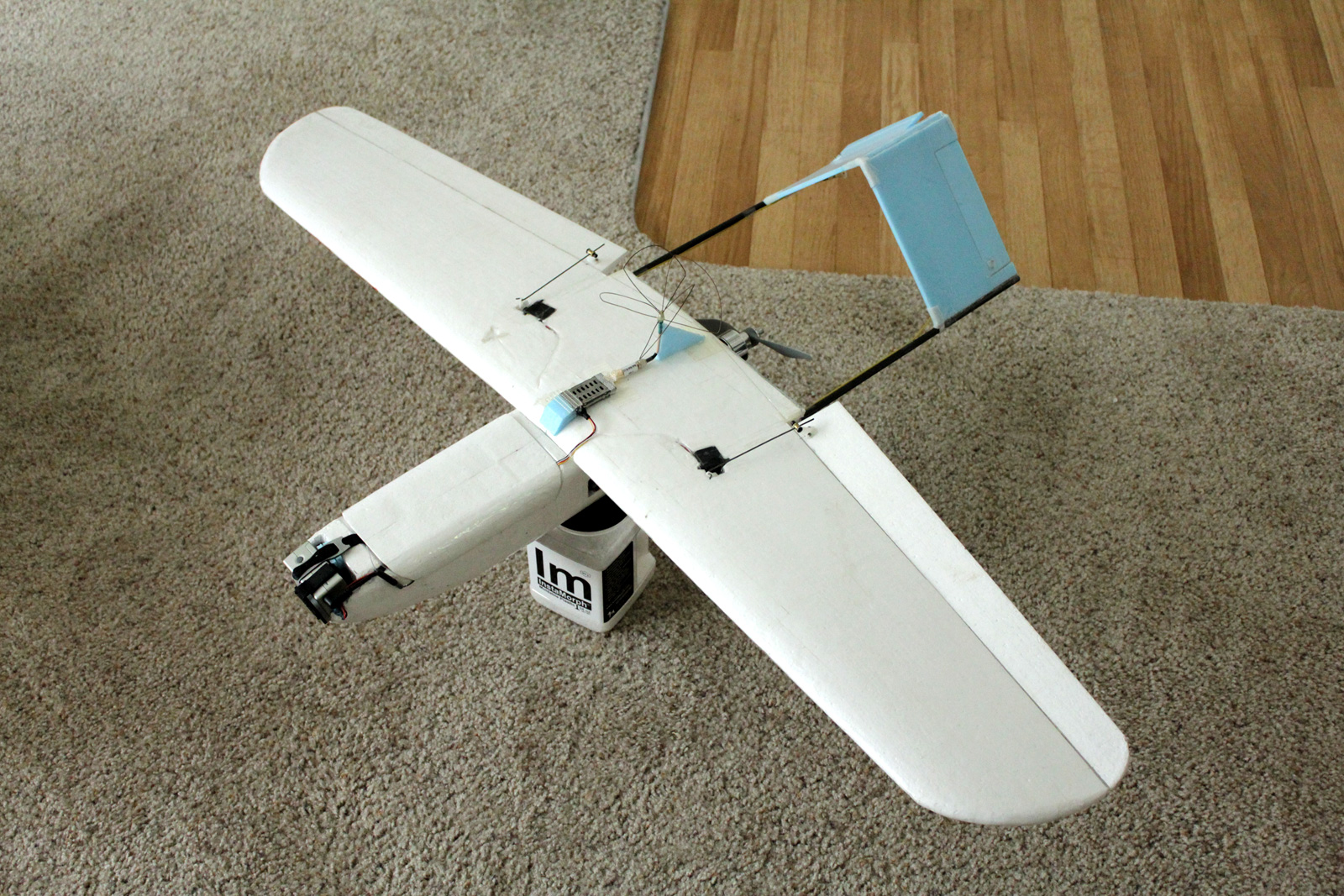 I liked the look of the Specter but I wanted to have some different features and flight characteristics, so I hot wired an inspired-by variant with custom geometry and an inverted v-tail out of EPS foam. EPS is brittle, so in order to maintain some strength and rigidity, I used a combination of fiberglass arrow shafts, wood spars, low temp hot glue and various scotch tapes to seal and shell everything. The fuselage was 2x 2" chunks glued together (bay was precut with hot wire hand tools), run through a jig saw, and shaved with a belt sander (gotta love a buddy with a garage).
Flies like this:
Materials:
- 2" EPS R-type insulafoam from Home Depot
- 3/8" DOW Bluecor (XPS)
- various scotch packing tapes
- 1/4" basswood rods
- fiberglass arrowshafts
- low temp hot glue
Geometry:
Total Length: 32"
Fuselage: 19" long x 4" wide x 3.5" tall
Tail length from end of fuselage: 13"
Nose length from LE: 10.5"
Airfoil: PW51 (1" max thickness)
Total Span: 48"
Inner Chord: 10.75"
Outer Chord: 6.5"
CoG: About 1-1.5" from the LE
Sweep: -2" (-4.5something degrees)
Aileron cuts (used to be elevons): 2" inside inner chord TE narrowing to 1.5"
Rounded tips were cut by stencil and hand sanded.
Boom distance: 10"
v-tail panels: 5" x 7.25"
v-tail control surface length: 1.5"
90 degree anhydral
All up weight: 1.9lbs w/ 2200mah 45C 3S Nanotech
Electronics package listed in the photos.
No OSD or RSSI yet (wish I had a Taranis), but it has room inside the fuselage for all of it and possibly an Orange RX3S flight stabilizer for extra windy days.
Overall, EPS gives it an excellent power to glide ratio. It's got tons of roll authority (high speed drill bit status). It's not Monkey Blunt fast due to its width and shallow forward sweep, but it'll hang like a vulture and get better flight times.