GWEPSQ2815 series Performance Data
The most powerful reduction geared system among GWS EPS:
http://www.gwsus.com/english/product...eps28-bl15.htm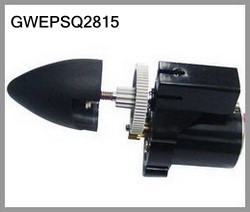 Gear systems are EPS400 kind with inrunner motor BL2815-2A or GWBLI2815R
The prop shaft is 4mm threaded one, tougher and more convenient.
The gear ratios are slightly different from the older EPS400 ones, they are with better performance.
The maximum thrust is more than 1500 grams or 53 oz when using some of these gear ratios.