Hello RC Kite forum,
Not sure this is the right place for this but it is the closest I could find.
Have designed and built a device called a kite messenger.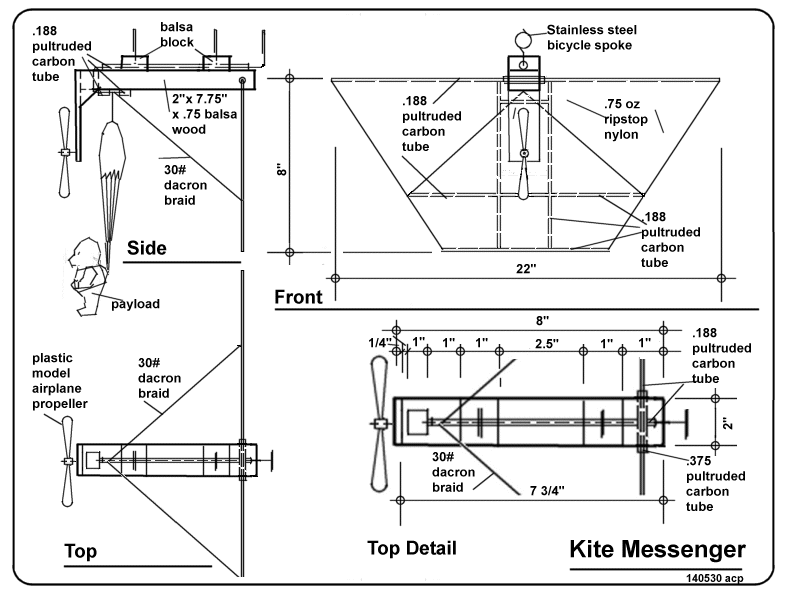 The kite line goes thru the 3 stainless steel loops at the top. The
sail moves the messenger up the line to a carabiner tied into the line
a couple of hundred feet up. When the loop closest to the sail strikes the carabiner
the loop moves back and releases the payload and the dacron braid
holding the sail perpendicular to the length of the messenger. The wind flattens out the sail and the messenger reacts to gravity and comes back down the line.
The propeller acts as a sort of air brake to slow the descent of the messenger.
The most unreliable part of the device is the release mechanism. Sometimes
it does not push the rod back so that it does not release the payload or the sail
so it does not come back down. Or sometimes something happens that
pushes the leeward loop back before it gets to the carabiner and the release is premature.
Thinking about making the release mechanism radio controlled .
Much research discovered the Fourmost Bomb Drop / Tow Line Release
http://www.radicalrc.com/category/Tow-Line-Release-426
which could be used with a HS- 55 servo to release the payload and the sail.
Then a Servoless Payload Release was found which would simplify this by eliminating the servo.
But a radio transmitter/receiver is stilled required and this is what the post is really about. Most of the transmitters are muti-channel consoles with steering
sticks. All that is required for this system is a single channel transmitter.
It was hoped that money and space in my kite bag could be saved if a much simpler
transmitter could be found.
Does anyone know of such a transmitter and the recever that would work with it?
Thanks
Allen Pitts
Dallas Texas