Data / Posted by
Soma
/ Nov 08, 2013 @ 04:25 AM / 3,207 Views /
25 Comments
(

1 2 )
/
Reply
Bench Test of the Sunnysky V2216 800KV motor with 8 props on 3S & 4S.
Equipment used...
DIY thrust stand and scales
Eagle Tree data logger V3 inc RPM sensor
Hobbyking 30A Blue Series ESC - SimonK 2013-05-15 firmware
3S 9600mAh and 4S 12,000mAh lipo packs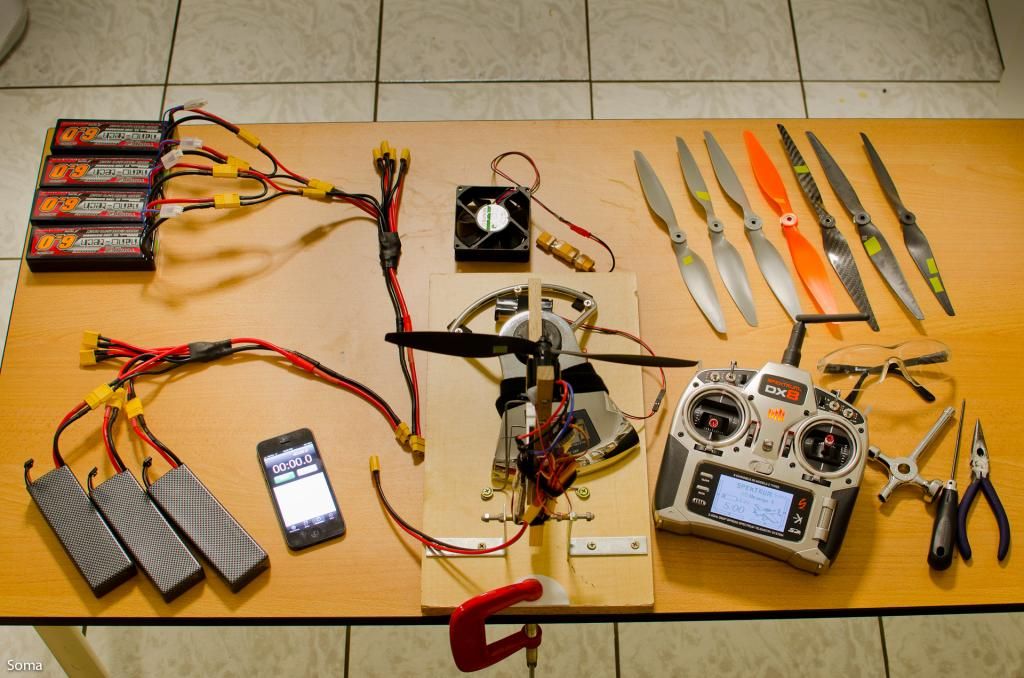 Props...
1. APC 10x4.5MR
2. APC 10x5.5MR
3. APC 11x5.5E Thin Electric
4. Himodel FC 11x5.5 Hyper Drive (APC clone)
5. Carbon Fibre Graupner Style 11x5
6. Gemfan Carbon / Nylon 11x5
7. Gemfan Carbon / Nylon 10x5
8. Gemfan Carbon / Nylon 1045
Notes...
- The test was aimed at 4S, this motor could turn bigger props on 3S
- Lipos were fully charged so somewhat non standard voltages
- The APC 11x5.5E was the only prop balanced out of the packet. All others were OK, except the Gemfans which were very unbalanced.
- Comparing the APC11x5.5E and the plastic clone is very interesting. The difference can be heard in the video. Incredible 225 gram thrust difference between two props that look identical. APC all the way
- The APC 10x5.5MR is almost identical in performance to the 10x4.5MR. Small amount more performance but less efficient.
- The APC multirotor props have slightly less thrust than a slow fly but are more efficient, and are more rigid.
- The carbon high speed (Graupner style) prop was very quiet, efficient and punchy! It would absolutely rock on a higher KV 2216 version
- KV was measured around 770KV by a HK KV tester but the Eagle Tree figures worked out to 875-895KV. I don't know which
...Continue Reading