A noob to multis should not build a Y6 as his first. Large low to the ground props and a concrete surface do not work well together for a beginner. I tore up so many slow fly props before I figured that one out.

I loved building the Y6 twice but it was a mistake. A fun mistake but a mistake nonetheless.

I wanted to use the same electronics and props on a different frame. Having 11" props meant a larger frame than the 650. I found a cheap 800 fiberglass and aluminum Hex at GLB. I already have that one built but haven't taken pics of it yet. It is listed as a HY-800 on their website.

I would really like to get a Scarab CF airframe from Australia but I won't do that until I know how to fly without destroying things. I really like the looks of their stuff but it is a bit expensive for someone that doesn't even know how to fly yet.

Regardless of the mistakes I have already made I am really enjoying putting this stuff together and figuring it out. I don't know much but I still try to help others when I can or at least point them in the right direction to get help.
I ordered 4S batteries the other day to get more thrust out of this multirotor since the 3S just aren't cutting the mustard.
Yesterday I decided to go ahead with some weight loss surgery and pulled a few things off. Some go back in while others will not. I have enjoyed building this so building part of it twice is actually fun for me. I am eliminating a second battery plate, second lower main plate, the smaller of the two UBEC and miscellaneous hardwares.
I had to remove the two PDBs and the eight relays to be able to reconfigure the placement to be able to cram in more on the bottom of the lower main plate. I will also try to eliminate a little more of the LED wiring in two of the circuits.
Fun lessons learned... You just can't keep adding and adding and adding things on. Every gram counts and they add up quick. Weights are not always correct as advertised. Covering a battery in black heatshrink adds 10 grams.
Before I ripped her apart.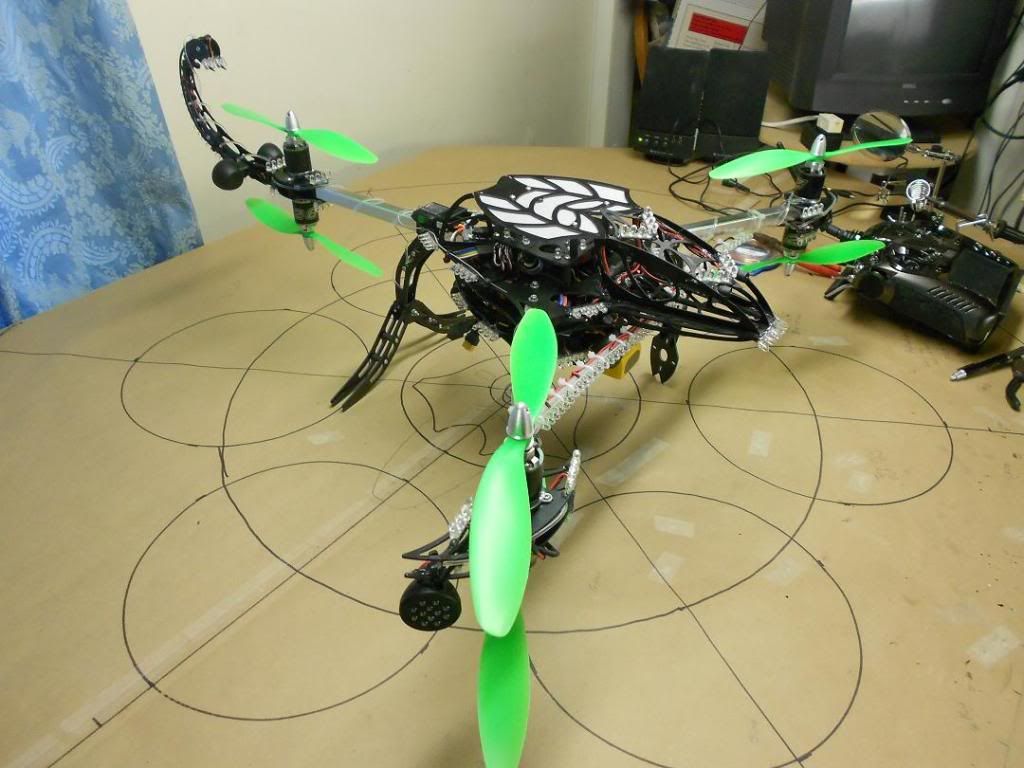 She may need to be put on a diet. She is getting quite portly.
Oddball landing gear. Their goal in life is to be broken off.(She is on her back with legs in the air!)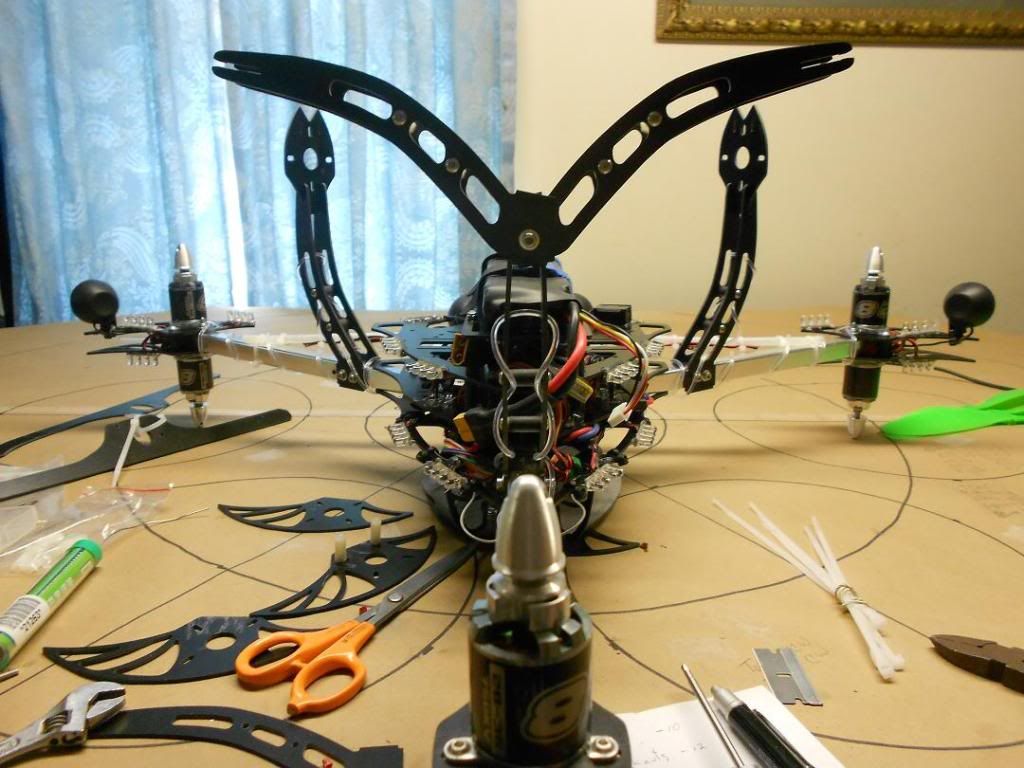 She has Bette Davis Eyes.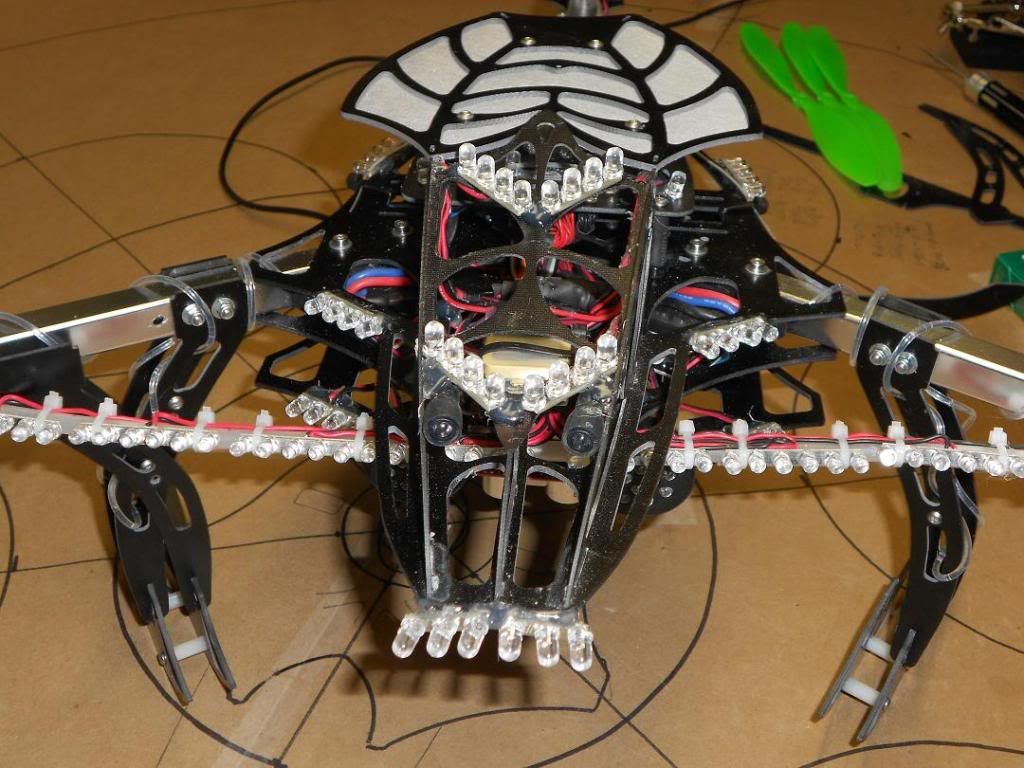 I covered the top piece to help tone down the intensity of the 14 multi color LEDs.
...Continue Reading
A Y6 RC multicopter w/ 11" props(not installed yet). My first build ever. NTM 2836 brushless, F20A HK ESC, 3S 4,000mah lipos, 8amp UBEC, 15amp UBEC(LEDs), eight 5v relays, rx controlled switch, two power distro boards, lots and lots of wire and a few LEDs. 283 of them. Will look cool with the huge green props with blue LEDs on them..
Been working on this for a couple of days now after figuring out that combing two frames would make this too heavy.
This was what I was going for.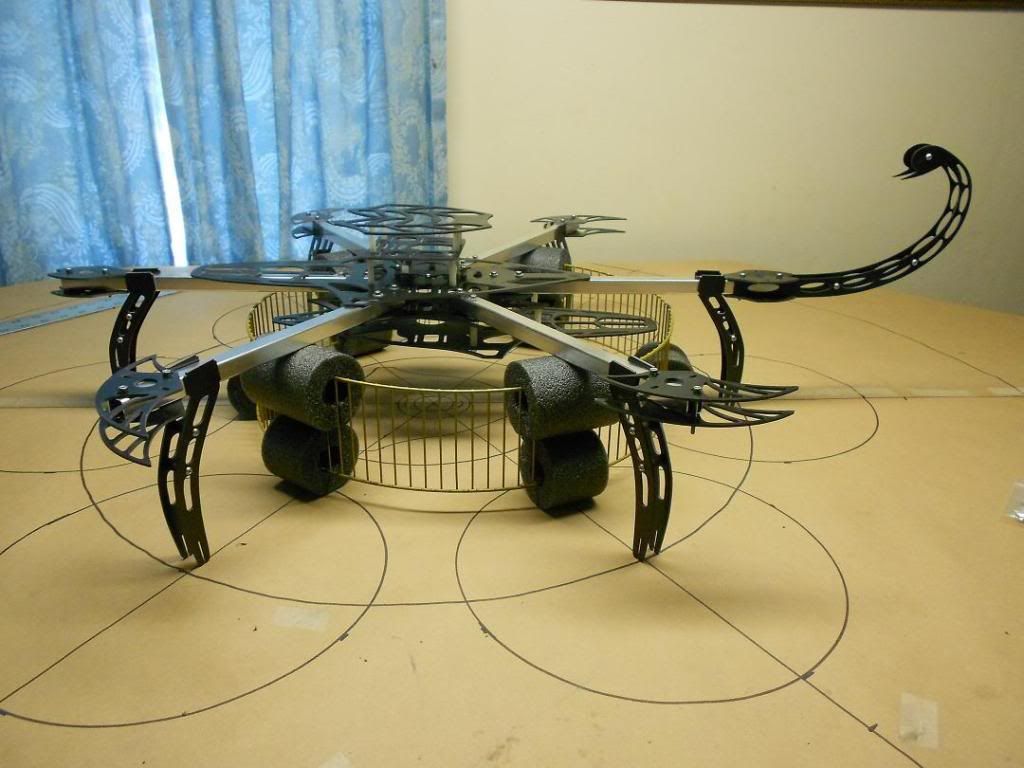 I took the above apart and am now just doing the Y6 config.
ESCs all direct soldered on both ends to the motors.
...Continue Reading
I have seen quite a few pictures on here that show work benches that are a complete mess with builds in progress and I wondered why they were so messy.

In starting my first build, I now understand the mess. lol

My idea to combine two Y6 frames into a Hex had to be scrapped. The actual weight of the empty airframes was considerably heavier than what is advertised online. So now I will have lots of extra parts to make repairs down the road.

Getting six 14ga wires plus two LED wires inside a 15mm square tube was quite the challenge. Using all black wires made it even more of a challenge but I wanted them to be less noticeable in the frame where they exit. Inserting the motor and landing gear bolts through all of those wires was interesting.

I made a mistake in locating the landing gear. I didn't take into account the curve of the landing gear so it is a few mm too close to the motor which doesn't allow for clearance of the lower prop. Now I have to move the landing gear over 10mm and drill through the boom that is stuffed full of wires. I will insert something inside the boom to seperate the sidewall of the boom from the wires so I can drill one side without removing the wires.
I just got the idea a few weeks ago to get into RC. I saw the Scorpion frame and knew that was what I wanted. After compiling my parts list I thought that it would look cool as a Hex. I am going to do some modifications to add three more arms, an additional level or two or three and have landing gear at six points instead of the original weak pair of landing skids. This will be a slow boat not being designed for fast movements (except for falling out of the sky). I am putting a lot of weight into the lighting system. I have spent over 20 years designing, installing and programming special effect lighting systems in night clubs so the lighting part of this copter will be interesting. Think Tribal Scorpion meets Close Encounters of the Third Kind.
The copter parts:
2- Y6 Scorpion 650 fiberglass & aluminum frames
1- Rabbit CF Height Direction Fixed Flight Controller + Rabbit GPS Receiver Module
7- NTM Prop Drive 28-36 750KV / 265W
7- Hobby King 20A ESC 3A UBEC
7- NTM Prop Drive 28 Series Accessory Pack
3- Slow Fly Electric Prop 11x4.7SF (4 pc - Green)
3- Slow Fly Electric Prop 11x4.7R SF (4 pc - Green Right Hand Rotation)
3- ZC.4000.3S.25 - ZIPPY Compact 4000mAh 3S 25C Lipo Pack
1- Signal loss Alarm & Lost Plane Finder
1- TURNIGY 3A UBEC w/ Noise Reduction
2- MultiCopter Multi-Tri Copter Power Battery to 8 ESC Connection Board
1- Mounting Plate Mount 45 Degree Adapter Flight Controller Protector for Multicopter
1- Hobbyking Y650 Scorpion Glass Fiber
...Continue Reading