Built a 3DHS 57" Extra SC this week. The kit went together nicely, and it is one excellent flying bird. I had to make one modification; I have a Futaba S9350 digital coreless rudder servo, which is larger than the pre-cut hole. I cut the hole out large enough to allow the servo to fit, but it left me with nothing to screw the servo down to. I cut a hole out of a piece of 1/16th" ply slightly smaller than the top of the servo, and made the piece wide enough to cover the rudder servo mounting plate. I installed the servo, and laid the piece of ply over it, and screwed the ply "cover plate" down to the tray. This way, the servo isn't really screwed down, but rather "captured" under the ply piece. The motor I robbed from my old 60" Extra is a wee heavy for this airframe, so I have to lay my batteries almost halfway over the wing tube to get a neutral cg. My maiden flight went 9 minutes on 3s 2200 batteries, and the motor was cool as a polar bear's toenails.
Gear:
Axi 4130-16 motor
Xoar 16x10 prop
CC Phoenix 80 esc
6v UBEC
Hitec HS5245 aileron servos
Futaba S9350 coreless rudder servo
Hitec HS255BB Elevator servo (will be swapped soon...)
Spektrum AR6210 Rx w/satelite
Turnigy 3S 2200 30C batteries (in series for 6S, My maiden flight was 9 minutes. That is nice!)
http://www.youtube.com/watch?feature...sXyjgFBRs&NR=1
Recently built a new 3DHS 48 Edge, and didn't think too highly of the wire gear. It would bend on even the softest of landings, so when I ordered the new airframe, I also ordered gear from their 47" Extra SHP, along with axles from the 46 Aspera/51 Slick.
When I started to assemble the gear, I used the included ply wedge, but didn't glue it in. Instead, I pushed it into the slot to where it sat flush with the bottom of the fuselage, and ran 3 screws through the formers to hold it all in.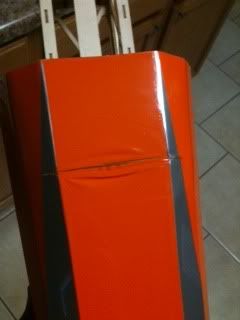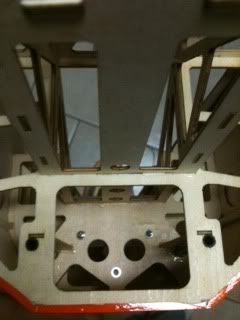 I didn't glue it because I wanted to retain the option to use the wire gear if needed.
The SHP gear has two holes predrilled, and I used 1.5" wood screws up through the gear and into the former to secure it. If you use the predrilled holes and similar length screws, make sure you angle the screws toward the center of the fuselage slightly, so the screws do not hit the carbon stringers running along the gear former.
The axles have a 5/32" shaft, so you will need to bore the factory formed axle hole out a bit. I used a drill bit, and drilled it by hand to avoid snagging and destroying the pants.
...Continue Reading