Discussion / Posted by
kauaicuda
/ Mar 11, 2013 @ 12:24 AM / 3,277 Views /
28 Comments
(

1 2 )
/
Reply
I've been meaning to bring this around for a while, but I have this case now available. Fits the
Openpilot CC3D.
-
Internally gusseted to save on bulkiness but keep strength.
-
Stepped flanges to fit board thickness perfectly.
-
3 piece design, easy to assemble.
-
Lexan cover is virtually indestructable. (Not quite sure how it could ever be broken, even in the worst of crashes.
-
Includes Nylon fasteners.
At this time I would like to offer what I am going to call the
Friendly Lifetime Warranty
What that means to you and me is: As long as you own this case, if you manage to break a part on it, I will replace it.
This does not include fasteners or threads, heat or fire damage, damage purposefully inflicted, or other suspicious circumstances.
I will honor this as long as I still have the means to fabricate parts.
I do not have an online store at this time, but it is in the works.
This is available simply by sending a PayPal of $26 to
skyfabsales@gmail.com
International shipping is $5 extra for up to a quantity of 3 items. I ship international once a week.
You can also email me at the same address, or PM me for details or questions.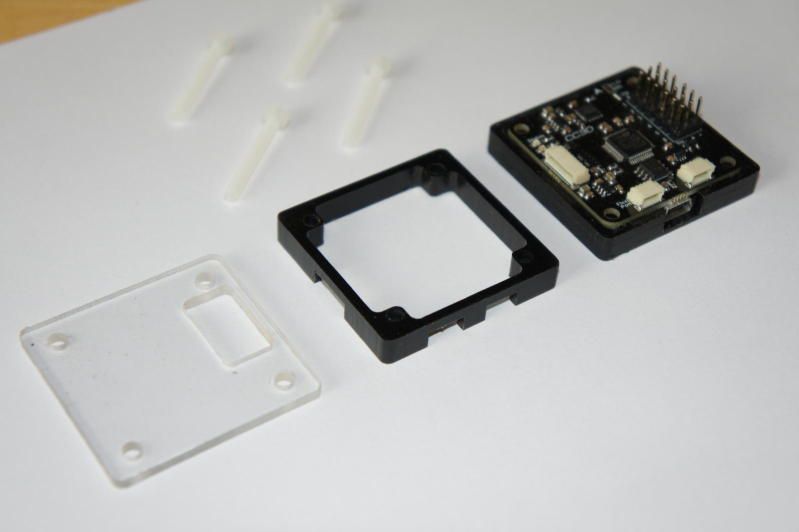 Sticky:
DJI F450 video TX mount.
Nice little antenna mount for the DJI Flamewheel.
Mounts on any of the arms by replacing two of the outermost screws and a zip tie at the rear.
Tough unit, nice machine work. Very tidy.
I have this available for anyone to enjoy for $15 shipped in the USA.

Sticky:
CC case
Nice case for Openpilot CC board. $14 shipped in the US.
Machined from Delrin. Full access to all connections while assembled.
Has a window for viewing status LED. Includes screws.
The screws thread into the plastic base, and the case can be double-side taped to your frame. If you prefer to bolt it to the frame, the screw holes on the bottom may be drilled out with a 1/8" bit.
I always have a couple cases on hand, and I will always be making more


Sticky:
Naza 45mm adapter
After warming up the CNC, I have an item for the multi-rotor community to make use of.
This adapter and mount assembly allows you to securely mount your Naza controller to your airframe, which you may already be running with a 45mm mount control board.
Nice fit and finish on this item.
Here are some features:
- Machined to close tolerances from robust Delrin plastic.
- Allows secure mounting of the Naza with no tape or adhesive
- Configured to allow full visibility of all connector labels (aside from 4-pin LED plug
label)
- No interference of any connections.
- Radiused corners in clamps to prevent cracking.
- Directional arrow in base plate for easy, no-guess assembly.
- Includes Tri-cut Plastite screws designed for threading into plastic.
$15 shipped in the USA
$20 to most other countries, but please ask for a quote.
PM me if you would like one.