The outdoor 450 Heli's were fantastic to fly, quite exhilirating too, and highly satisfying.
Only problem was the fruistration of crashes - even a minor tip-over (which admit it, happen to all of us), resulting in the Heli needing to be stripped down AGAIN, more parts to replace, more parts to be ordered, plus more waiting around for the new items to arrive....
The solution came with QUADROCOPTERS!!! Simple design, ultra stable, and they can crash and crash again, with just a Blade to replace, or a dust off, and you are flying!
The Quad I built below, features the "QuadPowered" central Controller board. Lights for orientation in the air (or even night flying!)...
Once I felt confident with my baby CX2, I wanted something BIGGER, more powerful, and a Heli that I could confidently take outside to fly.
I bought a couple of 450 class Heli's. A fun ESky Belt CP, also a Thunder Tiger Mini Titan (pictured)...
Again this Heli was highly modded, including Metal rotor Head, Metal Tail assembly, Carbon all over + Tail Boom, plus an overhaul of the standard electronics...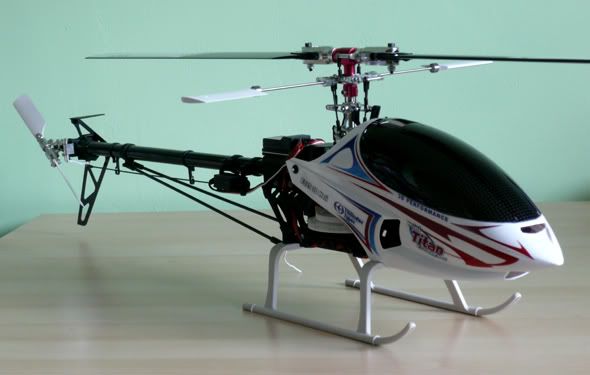 My introduction into the world of R/C Heli's started with my
Blade CX2
(received as a birthday present).
Coaxial Heli, excellent indoor fun, however wasnt long before I upgraded components for reliability and strength...