Archive for January, 2011
I was in the market too get a decent TX case too store my Radio. After looking around i seen a few different(Brand Name) styles at around $60-$80. Plus either ordering one online or getting my LHS to get one in for me.
Then i got thinking about "Do i want too Spend that on a TX Case"?
I was at Wal Mart before Xmas seeing what kind of Gifts i could get for my Siblings lol. While walking through the hardware dept ,i seen a nice aluminum style tool box.Hmmmm and it was only $19.99
Then i got the idea ..Hey i can make one myself!! Now lets get some foam! i thought. Headed too the bedding dept..Nice they have foam. I bought a block that was 16''L x 16'W x 5H''ish if i am correct.(Price $11.98) and i also got a piece of around the same dimensions,but the type that has the Bumpy top.(Price $9.99).Thought this tpye would be Prefect for the top of the TX case. These foams are a yellowish/white color, most of the TX cases I've seen have a nice sharp black/Grey foam. Ok so i need Dye, picked up some powered dye and i was set!!!(Price $4.99).
First step was too cut the foam the touch bigger then the dimensions of the Case for a snug fit. Then i got my 2 pales i use for cleaning the Fish tank. One for the water/dye and one for just cold clean water.(Yes i put the Dye in the pale i always Siphon the dirty fish tank water in)
I Cut and Spread out a trash bag.(Im doing this on Lamented flooring in the kitchen while the better half is at work.
So better not get Dye all
...Continue Reading
Well recived my New TX mit form HK yesterday.
Its pretty nice. the bottom of the inside is a short nap type felt material .
Ive already got plan too install some fabric on the bottom. Goin too get some of that Shag carpet type material. I may just lay it in or get out the tread and needle.If its a heavy material ,i cant see it moving around much if you cut it 1/2'' bigger then the area of the base. Velcro would work as well.. Hmm Ideas ideas...
When i have the neck strap on and the radio hanging, there is tons of room on the bottom,as the radio come away from the bottom,but not enough for your TX sticks too hit the top.
The hand openings are a perfect size..With a Jacket on, the Cuffs well seal it up nice. To small of hand opening could spell disaster if your toss your plane with your right hand.( Like i do) I did some mock test today .of throwing a plane and trying too get my hand in the hole. Not a Prob at all.I should start throwing the plane with my left hand anyways seeing im left handed... im one of those mixed up people.im a south paw but do most everything with my Right hand. But i can Airbrush/paint/draw till the cows come home.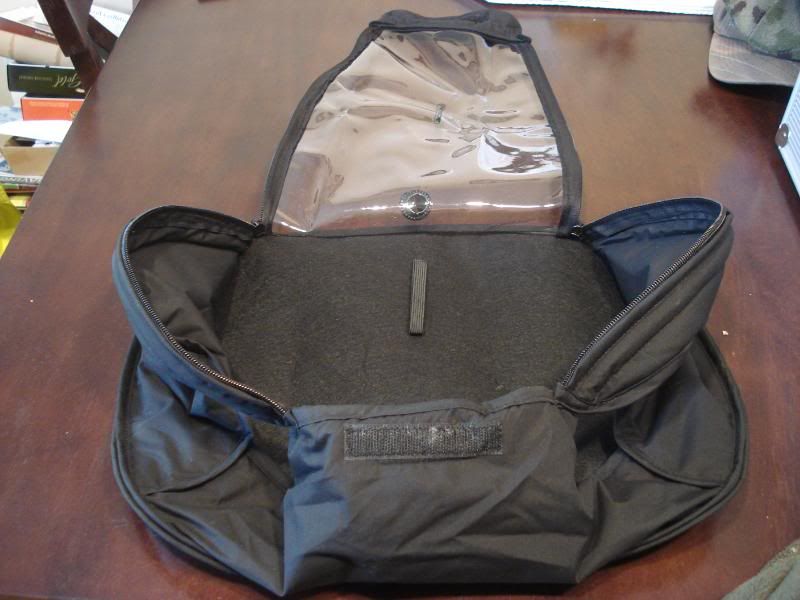 Bottom is a Pleather material
Inside the hand opening there is a wires frame keeping it keep its shape and Sturdiness
...Continue Reading