Here is my DX8 settings file for the 120SR.
I mostly fly outside so the default is F Mode 0. Warning... I've got it set for FFF in this mode!

Flight Mode 1 is very tame and I use it to hover indoors or outside with no wind.

FM2 is not set, so it's similar to the RTF Tx (only better.)
Let me know how you change it up and you may teach me something! Write me if you have questions.
MY120SR_.spm
TBE (Toilet Bowl Effect) can be rather frustrating when you are trying to nail down the problem. After months of experimentation (as many of us do), I came to the conclusion that there is no "silver bullet" in solving it. I had seen a need to place this on my blog, but only when I crashed so bad that I had to replace all the head parts, blades and shafts, did I finally solve it. The problem is in your parts, though. Here's the checklist I go down:
[ ] Pull out the main shaft with head
[ ] Remove head from shaft
[ ] Inspect main shaft for hairline cracks - twist a little & push down slightly on ends to see what shows
[ ] Take apart the main blades
[ ] Inspect the feathering shaft (I have NEVER had a problem, but some do)
[ ] Inspect all the plastic linkage balls to see if they are still straight and not cracked
[ ] Inspect blades for symetry
[ ] Assemble head with blades
[ ] Use two shot glasses to balance the head with blades extended straightened out (tighten them for this test)
[ ] Balance the blades by adding small pieces of clear tape on the bottom edges (or top, if you don't mind the looks)
[ ] Check the flybar for bends in any direction - they need to be straight
[ ] Balance the flybar - I sand the ends slightly to achieve perfection
[ ] Inspect the linkages to see that they are not bent or twisted
[ ] Insure that the balls/linkages move easily or use paper bag or pencil graphite to smooth
[ ] Assemble all
...Continue Reading
From post
7954
September 25, 2011
Guess where I spent the afternoon? In the emergency room due to a lipo blowout.
I use a Thunder Power 610C charger which has served me well for a year. I was charging a Tenergy 3.7V 500mAh 15C battery with a Tarantula Eight-in-One RC Charging Cable. I had noticed that this battery had quit early on me on a flight yesterday and, in testing with a voltmeter, I saw that it was not fully charged. I thought that maybe I had accidentally missed charging it with my other 6 batteries, so I put it back on to be charged. I knew there was something strange about how it was acting. It was charging too long and the the charger was not shutting off, so I shut it down before it finished.
Not thinking about it again, I prepared to charge another battery, but got up to open the window. While I was up, I heard a "whoosssssh," turned around to see the battery blowing smoke like an Estes rocket engine on take off. I immediately knew that I had to get it outside the house before it burnt the place down. I always charge batteries in a safe place, but I feared this thing could shoot around or explode or something. Well, I picked up charger in all to quickly take it outside, but in the process, I flipped the burning battery on the wires onto my hand.
You can see in the photo that I have 2nd degree burns on my right hand. Not too bad, really, but I now have a burned hand and a burnt floor where the battery broke off the charger.
Here's the analysis:
...Continue Reading
I measured the e-flite main blades along with the Solo Pro 328. I think I found it why I like the 328. The width (cord) is at the widest point and the length (span) is from the center of the hole to the tip.

E-flite. 27mm wide, 144mm long, ~14* pitch
328. 27mm wide, 145mm long, ~15* pitch (15mm)

Comparison - CX3 "B" blades. 27mm wide, 155mm long, ~15 pitch (20mm)

My pitch gauge only goes to 12*, so I had to eyeball the degrees over it. I'm pretty sure it's accurate, though.
In case you ever wondered...

The KV value of Xtreme SR 120 motor is 14500kv.

I had to get this directly from Xtreme. This puts it on line with their brushless motors.
This is what I started out on. Since then I've done mixes and change up settings to suit my preference and my 120's tendencies...
Here is my DX8 settings for the 120SR. I mostly fly outside so the default is F Mode 0. Warning... I've got it set for FFF in this mode! Flight Mode 1 is very tame and I use it to hover indoors or outside with no wind. FM2 is not set, so it's similar to the RTF Tx (only better.)
Click here:
#8574
1st - the one I recommend:
Helipal
. I just found this and I think that I'm going to order one for future use.
2nd - the one I'm using that works great:
Xtreme
...Continue Reading
I have solved the TBE. My heli is now rock solid in air... I took the pivot bearing from a broken swash and put it in the center of the flybar. Wasn't too hard to do.
Take an old swash and pop out the collar (the center part). Take a rotary tool or round file and carefully enlarge the hole in the middle of the flybar as much as possible to fit the bearing. Carefully sand down the plastic collar until it easily slides into the hole.
Take care that the the inserted collar does not bind or restrict the bearing from moving. Use a tiny dab of epoxy to glue it in--careful that the the glue doesn't slop into the moving part. (Ask me how I know!!!) I constantly kept the flybar moving up and down until the epoxy set.
Voila... you've got the most stable flybar and heli for no $$ (if you are using a broken swash).
I should add: Take time to balance out the flybar. I just trimmed a little plastic from one end until it was good.
This is a shot from above the flybar: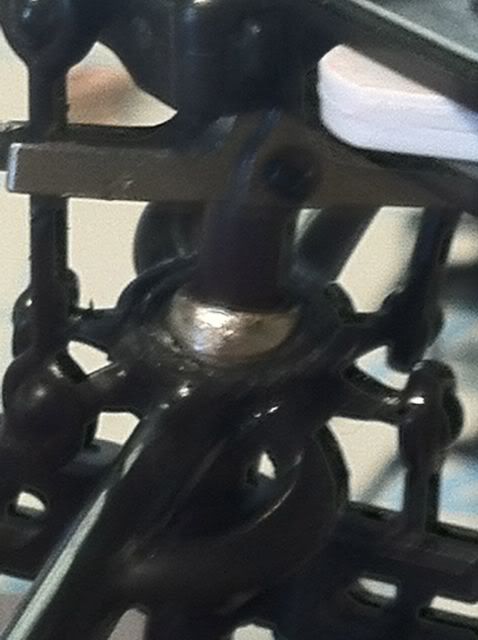 This is a shot looking from below: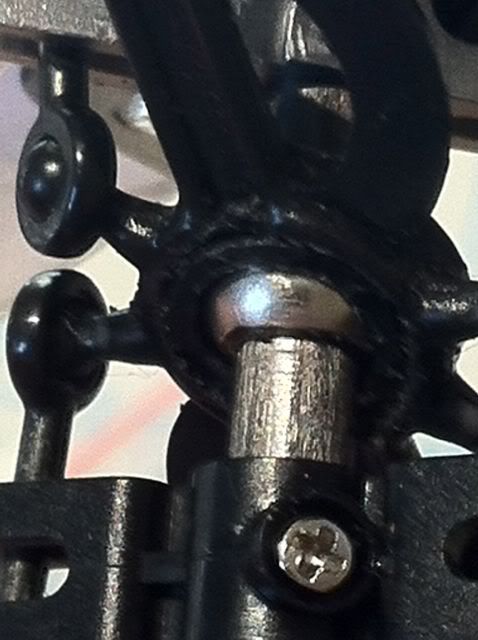 Our hobby needs all the encouragement we can give it! Here are some idea to make a group event fun! Please help us leader-pilots out by adding your ideas here, also!

o Set up various height hurdles to go over and under (PVC pipe makes it easy and cheap)

o Place hula hoops like a large hopscotch, number them with big numbers (small paper bags at the side with a weight to hold them in place). Make rules of which number order they have to do.

o Speed races for 2 or more!

o If you have a child slide, make that a part of a confidence course - land on it, slide and fly off before hitting bottom.

o Get some helium balloons and tie to 6-8 foot ribbons with a weight to keep on the floor. You can use these for a slolum, or place them two-by-two as gates to go go through.

I had a canopy custom painted for me.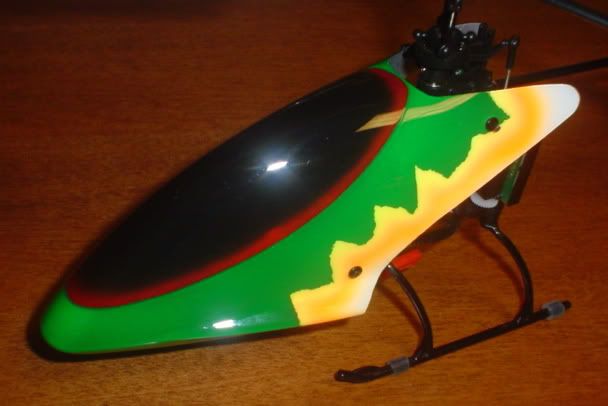 "But...,"
you say,
"Why that paint scheme?"




"Kind of out of the ordinary?




"Strange color scheme, isn't it?"
OK, I suppose you could say that... but... let me show you what I was thinking...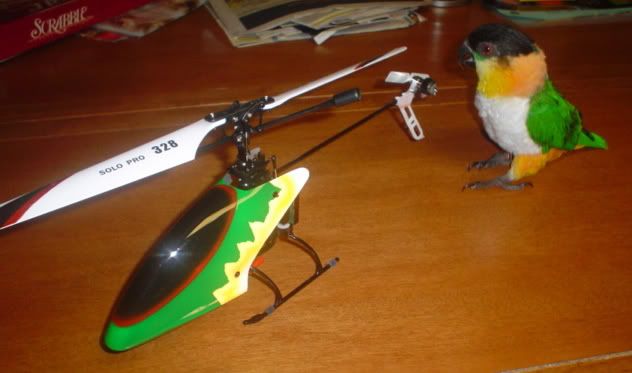 I introduce you to Charly--the Caique parrot. And, this is her "Charlycopter."
...Continue Reading
Why buy a balancer from China or someplace when you probably have all the parts available?
Most balancers are not intended for micro helis or airplanes, anyway. So, here's a terrific "how to" to do your own.
Parts needed:
One 6-12" standard metal pushrod (or 2mm straight wire)
Two small collars (see
Dubro
)
...Continue Reading

Sticky: Poll:
Blade 120 SR Cross with a Solo Pro 328
Well, I did it... I built a heli from scratch parts and it works great. The 328 head with the Bell-Hiller mixer is absolutely the best mod I have ever done. I am sold on this combination! Before I go any farther, here's a quick video of how stable this baby is:
Here is a list of + and - points:
+
Eliminates TBE and most of the rocking
+
Acts more like a CP heli where if you tip the blades it'll keep moving in same direction
+
Is absolutely excellent in wind! I had this on the trial run out in a 17mph wind with 32 mph gusts and I was holding better than ever!
+
I really like the 328 blades. They are better shaped than the 120's and seem to be a bit more rigid. They don't seem to break easily judging from the scratches on the first crash.
+
The CNC swashplate upgrades for the SR120 work with the Bell system.
+UPDATE!
The combination of the—
o stock 328 head,
o Xtreme flybar mount (center)
o Xtreme Spare Rods and Paddles for SR120 FlyBar
is a
SUPER
combination. It makes my heli come alive!!
(HINT: Set your dual rates to low. You'll be surprised how much more response you'll be getting!)
–
The flybar breaks way too easily. I hit a twig on a tree, landed hard and broke the thing. (See above comment for solution).
–
Parts are not easily obtained. Have to order from China.
–
The 328 main shaft is drilled for the head screw so it's a must. It leaves about 2mm
...Continue Reading